Linda McMahon Keeps Press In Cobra Clutch
Linda McMahon, running a highly controlled and closely guarded campaign, doesn't like dealing with the press. But with $65 million, she doesn't need to.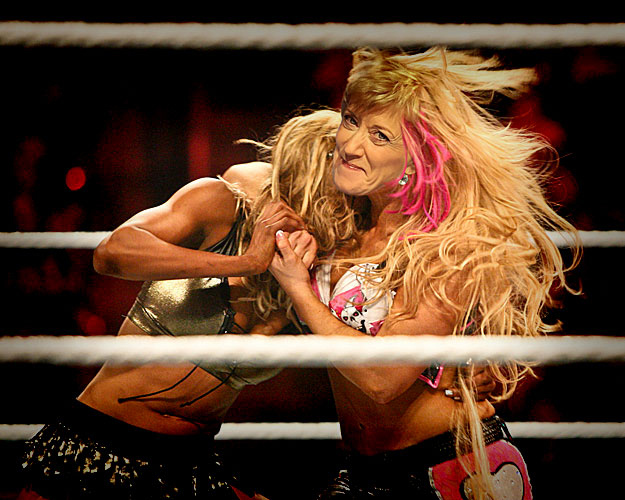 On May 24, the Connecticut press got its first taste of candidate Linda McMahon's approach to reporters in 2012. Chris Powell, Managing Editor at the Manchester Journal Inquirer received an emailed letter from Brian Flinn, a Senior Vice President at WWE, the professional wrestling giant McMahon and her husband Vince led.
"It is with great dismay that we find it necessary to once again point out that you have made false statements of fact in the Jounral Inquirer regarding business of WWE," read Flinn's letter. Powell — who has been critical in his columns of McMahon's record in the wrestling entertainment industry — had received a letter from the WWE before. This one, about a May 21 column in particular, took issue with Powell's description of the WWE as "a "business of violence, pornography, and general raunch."
Flinn copied seven other Connecticut news organizations on his email to Powell, including editors at the Hartford Courant, the CT Capitol Report, and the Hearst Connecticut Media Group.
If Powell didn't issue a retraction, wrote Flinn, the WWE would "seek legal and all available remedies."
"It was really just an effort by the company to help the McMahon campaign by precluding any discussion in the press about the [WWE]," said Powell. "They wanted to intimidate everybody from getting into McMahon's background."
Powell said he hadn't received notice of any lawsuit, but McMahon's campaign and its auxiliary at the Stamford-based WWE haven't backed off either. And in the course of her unexpectedly competitive second bid for a Connecticut senate seat, McMahon is running what may be the most tightly-managed and closed-off campaigns of this election. It is almost certainly the one with the most toxic relationship with the local press.
Connecticut political reporters, who cover McMahon daily, complain that her campaign rarely gives the candidate a chance to go off-message. Staffers seldom give reporters advance notice of McMahon's public events, and they don't let McMahon linger for questioning. It's a campaign that doesn't need the press to get its message out. Instead, they've spent nearly $12 million this cycle, largely on television ads and mailings that serve their purpose bettter than any reporter ever could.
"It is very, very controlled," said Rick Green, Political Editor at the Hartford Courant. "The McMahon campaign is excellent at staying on message. They have a very clear script that they follow and they're not gonna deviate from that, and that means they manage their public appearances."
At a roundtable event with McMahon last Tuesday, one of Green's reporters tried to question the candidate on her way out in an exchange captured by the Courant on video. "Just one question," asks the reporter. When an aide cuts in — "we really need to be going" — the reporter says, "you're not that accessible." McMahon laughs: "Oh, I'm very accessible!"
On their way out of the building, the reporter follows a silent McMahon to her in the parking lot. "We come to this event," she yells after her, "and you don't answer any questions after. We sat and listened for an hour."
Green, who posted the video clips on the Courant's website, explained that covering the McMahon campaign is not impossible, it's just more difficult.
"There are a lot of disgruntled reporters out there who feel that it's not easy to cover the McMahon campaign," said Green, adding that it "would be unfair to say Linda doesn't talk to the press" — reporters can get interviews with her, he says — but the campaign is 'just very, very careful with it."
McMahon's wariness toward the media is a lesson learned from 2010, when she was criticized for comments on the possibility of lowering the minumum wage. The minimum wage remark — made in response to a question from reporters — was later blamed by her campaign on the press's "spin." (McMahon lost the race to then-Attorney General Richard Blumenthal.)
"They're worried that there will be some clip out there where she'll say something that will be exploited," Green said.
McMahon may be averse to impromptu dealings with reporters, but she has said she will meet with newspaper editorial boards. McMahon, who opted out of editorial board meetings during the primary, did meet Friday with the Hartford Courant editorial board. Murphy has already met with three papers — the Courant, the Norwich Bulletin, and the Meriden Record-Journal — and has plans to meet with more next week, according to his campaign.
Some reporters covering the campaign have faced less routine challenges. Earlier this month, Huffington Post reporter Amanda Terkel had what became a very public dispute with McMahon campaign manager Corry Bliss.
Terkel alleges that Bliss cursed at her over the phone after she got in touch with the campaign for a comment. Huffington Post reporter Sam Stein, who co-authored a piece about the incident with Terkel, tweeted that the story was "a warning to anyone covering the Connecticut Senate race [that] you can't fully trust the McMahon press shop."
In another incident, before the Aug. 15 primary, the Norwich Bulletin asked McMahon if she wanted to meet with its editorial board. When she declined — as she did with all papers during the primary — columnist Ray Hackett, who was managing the paper's editorial board meetings this summer, told McMahon that would automatically exclude her from being considered for the paper's endorsement.
"The campaign said, 'okay that's fine,'" said Hackett. "But when I wrote that in my column, they accused me of blackmailing and threating them."
The McMahon campaign issued a press release, titled "The Whole Story," about the exchange with Hackett. "We all know that media bias exists, and that's OK," reads the release, written and signed by Bliss. "What's not OK is when that bias devolves into temper tantrums, threats and blackmail."
Hackett maintains that he never threatened the campaign. "They like to bully people," he said. "Since they blew off the editorial meeting, they have not returned a single phone call or email. They just send us their press releases."
The McMahon campaign may be tightly managed — more than most senate campaigns, surely — but it's part of a strategy that happens to be working.
The Connecticut senate race — once thought as a dependable win for Democrats — has now become one of the most bitter fights of the cycle. Recent Connecticut polling shows Murphy still in the lead — up by five points in a Rasmussen poll last week — but McMahon still has a fighting chance in the blue state. In its most recent poll, Quinnipiac showed McMahon ahead of Murphy by one point.
If elected, the former CEO would be the first Republican senator from Connecticut since Lowell P. Weicker Jr. was elected in 1971.
The McMahon campaign has spent $12 million so far — far less than the $50 million she spent during her 2010 bid — much of it for hefty ad buys and mailings. Compared to her bungles off-script — McMahon, for example, said during an Oct. 8 debate with Murphy that America had a "law for same-sex marraige" — her ads give McMahon risk-free exposure to Connecticut voters.
"They do their [press] on their own," said Green. "They're not as worried about using media. She has spent about $65 million on two campaigns. She doesn't need old-fashioned newspapers."