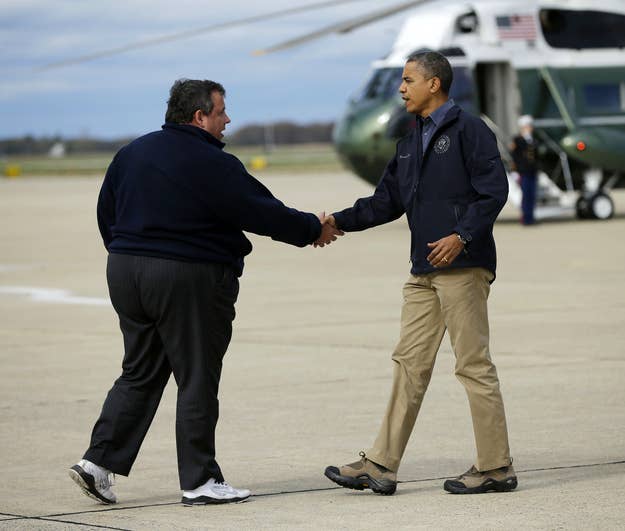 Chris Christie's well-publicized three-day campaign swing this week through the liberal heartland of California left Democrats back east exasperated, and even confused, by the Republican governor's popularity with the Hollywood and Silicon Valley crowds.
Christie's trip took him from Beverly Hills to La Jolla and Santa Barbara, and ended with a private event at the home of Facebook founder Mark Zuckerberg.
"When we he heard that Mark Zuckerberg would be holding his first-ever political fundraiser for Chris Christie, we were just shocked," said Becky Bond, political director for progressive group CREDO, who helped stage a 50-person protest outside the social media giant's Palo Alto home.
"He was making a very public statement by raising money for the guy who's well known for his conservative record," said Bond. "These are people who you'd think would not want to be associated with the war on women, and supporting Chris Christie is supporting that war on women."
Christie appeared two days earlier at the Beverly Hills Hotel, where about 30 to 40 Hollywood and entertainment attended the $3,800-a-ticket funder. Among the crowd, according to a report in the New York Post, was Disney Executive Gary Wilson, Richard "Skip" Bronson, and actress Sofía Vergara, who stars in the show, Modern Family, and has filmed a public service announcement for the Gay & Lesbian Alliance Against Defamation (GLAAD).
That a Republican governor who struck down a bill to legalize same-sex marriage and vetoed funding for Planned Parenthood could get support from a figure like Zuckerberg — whose company was the first social media organization to receive a GLAAD award — is the latest frustration for Democrats who see Christie's state and national popularity as a mask for his conservative record.
"There's a huge gulf between the carefully constructed image Christie puts forth in manufactured YouTube videos and puff pieces with Piers Morgan or David Letterman where he talks about Springsteen and the Mets and Christie's real record in New Jersey" said Joshua Henne, a Democratic strategist who helped organize a "#UnfriendChristie" social media campaign, led by groups like the New Jersey Communications Workers of America, during the governor's trip through California.
Henne pointed to Christie's record on gay marriage — he rejected the state's bill, offering instead that marriage equality be put to a vote on the ballot — and to the bill he vetoed last month that would have raised the minimum wage in New Jersey by $1.25. (Christie argued that a scaled-back version of the bill would pose less of a threat to the state's recovering economy.)
"You may only know what Christie's last media appearances were," said Bond, who led the CREDO protestors in chants like, "Hey, Facebook, Shame on you. Christie hurts women and now you do, too."
"But that's our job as activists is to make sure donors know what they're signing up for by funding him," Bond added.
Since Hurricane Sandy tore through New Jersey last month, Christie has received 70-plus-percent approval ratings and high marks from both sides of the aisle — including from President Barack Obama — for his leadership during and after the storm. The governor, who has cultivated an image as a maverick, in contrast to intractable partisans in Washington D.C., broken with his party on a Sandy aid package during a dramatic press conference in which he shamed the leader of the GOP, Speaker of the House John Boehner, for placing "one-upmanship" ahead of storm victims.
It's Christie's independent streak, often played out on the national stage, that wins him goodwill from Democrats, even in the midst of his reelection. A Rutgers-Eagleton poll out this week indicates that a plurality of Democrats, 47 percent, will vote for Christie in the fall. In a head-to-head against Barbara Buono, the presumptive Democratic gubernatorial nominee, Christie still wins, 42 to 38 percent.
But David Turner, a spokesman for Buono's campaign, countered that the "narrative of progressive support for Christie is a fallacy."
"For three years, Chris Christie has not just attacked the Democrats' core values, he has done so with gusto," said Turner. "New Jerseyans will vote on the issues that matter most to them and Governor Christie simply does not hold their beliefs."