LGBT Issues, Racism, Immigration: Hillary Clinton Pitches Herself As A "Fighter" For All Occasions
More than two months into the campaign, Clinton's ability to "fight" has been framed as the common thread linking different parts of the Democratic platform.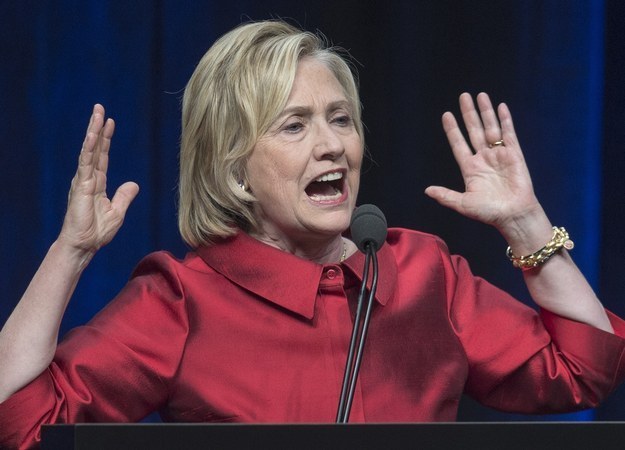 FAIRFAX, Va. — On a Saturday night in April — hours before Hillary Clinton declared herself a candidate for president — advisers previewed her campaign message for the first time. The crux was this: She would be a "tenacious fighter."
Later that week, she unveiled the pillars of her campaign — the "four fights."
And at her first rally two months later — when she ascended an H-shaped stage on Roosevelt Island to explain, with a careful mixing of biography and position, her reasons for running — she cast herself repeatedly as a "fighter for all Americans."
The characterization, reinforced in official memos and emails and reprinted frequently in the press, has acted increasingly as the discernible through-line in a campaign that has already sought to address a vast spread of policy issues: mass incarceration, immigration, small businesses, voting rights, the economy.
At a Virginia Democratic Party dinner here on Friday night, the Clinton campaign turned to the same theme again to address the last nine days — a period that began with a mass shooting at a black church in Charleston, South Carolina, and ended with the Supreme Court's decision in favor of nationwide same-sex marriage.
Terry McAuliffe, the governor of Virginia and an old friend of the Clintons, introduced the candidate at George Mason University's Patriot Center. Clinton, he said, was "smart." She was "tough." She was "compassionate." Then he paused. "But most of all, why do I love Hillary Clinton?"
"Because Hillary Clinton is a tenacious fighter," McAuliffe told the crowd of 2,000 in the arena. "She's been beaten up, she's been knocked down, but every time she does, she gets right back up. She dusts herself off, and she gets right back in that arena again, folks."
While other political figures were reticent to discuss the racial motivations behind the shooting, McAuliffe said, Clinton "stepped forward and began a national conversation about race [and] gun violence." The week after nine died in Charleston, Clinton described the killings "an act of racist terrorism." And earlier on Friday, she attended the funeral of one of the victims, Rev. Clementa Pinckney.
"Now, I know it's tempting to dismiss a terrible tragedy like Charleston as an isolated incident, to believe that in today's America bigotry is largely behind us," Clinton said on Friday night.
"But despite our best efforts, and our highest hopes, America's long struggle with racism is far from finished. And let's be honest, let's be honest, despite today's ruling, our struggle to end LGBT discrimination is also far from finished."
"That's because fear and hatred are far from finished. And so our march goes on."
In one, long line that closed her speech — and moved the arena into a standing ovation — Clinton pitched herself as the president to best wage that fight.
"I will go to bat for the successful, the striving, and the struggling; for the innovators and the inventors; for the factory workers and food servers who stand on their feet all day; for the nurses who work the night shift; for the truckers who drive for hours," she said, starting to lose her breath, "for the farmers who feed us; for the veterans who served our country; for the small business owners who took a risk; for the gay couple who loved each other; for the black child who still lives in the shadow of discrimination; and the Hispanic child who still lives in the shadow of deportation."
"Just as Terry said," Clinton told the crowd, winding down, "I'm on the side for everyone who's every been knocked down but refused to be knocked out."
"I will always stand my ground."
When she finished speaking, Clinton moved from the podium to shake hands below the stage, and the loudspeakers filled the hall with a song by pop singer Kris Allen that the campaign will no doubt play again and again and again.
They could knock you down and make you fall...
We'll get back up cause after all...
We're born to be fighters.