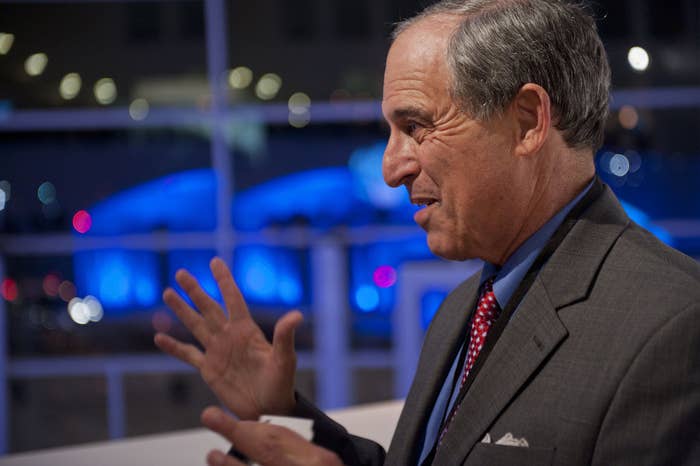 The year was 1997. Inside the hearing room of the Senate Hart Office Building, Republicans led an investigation into Bill Clinton's campaign fundraising practices. Outside, Lanny Davis paced the hallway. He handed out "fact sheets" and commanded packs of reporters; he dismissed each hearing as "nothing new" and made himself generally available for what he called "clarifications." The White House special counsel was a one-man "rapid response" team.
Seventeen years later, Davis is returning to Capitol Hill with the same strategy.
The longtime supporter of Bill and Hillary Clinton said he will set up shop outside the House Select Committee on Benghazi. He first announced his plans for the project, which he calls the Truth Squad, Tuesday night on Fox News, where he works as a paid contributor. Davis told anchor Megyn Kelly that he would be "relying on" another organization called Correct the Record, but he clarified in a phone interview on Wednesday that the groups will remain unaffiliated.
The Benghazi panel, established last week, will investigate the terrorist strike that hit the U.S. mission there in the fall of 2012. Republicans say the administration misled the public about the causes for the attack, which killed four Americans.
Hillary Clinton, who was secretary of state when the compound came under attack, has become the face, and target, of the Republican messaging around the controversy — an effort that has largely played out on the internet, with the latest round of documents being produced by conservative website Judicial Watch.
Davis will take his Truth Squad operation offline, setting up a table outside committee hearings, where volunteers will give reporters and lawmakers fact sheets, or booklets of facts — depending on what he decides to have printed.
The idea for the Truth Squad popped into Davis' head last spring, he said, when the White House released more than 100 pages of emails pertaining to Benghazi. After Republicans voted to create the select committee last week, Davis solidified his plans — though he admits he's still figuring out the details.
"I'm kind of making this up as I go along," Davis said. "Seriously."
"I decided this pretty much based on my experience in the Clinton White House. My first thought was just to repeat what I did in 1997," he said. "I didn't think it was going to go anywhere. But it took off like a rocket ship."
The Truth Squad materials will be nonpartisan, and will not contain "attacks, criticisms, or adjectives," Davis promised. "Charge me $10 for every adjective." The former White House counsel plans to appear outside as many hearings as he can, but he is also looking for volunteers to take shifts. "We're also going to be putting people on the air," he added. "Whatever it takes."
Davis, who now runs a law firm out of Washington, said after he talked about the idea on Fox News, he received calls from people who wanted to volunteer.
At one point, he said, one person suggested he house the project on a website. "All of a sudden people are making all sorts of suggestions," Davis said on Wednesday afternoon. "We're hoping to get BenghaziTruthSquad.com." But by Wednesday evening, Davis said he had decided against an online presence, citing costs.
"I priced it out, and that's where I stood by day's end."
Davis said he may rely on materials printed by Correct the Record, a research operation aimed at defending Hillary Clinton from partisan attacks. The group is operated by the giant political action committee American Bridge, founded by David Brock. But both Davis and a spokesperson for Correct the Record, which has been pumping out research to reporters about the Benghazi attack for months, were clear that the two projects are not working together in an official capacity.
Adrienne Elrod, spokesperson for Correct the Record, said in a statement, "Lanny Davis is a great supporter of Secretary Clinton's. Correct the Record and Davis are not affiliated in any way, but we are all working, in our own ways, to make sure the facts are before the American people."
During Hillary Clinton's bid for the White House in 2008, Davis often appeared on cable news as a pundit to defend her campaign. Then and now, Davis acts on his own behalf — no consultation necessary with either Clinton.
"This is what is wonderful about my situation. I don't ask permission," he said. "I'm a longtime friend of Hillary. Her name was Rodham when I first met her. I do what I think I should do, and I don't affiliate with any campaign or any organization."