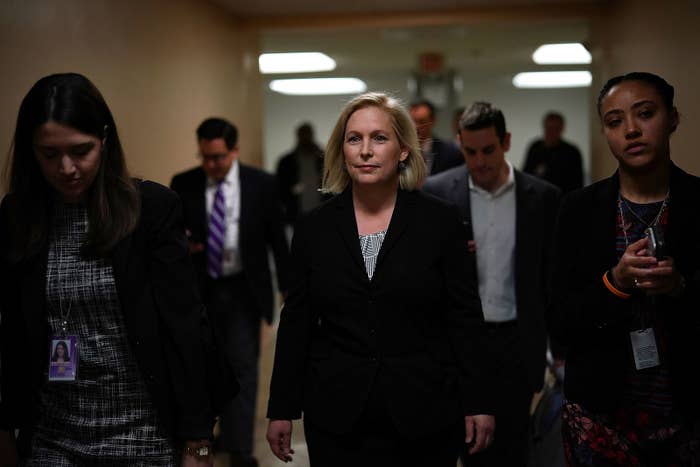 Sen. Kirsten Gillibrand is pledging to refuse contributions from corporate PACs — a move that puts her in a small group of national Democrats and sets a new bar on the issue of campaign finance for other potential presidential candidates in 2020.

Gillibrand stopped accepting corporate PAC money on Jan. 1, an aide said.
The New York senator made the pledge in conjunction with End Citizens United, a Democratic group named after the 2010 Supreme Court decision allowing unlimited political spending by corporations and labor unions. Gillibrand, up for reelection this year, secured End Citizens United's endorsement with the pledge — and became one of just four sitting senators to vow off corporate PACs, according to the group.

"She wanted to do something to show her leadership," said Tiffany Muller, the president and executive director of End Citizens United.
Other sitting senators who decline corporate PAC money include Bernie Sanders of Vermont, Elizabeth Warren of Massachusetts, and Maria Cantwell of Washington.
End Citizens United officials describe Gillibrand's pledge as part of a growing response by voters and candidates to the issue of money in politics, set off in part by Donald Trump's anti-establishment message that helped him pull support from Clinton among independent, non-college-educated, and unaffiliated voters.
According to End Citizens United, about 70 candidates running in 2018 races — most of them challengers in House races — have declined to take corporate PAC money. The figure marks a significant uptick since 2016, when only three top-tier House candidates, designated "Red to Blue" candidates by the Democratic Congressional Campaign Committee, made similar pledges, officials said.

"This is a national trend that we're seeing," said Muller, the group's president. "The reason that they're all doing this and campaigning on the issue is they see how much voters feel shut out of the system — like their voice is drowned out."

In 2016, End Citizens United did not endorse Hillary Clinton until after the Democratic primary. Speaking by phone, Muller praised Clinton for her platform on campaign finance as the "most progressive plan on the issue that we'd ever seen" — with goals to overturn the Citizens United decision, increase disclosure laws, and create a federal system to match small-dollar donations in presidential and congressional elections. Still, Clinton's campaign accepted thousands of dollars from corporate PACs.
For Gillibrand, the pledge comes as the latest in a series of aggressive and progressive stands since Trump took office. The Albany-born Democrat came to Washington in 2007 as a representative from New York's rural 20th District, with a moderate bent and a high rating from the National Rifle Association. A decade later, the 51-year-old claims one of the most liberal records in the US Senate: She cosponsored this year's single-payer health care plan, voted against most of President Trump's cabinet nominees, and set off calls for the resignation of Sen. Al Franken, her Democratic colleague, after multiple women accused him of sexual misconduct.
"People tend to focus on the political reasons behind why this makes sense," Muller said of Gillibrand's pledge. "One of the key reasons Sen. Gillibrand did this is it's just the right thing to do." (Muller noted that Gillibrand has long shown interest in issues of transparency: She was the first member of Congress, for instance, to publish a list of her official meetings, earmark requests, and personal financial disclosures.)
The End Citizens United pledge will apply to Gillibrand's Senate campaign and her PAC, Off the Sidelines.

Glen Caplin, an aide, said the senator has already turned down checks this year. He estimated that as a result of the pledge, Gillibrand's campaign could have raised an additional $800,000 to $1 million in donations from corporate PACs in 2018.
Still, Caplin said, much of Gillibrand's fundraising is focused online.
At the end of last year, the average contribution to her Senate campaign was $48.34. Ninety-seven percent of contributions came in increments of $100 or less. Eighty-eight percent came in increments of $25 or less. Her online donations totaled more than $4.4 million.
Ahead of the midterm elections, 18 candidates have taken End Citizen United's No Corporate PAC pledge, including high-profile challengers such as Rep. Beto O'Rourke, the Democrat running against GOP Sen. Ted Cruz in Texas, and Randy Bryce, running against House Speaker Paul Ryan in his Wisconsin home district.
So far, the group has endorsed a total of 114 candidates.
Update
Hours after Gillibrand announced her pledge, New Jersey Sen. Cory Booker tweeted that he would also stop accepting money from corporate PACs.
Booker, another potential 2020 candidate, is now the fifth sitting senator to take a stand against corporate PAC contributions.
Between 2013 and 2014, a period in which Booker ran in a special election followed by a reelection campaign, he received more money from Wall Street than any member of Congress, according to the Center for Responsive Politics.
This story has been updated.