Kirsten Gillibrand No Longer Keeps Guns Under Her Bed
The New York Senator emerges as a major gun control backer. Four years ago her NRA rating was 92 percent.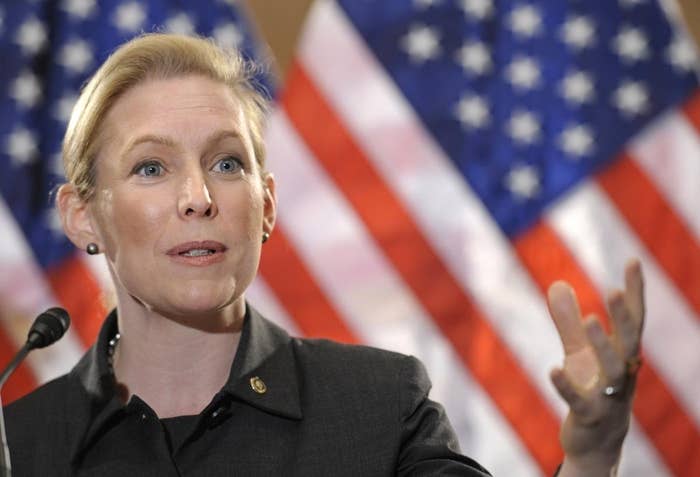 New York Senator Kirsten Gillibrand — once a vocal supporter of the Second Amendment rights — has emerged as one of the fiercest proponents for increased gun control following the shooting at Sandy Hook Elementary School in Newtown, Conn.
As a freshman member of the House of Representatives serving New York's rural 20th district, Gillibrand received a 92 percent rating from the National Rifle Association. She told Newsday in 2009 that she kept two rifles under her bed. "If I want to protect my family, if I want to have a weapon in the home, that should be my right," she said.
But Gillibrand softened her pro-gun stance when she sought appointment to the Senate after Hillary Clinton's confirmation as Secretary of State, and she has become increasingly vocal in her support of gun control measures. Her NRA rating this year clocked in at zero.
An aide also told BuzzFeed that Gillibrand no longer keeps the rifles beneath her bed.
Gillibrand wrote in a New York Daily News editorial Monday that Americans "deserve more from Congress" than words of sympathy. "Congress has ducked a serious national debate over common-sense gun laws for too long," she wrote.
And in a tweet that followed Sen. Dianne Feinstein's interview on Meet the Press — in which the senior Senator announced she would introduce an assault weapons ban at the start of the next Congress — Gillibrand tweeted that she "strongly" supported the measure.
"I urge my colleagues to pass it when the new Congress begins next year," she said.
Gillibrand was accused this fall by her Republican challenger Wendy Long of flip-flopping on gun control.
Her spokesman, Glen Caplin, said the Senator's views evolved when she took on a wider constituency in the Senate.
"Her former congressional district did not experience the same issues on gang and gun violence," Caplin told BuzzFeed. "But now as a statewide representative, Senator Gillibrand is highly focused on solving the problems of the entire state, and that includes gun violence."
"These are issues that she has always believed in," said Caplin, adding that the Senator still supports a citizen's right to bear arms.