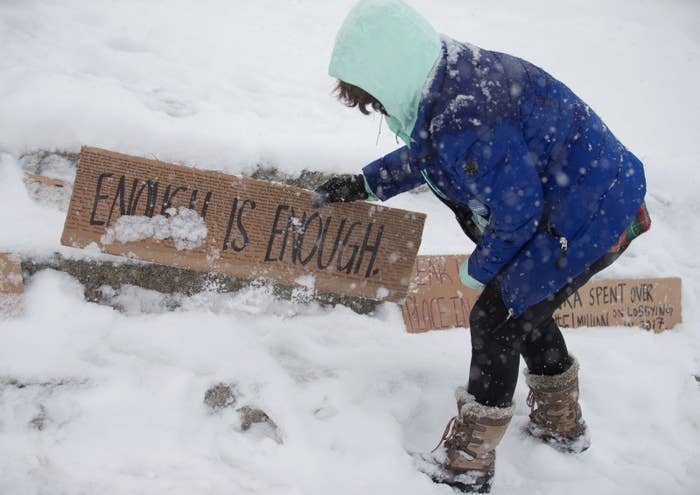 She says she's received racist threats. She's reported a home invasion. In the woods near her house, she says she found swastikas painted on the trees. The online attacks are "so pervasive," she's said, that even her 7-year-old son saw them.
Here in Vermont, a state that prides itself on being one of the most progressive in the country, Democrats are wrestling with a dark moment in their political history: Kiah Morris, the only black woman serving in the state legislature, is withdrawing her reelection bid for a third term because of racist vitriol she says has been directed at her and her family, both online and here at home in the state of Vermont, where the population is almost 95% white.
Morris, a Bennington resident, has held office for two two-year terms in Vermont's House of Representatives. She announced her decision to withdraw last week, detailing a "cascade" of threats and incidents that escalated after 2016.
"I just started having this uptick of being a really intentional target of a number of different folks that are affiliated with white supremacist groups," she told Vermont Public Radio, citing "pervasive" online threats and harassment, the swastikas behind her house, and a home invasion.
Morris said her initial attempts to rely on local law enforcement for help were left largely ignored until her announcement last week. "It was weeks without an answer, without a response," she said. "Right now, I really need to focus on my family."
Morris, a 42-year-old progressive, was seen by Democrats here as a rising star — on her way to becoming a strong candidate for Congress or governor, said Terje Anderson, the chair of the Vermont Democratic Party.
"I think it's going to take a lot of introspection and a lot of work for a lot of white people in Vermont," Anderson said in an interview on Tuesday. "People want to do ongoing work against it. It won't be a flash in the pan."
At Labor Day events across the state on Monday, where Sen. Bernie Sanders served as the headline speaker, lawmakers and activists spoke with alarm about the threats against Morris, which are now being investigated by the state attorney general.
"It is key that we maintain vigilance and that we become more and more outspoken," Lt. Gov. David Zuckerman said during a picnic in White River Junction ahead of Sanders' speech. "We have an incredible legislator who is not running for reelection because of the threats that she has received. That is unacceptable. Absolutely unacceptable."
"We all have to be speaking out," he said.
At an evening event here in Middlebury, a number of local candidates addressed the incident with outrage. Mark Hughes, the executive director of Justice for All, a group focused on addressing racial inequality in Vermont, implored residents not to "ignore [what is] happening around us systemically."
Sanders, who closed out each event with a speech on health care, the minimum wage, Donald Trump, and the wealth of Amazon CEO Jeff Bezos, did not mention Morris.
After the Middlebury event, when asked if he had thoughts on the legislator and the threats she's received here in his home state, Sanders continued to wade through the crowd to take pictures and shake hands.
"Not right at this moment," Sanders said.
Contacted on Tuesday, Sanders officials in Vermont provided a statement from the senator. The news of the threats against Morris left him "shocked and saddened," he said. "This is outrageous, not what Vermont is about, and must be thoroughly investigated."
"In the state of Vermont, no elected official, candidate or person should be fearful of their safety because of the color of their skin or their point of view. This corrosion of political discourse is destructive to our democracy, and we cannot let it take hold."
Sanders, in his rise as a national political figure, has frequently struggled to knit together his message about economic inequality with one about social and racial justice. A spokesperson, Dan McLean, said Sanders has reached out to Morris in an effort to set up a meeting or phone call. Morris did not respond to a request for an interview.
Over the holiday weekend, supporters held a sold-out "Concert for Kiah" in Bennington to rally behind the outgoing lawmaker. But Democrats here are also wrestling with how to effectively address a problem in Vermont that is not limited to Morris and her family.
"Among my African American friends and colleagues, people are shocked by how extreme what Kiah is going through is — but not shocked that it's happening," said Anderson, the party chair.
He pointed to an incident a few weeks ago at a youth camp in Stowe, where a number of black children said they were called racist names by members of the local community. In Morrisville, a large swastika was left painted near a school. And inside party headquarters, staffers have received harassing phone calls directed at Democratic gubernatorial nominee Christine Hallquist, who is a transgender woman.
"We're still a very white state," said Anderson, who is gay and Latino, "but we're much less white than we used to be. And I think that's caused a lot of backlash."
At the party, Democratic officials are engaged in ongoing conversations about what more can be done to create a safe environment for minority candidates.
"People think of Vermont as a progressive island that isn't touched by this kind of stuff," said Anderson, "and it's just not true."
CORRECTION
A number of black children at a youth camp in Stowe said they were recently called racist names by members of the local community. A previous version of this story misstated who called them racist names.