Keystone Pipeline Opponents Hope For A Hero In Joe Biden
"Biden is known for speaking his mind and speaking the truth, and I think that's what he did here," an activist says.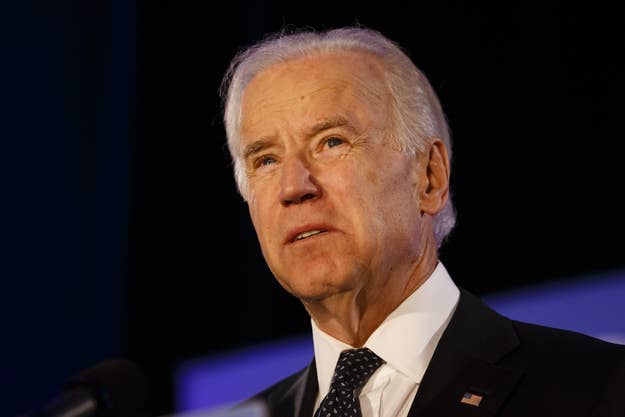 Environmental activists opposed to a controversial oil pipeline project have pinned their hopes on the same man they say forced the White House's hand on marriage equality: Vice President Joe Biden.
After Elaine Cooper, a South Carolina Democrat and member of the state's Sierra Club chapter, said Biden told her he opposed the Keystone XL pipeline, national climate change organizations seized on the account, reported Tuesday evening by BuzzFeed, as a sign Biden could help push the Obama administration to reject the project over potential environmental impacts.
It was a year ago to the week, activists said, that Biden let it slip on NBC's Meet the Press that he supported same-sex marriage rights — an admission widely thought to have hastened, if not prompted, the president's own shift on the issue, which he announced in an interview with ABC just three days later.
"He went off-message with the same-sex marriage debate, and forced the administration to question its response," said Erich Pica, president of Friends of the Earth, a D.C.-based advocacy organization. "I'm looking at this as the vice president really having his thumb on what the administration should be doing environmentally."
Rachel Wolf, a spokeswoman for All Risk No Reward, an anti-Keystone coalition, said, "It just happens to be right around the one-year mark of those [marriage] comments. I think that Biden is very well respected within the administration, and to have him go public on this would really be a big move on his part."
The TransCanada Keystone project would transport crude oil from Alberta's tar sands to refineries along the United States's Gulf Coast.
FOE's Pica released a statement commending the vice president for "his blunt talk"; and Gene Karpinski, president of the League of Conservation Voters, issued a press release calling the remarks "a big deal" and a "game changer that should encourage Secretary Kerry and President Obama to reject the Keystone XL tar sands pipeline."
Biden met Cooper, the Sierra Club activist, last Friday at Rep. Jim Clyburn's annual fish fry in Columbia, S.C., where she asked him if he would help reject the pipeline once the State Department concludes its review of the proposal later this year.
In an email obtained by BuzzFeed, Cooper described the encounter as follows: "He grabbed my Sierra Club hat on my head and said, 'yes, I do — I share your views — but I am in the minority' and smiled." Cooper later blogged about her conversation on the Sierra Club's website.
Reached by phone Wednesday, Cooper confirmed the story as outlined above, and said she "purposely went to the fish fry to ask him the question." Asked if there is a chance she could have misheard the vice president — there were hundreds in attendance at Clyburn's fry — Cooper said no. "That is bullshit," she told BuzzFeed, adding that her husband was with her and "a direct witness."
Biden's public position on the pipeline has been more reticent. Asked last year about Keystone, he deferred to the State Department's ongoing review. "It's going to go through the process and it will be made on an environmentally sound basis," Biden said at the time.
What's more, the vice president's office told BuzzFeed Tuesday night that Biden's views "haven't changed" on the pipeline. "Any impression to the contrary would be mistaken," an official said.
But activists cast the incident in South Carolina as a moment of candor from the often loose-lipped vice president. "I felt it was sincere at the time," said Cooper, recalling her conversation at the fish fry. "That's my interpretation. I really feel that he's a sincere, honest guy and don't get the feeling that he blows people off."
"Biden is known for speaking his mind and speaking the truth, and I think that's what he did here," said Wolf, adding that the administration will likely hold off on further comment until the State Department wraps up its final review.
"My guess is this is the last we hear from Biden on Keystone," she said.
Keystone opponents hoping for another Meet the Press moment also willingly acknowledge that the two incidents aren't nearly comparable — to talk with a guest on a crowded ropeline is not to announce your unequivocal support for an initiative on national television, as Biden did last year on NBC — but that isn't stopping advocates, who will no doubt hype the South Carolina encounter as much as they can.
"We'll see in the next couple of days, but I think this has weight," said Pica. "Our release today called attention to it. And our hope and desire is that this becomes a talking point at the daily press briefings at the White House and the State Department."