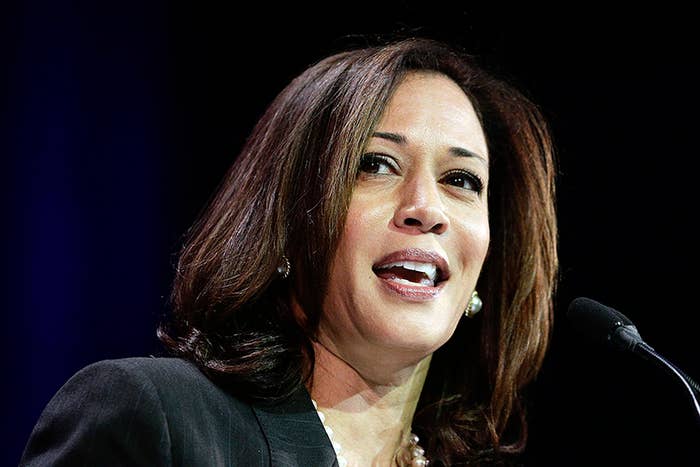 California Attorney General Kamala Harris will declare her candidacy for the U.S. Senate on Tuesday morning, a senior adviser to the Democrat said.
The announcement will come online, in a message to supporters, just five days after Sen. Barbara Boxer said she would retire at the end of her fourth term in 2016. The race mark the first open Senate election in California since 1992.
Harris's adviser said she has no press conference planned, just a statement to her constituents. Other possible candidates for Senate, including hedge fund manager Tom Steyer and former Los Angeles mayor Antonio Villaraigosa, have only said they are "seriously considering" campaigns for the Boxer seat.
Harris's team was clear that there will be no deliberation period: She's running.
Boxer's retirement spurred a four-day period of intense deliberation among the state's top elected officials, who have considered campaigns for both Boxer's seat and the governor's race in 2018. It's also likely that California's other U.S. senator, Dianne Feinstein, who is 81, will retire at the end of her term in four years.
Gavin Newsom, considered the top prospect for office in California alongside Harris, said on Monday morning in a Facebook post that he would not run for Senate.
"It's always better to be candid than coy," Newsom wrote. "While I am humbled by the widespread encouragement of so many and hold in the highest esteem those who serve us in federal office, I know that my head and my heart, my young family's future, and our unfinished work all remain firmly in the state of California."
Newsom, the lieutenant governor, is likely to campaign for governor instead.
The two elected officials, who share the same base of Northern California voters, have said that running against each other in a statewide race would be ill-advised.
Newsom, the former San Francisco mayor, and Harris, the former San Francisco district attorney, have climbed the ladder of California politics in near lockstep.
They share a long, at times complicated relationship — often labeled as a rivalry.
There was speculation that Newsom and Harris would make a "deal" over who would run for what position. But in interviews this weekend, advisers to both Democrats dismissed the idea of a behind-the-scenes pact as ridiculous.
After Newsom released his statement, there was some confusion among state Democrats about whether he had reached out to let Harris know his plans.
The lieutenant governor, who is said to have made up his mind about the Senate race on Sunday night after a weekend with family, called Harris early that night and left a message, according to a person familiar with the correspondence.
He also is said to have followed up this morning himself, and through their shared political consultant — but did not reach her directly.
Harris and Newsom have both expressed interest in the role of governor before.
Many of her donors have wanted her in the job — she would make history as the state's first female and first black governor. But Harris has weighed both options, and is said to have considered the Senate as a less restricting platform.
Newsom, meanwhile, has been more vocal, privately and publicly, about his desire to become the state's top executive. The current governor, Jerry Brown, will finish his fourth and final term after the gubernatorial election in 2018.