Jon Huntsman, Independent For President?
The former Utah governor has engaged with supporters and donors in a discussion about another White House bid in 2016.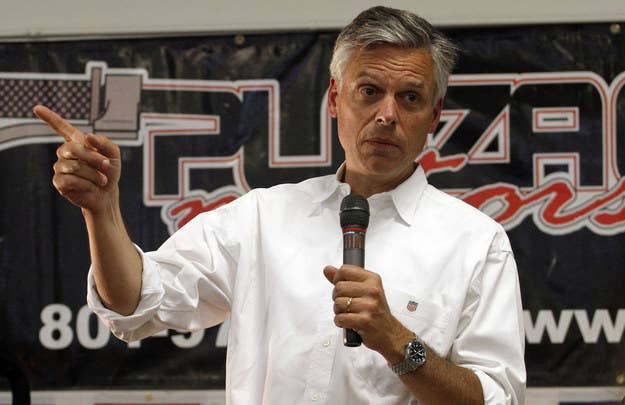 Former presidential candidate Jon Huntsman has engaged in discussions with supporters in recent months about pursuing another White House bid — this time as an independent, according to three sources close to Huntsman.
The former Utah governor declined to comment for the record. His daughter, MSNBC co-host Abby Huntsman Livingston, who was a surrogate for Huntsman's campaign in 2012, said in an email that her father is "primarily focused on family and private-sector endeavors."
She added: "He has no plans to run, but in politics never say never. I know there is a lot of pull out there for him to do something as an independent."
The sources said Huntsman has talked with supporters and donors about an independent candidacy, and that he appeared open to the idea.
Other friends and former aides, however, suggested that the 2016 conversations were primarily a function of Huntsman's willingness to hear out his supporters — not his interest in the race. Fundraising would be a massive obstacle, one his campaign struggled with mightily in 2012. And securing a place on a nationwide ballot is difficult — and expensive — for any independent candidate.
"People are way out over their skis," said Steven Bogden, the policy director for Huntsman's political action committee, Red Rock PAC, which was founded last May to help test the waters for a national run but has since gone dormant.
"Just because Huntsman loves Captain Beefheart doesn't mean he's taking psychedelics," Bogden said.
Huntsman told the Deseret News earlier this month that he was a "strong no" on a 2016 presidential bid.
Huntsman dropped out of the Republican primary in January 2012, after a third-place finish in New Hampshire, where he based his headquarters. About a month later, appearing on MSNBC, he called for the rise of a "third-party movement."
"Someone's going to step up at some point and say we've had enough of this," he said.
Before he quit the race, Huntsman considered going independent twice, once in the summer and again in the fall of 2011, according to a senior member of his campaign staff. Huntsman considered taking advantage of the infrastructure set up by Americans Elect, a nonprofit group that hoped to elect a third-party candidate, but his campaign ultimately dismissed the idea as unrealistic.
Those deliberations were detailed in part in the book, Double Down: Game Change 2012, which outlines a call from Huntsman to his campaign manager after a September debate in Tampa, Fla. "I want to go independent," Huntsman reportedly said. "I think we should do it sooner rather than later."
Since the election, Huntsman has co-chaired a coalition of Democrats, Republicans, and independents called "No Labels." He also serves as chairman of the Atlantic Council, a Washington think tank. The 54-year-old former governor was most recently the U.S. ambassador to China during President Obama's first term.