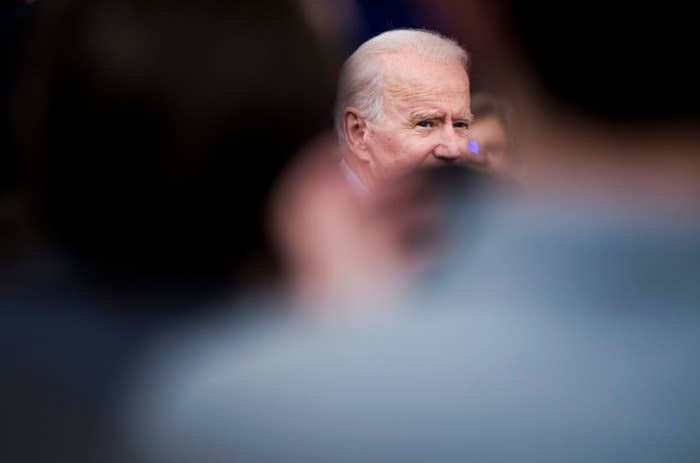 "Look at my staff," Joe Biden said back in December.
The subject of diversity had come up in an NPR interview: Only white candidates had qualified for the next Democratic debate, one of the last before the start of the primary, and the reporter asked if Biden would commit to selecting a person of color as his running mate. Aboard his campaign bus in Iowa, the 77-year-old candidate looked equal parts frustrated by the question and confident in his answer.
"I have the most diverse staff of anybody running. I've always done that."
Biden's campaign refused to give any detail about the claim after he made it. And more than six months later, he has yet to back up the assertion or provide any data on the diversity of his campaign staff — marking a significant break during a national reckoning over racism and issues of inclusion and equity with the standard of transparency set by Democratic candidates during the last presidential election.
Biden's presidential campaign, staffed at the top by a predominantly white team of advisers, declined this week to disclose the number of people of color on payroll or detail the way in which they track diversity data internally. In response to questions from BuzzFeed News about hiring and inclusion practices, the Biden campaign pointed to the creation of a diversity and culture committee and its employment of a chief people, diversity, and inclusion officer. Michael Leach, a former NFL labor relations official serving in that role, has worked for Biden for a year, but the campaign did not externally announce his job prior to the publication of this story.
Campaign officials did not explain why they have yet to share diversity numbers publicly but indicated they expect to do so soon.
Jamal Brown, the Biden campaign's national press secretary, said in an emailed statement that the campaign "reflects the diversity, breadth and promise of America" and that it has "placed a premium on fostering an inclusive culture and workforce representative of all backgrounds, beliefs, and socioeconomic groups."
During the last presidential election, Democratic candidates released data about their staff diversity on a quarterly basis as a result of an organizing effort by Inclusv, a group founded in 2015 to promote racial diversity in national politics and develop a talent pipeline for people of color. The organization successfully pushed Hillary Clinton and Bernie Sanders to self-report their private diversity data, and offered campaigns its own bank of résumés, establishing Inclusv as both a public point of pressure and a private resource for Democratic campaigns and party committees.
Alida Garcia, founder of Inclusv, said she is in an "ongoing dialogue" with the Biden campaign about the measures it should consider as it hires for the general election but has also so far seen her requests for internal data go unanswered.
"We have asked them a couple times to make their staff diversity data public. We have not received a commitment that they intend to share, but it's our hope that when this current hiring sprint is over they will do that," she said, referring to Biden's efforts to build a staff in swing states ahead of the general election.
"There is a body of work at this point that should make it clear that this is now an industry norm," Garcia said of the diversity data Democratic campaigns released four years ago. "Anything otherwise would be them walking it back."
Biden's outreach with Inclusv is limited compared to Clinton's in 2016. Garcia and the other founders of Inclusv met with senior members of Clinton's team before the launch of her campaign, bringing with them hundreds of résumés, she recalled. Inclusv has met with the Biden campaign — but with so far more limited results.
A summary of data from the end of Clinton's 2016 run shows the number of people on staff who identified as racially and ethnically diverse comprised more than 38% of the campaign and more than 34% of leadership, according to a former Clinton official. The same data summary shows that more than 54% of Clinton's staffers identified as women.
By some measures, any point of comparison with Clinton's 2016 campaign puts Biden at an inherent disadvantage: Where he faced an uncertain path to the nomination, starting out with a small staff in his Philadelphia headquarters and up against more than a dozen opponents in the primary, Clinton had been planning an all-but-certain general election campaign years in advance.
By the end of 2016, according to Nathaniel Koloc, Clinton's director of talent acquisition and development, the campaign had hired about 4,500 people in its headquarters and across the country with an emphasis on diversity among senior staff members from the start of her presidential bid.
"To me, the fact that they haven't publicly beaten Clinton on our numbers and our systems doesn't take into account the fact that their campaign doesn't look the same way ours did in terms of the resources," Koloc said. "That is not to say that they shouldn't value diversity."
Koloc said he helped track Clinton's staff diversity alongside Bernard Coleman III, the campaign's chief diversity and human resources officer. (Coleman could not be reached for an interview for this article.) In their 19 months on the campaign, Koloc and Coleman helped develop a custom-configured software to act as a massive private résumé database, bringing in new talent from the campaign website or radio ads they would run in the states to hire organizers. Koloc recalled an effort to recruit people of color to departments where the barrier to entry has historically been high, such as data and analytics.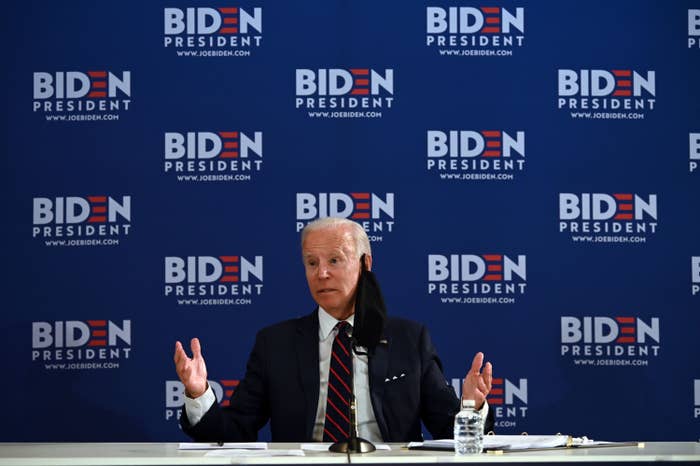 The national protests sparked by the death of George Floyd, an unarmed Black man killed by police in Minneapolis late last month, combined with President Donald Trump's threatening tweets aimed at Black protesters, have opened up a space in Democratic politics for a frank dialogue about staff representation and inclusion in campaign culture. On Twitter, in private email lists, and on all-hands Zoom calls, staffers are deep in conversation, some of it painful and tearful, over everything from the "awesome burden" placed on Black political staffers to "anti-blackness in the political data community."
A Trump campaign spokesperson did not respond to several questions about how many people of color work for the president's reelection team.
"Sadly, Donald Trump doesn't share these principles — and it shows," said Brown, the Biden press secretary.
Assembling a staff that represents diversity in race, ethnicity, gender identity, sexual orientation, and other areas is a challenge even for stable organizations with large human resources departments. It can be even trickier for organizations built on the fly and subject to the episodic ups and downs of a political campaign.
At one point late last year, around the time of Biden's NPR interview, at least three of the Democratic presidential campaigns — Pete Buttigieg, Bernie Sanders, and Elizabeth Warren — reported having staffs that were at least 40% nonwhite.
From the moment he became a serious contender to the day he ended his run for president, Buttigieg faced questions about his commitment to racial justice and equality. The concerns started with his work as mayor of South Bend, Indiana, carried over into polls that in some cases measured his support among Black voters at zero, and demoralized some of his aides of color who felt they had limited input with the senior leadership team. So pronounced were the frustrations that the campaign held several staff meetings on diversity and inclusion last December and in January.
Nina Smith, who as Buttigieg's traveling press secretary was one of the campaign's most visible employees of color, said in an interview that she found the candidate's attention to diversity issues genuine and meaningful.
"What I liked about Pete was this intention around creating spaces for us to, first of all, be in the room and, short of being in the room, having these spaces," said Smith, who now works as a Democratic communications strategist. It is important, she added, to measure how closely a candidate's staff reflects "what the country looks like."
For operatives of color, the top-line data only tells part of the story.
"Your diversity numbers in a one-dimensional sense can look great — but who really has agency? Who's actually making decisions? Who has the financial investment and a real budget to run with?" said Linh Nguyen, a Democratic strategist who worked as director of coalitions on Sen. Cory Booker's presidential campaign.
After working on multiple presidential cycles and state campaigns, Nguyen started her own super PAC focused on online digital disruption. "I spend my days pitching and trying to demonstrate the value and the work that we do as people of color — to typically white men," Nguyen said of some of her past campaign experience. "Whether it's a white male director that I report to or a white campaign manager, they're never gonna inherently understand the value of this work or why I need a six-figure budget."
She added, "The system was already built and designed to exclude us."
In November, Vanessa Cardenas, a senior Biden aide, quit over her frustration with the campaign's Latino outreach and her lack of input, Politico reported at the time.
Biden's senior staff is mostly white, as is his kitchen cabinet of advisers, many of whom have been with him for decades. Several staffers of color have acknowledged that fact in recent interviews. But they also maintain that Biden — a candidate who jumped in the race several months later than others, struggled to raise money online, and stumbled into the first three contests of the Democratic primary earlier this year — is now in a position to recruit a diverse staff.
A Biden official confirmed that the campaign has been tracking staff diversity internally through human resources tools since its launch in April 2019 "to ensure a robust diversity pipeline," though the official declined to detail what resources or services the campaign employs to prioritize diversity during the recruiting process.
Jen O'Malley Dillon, who took over as Biden's campaign manager in March, told the Washington Post last month that staff diversity was a "priority."
"I think our campaign is growing," Kamau Marshall, the campaign's director of strategic communications, said earlier this month. "Since day 1 we've always had a diverse campaign."
Biden and O'Malley Dillon both reached out to staffers of color late last month after Floyd's killing in Minneapolis. Biden held an all-staff video call for nearly two hours. O'Malley Dillon encouraged staffers to take time off if they needed it.
In recent weeks, the campaign has added several people of color in key roles, including senior advisers Karine Jean-Pierre and Julie Chavez Rodriguez, who are expected to help with outreach in the Black and Latino communities. Addisu Demissie, who managed Booker's presidential campaign, has been hired to run Biden's convention operation.
"The question around racial justice — nobody from the outside can address this issue on their own," said Smith, the former Buttigieg aide. "You can't create policies that will repair the harm that's been done — you can't do that without having the person who's lived that experience in the room and all over your campaign."