Jeb Bush In Iowa: Still A Long Way To Go
The family network has faded, he's unpopular on policy, and his trip next month will be Bush's first in three years. "The first thing he needs to do is show up."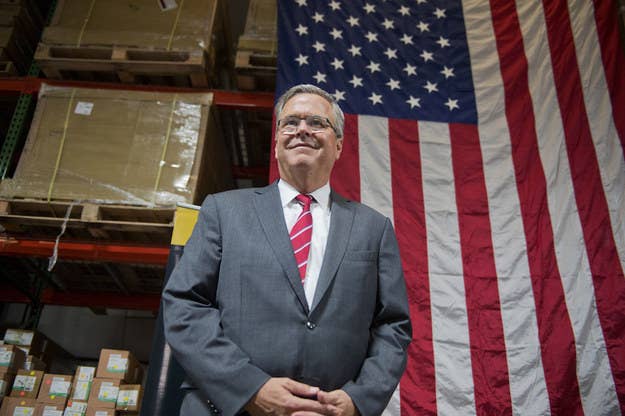 Columbus Junction is a town in Eastern Iowa of two square miles and 2,000 voters — a small corner of Louisa County where nearly half the people are Latino.
On the phone last month, when the chair of Iowa's Republican Party mentioned the town in passing, the reply on the other end of the line took him by surprise.
Jeb Bush not only knew tiny Columbus Junction — he knew other towns like it, speaking with ease and specificity about a corridor of Latino-heavy communities in Eastern Iowa where voters might support him if he decides to run for president.
"When you talk about towns in Eastern Iowa of that size, you're ready to tackle the Hawkeye State," said Jeff Kaufmann, the state party chair, recalling his 20-minute call with the former Florida governor, who is known among friends and supporters as a quick study.
But most of the Republicans thinking about a run for president have already visited Iowa. Bush hasn't. Many have hired state-based staff. Bush hasn't. And nearly all have put in calls to Kaufmann. Bush waited until last month to finally get in touch.
In interviews this month, state operatives and officials said Bush has yet to take many early steps to catch up to his rivals in the state where voters expect to be courted with rigor ahead of the caucuses that mark the start of the presidential race.
Bush has been the least engaged of any major candidate, with the most to overcome: He's underwater in early polling; he has no "Bush Brigade" in waiting like his dad and brother did; and he is expected to struggle selling his positions on Common Core, immigration, and energy to the conservatives who propelled candidates like Mike Huckabee and Rick Santorum forward in 2008 and 2012.
"Can Jeb Bush win Iowa? Of course he can," said Kaufmann. "Can Jeb Bush come in fifth place in Iowa? Sure he can."
In January, Bush set up a PAC, Right to Rise, to fund travel and staff. He and his cadre of longtime aides spent the last month fundraising and expanding a national team.
David Kochel, a leading Iowa strategist who worked on Mitt Romney's presidential campaigns, recently announced he would move to Miami to serve as Bush's national campaign manager. The Kochel pick, according to one Republican involved in the Bush effort, showed a "state-based" approach, but not necessarily a focus on Iowa.
"If they wanted to play aggressively in Iowa, why would they take the best strategist in Iowa and move him to Miami?" the Bush-aligned operative said.
Last month, Bush skipped the "Iowa Freedom Summit," a day-long parade of speeches by other likely candidates, including Wisconsin Gov. Scott Walker, who received enthusiastic reviews. Bush is slated to attend an agriculture summit in March, marking his first visit to the state since he headlined the Sioux City Chamber of Commerce dinner almost three years ago.
"The first thing he needs to do is show up," said Bob Vander Plaats, the president of the Family Leader, a leading conservative group in Iowa. "He may be able to skip the Freedom Summit, but if he starts skipping other forums, the people of Iowa will take note of that."
Vander Plaats said he hasn't heard from Bush — nor has he caught wind of outreach to other conservative leaders. Other operatives, including some working for Bush's competitors, said they see few signs the former governor is building a campaign operation in the state.
"I don't know who his team is in Iowa. I haven't heard anything, and I've been listening," said Steve Grubbs, a former chairman of the Iowa Republican Party who is now serving as the chief state strategist to Sen. Rand Paul.
Candidates like Santorum and Huckabee, and even Paul, whose father competed in the last two caucuses, have "a built-in base of support here," said Jeff Patch, a former spokesman for the Iowa Republican Party. "The last time a Bush ran was 2004. These people aren't automatically transferable to Jeb Bush."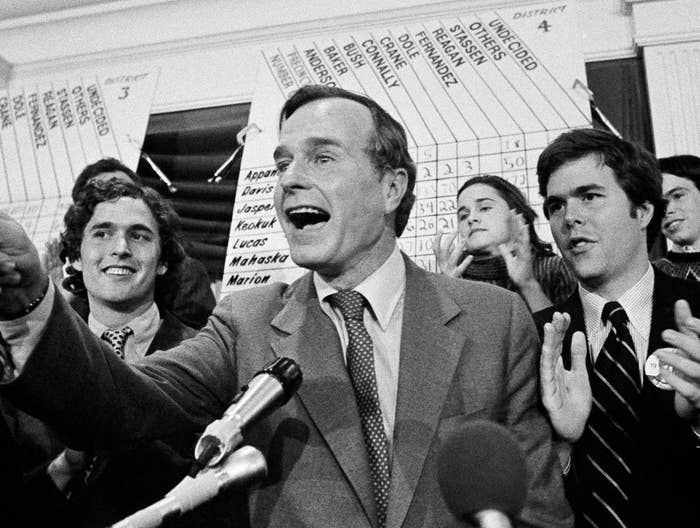 When George H. W. Bush first ran for president in 1980 — beating Ronald Reagan in Iowa, then losing the nomination — a group of his supporters in the state, the so-called "Bush Brigade," stayed together for another eight years, waiting for a second chance.
But young Jeb Bush, the only son working full-time on the 1980 campaign, spent those early months of the election based in Puerto Rico, not Iowa.
The former governor has fewer long-term ties of his own to the state's Republican infrastructure, strategists said. And because of his family name, a large share of voters have already made up their mind about his candidacy. Forty-three percent of voters view him negatively, according to a Bloomberg-Des Moines Register poll.
Like George W. Bush, the party's last nominee to decisively win Iowa, Jeb Bush has a robust record as a social conservative — often a common thread between Republicans who perform well in the state. But Bush is running more to the center earlier than his brother did in 2000.
State Republicans said that the big challenge for Bush will be on federal policy: defending what conservatives describe as too soft a stance on issues like immigration and Common Core, the system of reading and math standards for grade students.
"The one we hear on the ground all the time is his efforts to push Common Core," said Grubbs, the Paul strategist. "That's the lead problem, but there are others."
Bush has also argued that the United States should phase out federal subsidies for ethanol, a major benefit to corn-growers in Iowa and other parts of the Midwest.
Ahead of the 2008 election, amid speculation he might get in the race, Bush joked that his position on ethanol was "living proof that I'm not running." And when Tim Pawlenty, the former governor of Minnesota, kicked off his campaign in Iowa five years ago by calling for an end to the federal subsidy, Bush backed him up.
"I admire truth telling and t-paw sure did it to open his campaign," he wrote on Twitter at the time.
Kaufmann, the state party chair, said there's just as much room for an "establishment" candidate as for a hard-line conservative. "Rick Santorum won our caucuses four years ago in a virtual tie. The person he tied was Mitt Romney."
"That's the political diversity of Iowa," said Kaufmann.