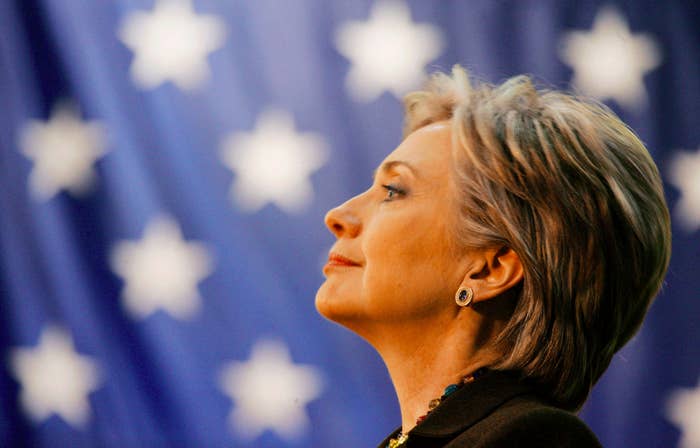 Can the Democratic Party's next presidential nominee be a candidate who favors the death penalty, opposes marijuana decriminalization, objects to driver's licenses for undocumented immigrations, calls for a pathway to legal status over citizenship, and gets beat on a marriage-equality endorsement by Republican Senator Rob Portman?
Hillary Clinton could soon find out.
Clinton's statement in support of same-sex marriage this week — made by way of a five-minute, direct-to-camera video explicating the ways in which her personal views on the issue have been "shaped over time" — was a sure sign that the potential presidential candidate is still in the game and ready to revisit a campaign platform that has been all but frozen in amber since she left the political stage for the State Department four years ago.
Because the former Secretary of State jumped from the campaign trail in 2008 to Washington's Foggy Bottom, where she was barred from talking domestic politics, Clinton will have to dust off, and likely shift, her policy positions, Democratic strategists say, if she wants to run for president in 2016 in a party that has moved sharply to the left in recent years.
While her possible primary opponents, governors Martin O'Malley of Maryland and Andrew Cuomo of New York, have clambered to the left of one another — proposing progressive legislation on gun control, most recently — Clinton has stayed locked in place and "out of politics," as she told CBS News in a 60 Minutes interview before leaving her cabinet post in February.
"It's not so much a function of Hillary feeling like she needs to play catch-up," said Phil Singer, a consultant and the deputy communications director for Clinton's 2008 presidential bid. "She's been in a position that prevented her from speaking out in real time, and now that she's unshackled by the boundaries of her office, she'll step up to the mic."
"I would bet my left arm that she's going to be playing a significant role in the national conversation now," Singer said.
Clinton, who opposed same-sex marriage in favor of civil unions during her campaign four years ago, had to rush to "get on the train for gay marriage, because the train was leaving the station," said Larry Sabato, director of the University of Virginia's Center for Politics. (Her announcement came just a week before the Supreme Court is set to hear oral arguments for the cases against the federal Defense of Marriage Act and California's same-sex marriage ban.)
Clinton, though, will have to do more to reintroduce herself, politically, to the American people over the next three years, said Sabato.
"She has some flexibility. When exactly that will expire, I can't say. But she has time," he said. "No one expects her to have a press conference this month and say, 'I missed the following issues over the last four years, so let me tell you where I stand precisely,'" Sabato added.
But immigration, strategists said, could be one policy area on which Clinton will want to clarify her position, given the fast-moving debate and fervent activist base this year around comprehensive reform legislation, which President Barack Obama and Congressional leadership from both parties have made a top priority for 2013.
Clinton's 2008 candidacy was dogged for weeks by a botched response to a debate question about then-Gov. Elliot Spitzer's proposal to allow undocumented immigrants in her home state to obtain driver's licenses. Asked to weigh in on the policy during a primary debate, Clinton gave a muddled answer; released a statement after the debate that only confused her position more; talked around the issue in interviews with the press; and finally, after weeks of scrutiny, came out against the Spitzer proposal.
And despite her votes in the Senate for bills that offered a path to citizenship, Clinton's line on the stump and in primary debates was a call for "legalization," unlike her Republican opponent, Sen. John McCain, who called specifically for citizenship.
Clinton's 2008 campaign website, meanwhile, promised voters she would support "earned legal status" — the legislative option favored this year by the conservative faction of House Republicans. The politics on earned citizenship have shifted such in the past four years that when former Florida governor Jeb Bush reversed his support for the measure in a new book, published earlier this month, he was met with attacks so fast and loud that he crept back to his original stance the next morning in a cable news interview.
"Immigration is one where it's important she be part of this conversation," said one Democratic consultant who preferred to speak without attribution. "She can release a video with La Raza, or go do a Charlie Rose interview and make sure the question gets asked, but the date of expiration on gay marriage was the Supreme Court hearing, and the date of the expiration on immigration will be this bill."
"On the social issues and immigration, as long as she gets to the right place before she becomes a candidate, she'll be fine," said the consultant. "The only price she'll pay is if she refuses to comment on something."
Clinton may consider a shift on left-wing measures that she hasn't backed — like a death penalty repeal, a measure O'Malley headed up this year, or marijuana decriminalization — or reaffirming her commitment to curbing climate change, if not to appease environmentalists who believe the Clinton State Department wanted to move forward with the Keystone XL Pipeline, a project bitterly opposed by activists in the movement to stop carbon emissions.
But on a host of other issues more often talked about by voters, Clinton's platform still lines up in large part with today's Democratic Party: She favored the reinstatement of an assault weapons ban, promised to cut taxes for the middle class, supported a cap-and-trade bill, and was a champion of universal health care well before the president.
"The Democratic Party has moved in various directions, mainly to the left, since 2008," said Sabato. "But she's been frozen in place. So naturally she's behind the curve of an O'Malley or a Cuomo."
How to start talking politics again will be up to Clinton — but if this week's solo and scripted video announcement was any indication of her strategy moving forward, the former secretary of state will be "pushing off the press," said Sabato.
"It seems to be a very successful strategy. Very few people complain anymore — they should, but they don't," he said. "It was a fire-side announcement, not a fire-side chat. Do you blame her for doing it? She's doing what she can get away with. How long can that last — I don't know, but it'll fade."
As she does step back into the conversation, though, Clinton could be at pains to avoid a repeat, in whatever form, of the damage her presidential bid incurred from her fateful Senate vote in 2002 to authorize the use of force in Iraq. Despite pressure from the left throughout her campaign, Clinton would not acknowledge the vote as a mistake, or reverse her position on it, as her primary opponent John Edwards did.
"That was a painful lesson of her professional life. It cost her not just the nomination, but a two-term presidency had it not been for that vote she cast in Iraq," said Sabato. "I'm sure in her own mind, or maybe in discussions with Bill and her staff, she's examining the issues that she's missed."
But Jason Stanford, a Democratic strategist and researcher, said he couldn't envision Clinton getting "hounded again for any kind of mea culpa."
"People now have enough respect for her to understand that, on something like gay marriage or another issue, she's changed her mind," said Stanford. "Democratic primary voters already punished her enough for that in 2008."
Correction: O'Malley has not taken a position on this issue of marijuana legalization, although his administration is pursuing a bill that would create a medical marijuana program. An earlier version of this article misstated his position.