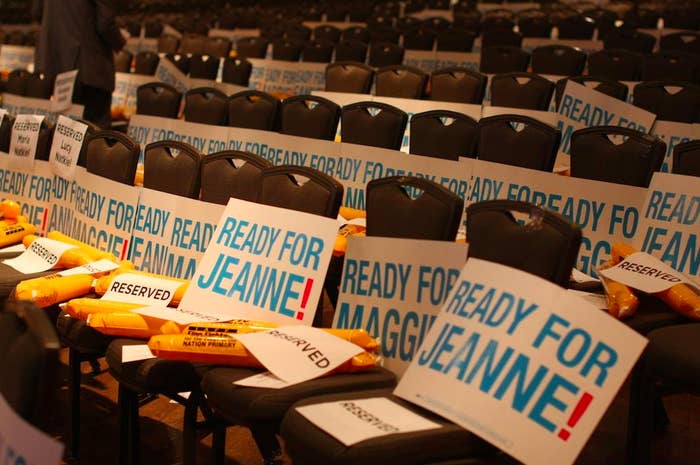 MANCHESTER, N.H. — Ready for Hillary's point man in New Hampshire stood in the back corner of the Armory Ballroom, waiting, along with the rest of the 1,200 assembled for a Democratic Party dinner, for Bill Clinton's speech.
When approached by a reporter, he reached for his pocket, retrieved a bright blue "READY" sticker, and hurriedly pressed it to his jacket lapel.
Just about every person at the Jefferson-Jackson Dinner on Thursday night, a staple of Democratic politics in this early-voting state, was sure to wear the sticker or a pin, or wield a sign with some variant of the Ready for Hillary brand.
Traces of the group, a super PAC that supports what many hope will be another Hillary Clinton campaign, could be seen from the lobby to the wood-paneled ballroom of the Radisson Hotel, downtown Manchester.
In the ballroom a sign waited on every seat: "Ready for Maggie," "Ready for Jeanne," or "Ready to Vote." Printouts saved spots in the first and second rows: "Reserved for Ready for Hillary." And on stage, two giant posters flanked either side of the lectern: "Ready."
None of the signage had Hillary Clinton's name on it, of course. The annual party gathering was a fundraiser for Democrats running in New Hampshire this year, including Gov. Maggie Hassan and Sen. Jeanne Shaheen. Bill Clinton, who had come from another rally in Massachusetts, was there for the 2014 races, too.
But the word "READY" — a trademark that fast became synonymous with the next presidential race — hung over the event like an obvious reminder:
Hillary Clinton, Hillary Clinton, Hillary Clinton.
Raymond Buckley, the chair of the New Hampshire Democratic Party and the host of the Jefferson-Jackson Dinner, said the event sold out before Thursday because of interest in Hassan, Shaheen, and of course, Bill Clinton. "Nearly everyone in this room feels like they have a personal relationship with Bill Clinton," he said, but added: "This is all about Jeanne Shaheen and Maggie Hassan."
And the Ready for Hillary branding around the room? Buckley shrugged.
"Well, it is New Hampshire."
The PAC co-sponsored the dinner, putting down a $5,000 contribution toward organization costs. To date, Ready for Hillary has transferred $60,000 to New Hampshire Democrats, according to an aide. And earlier this year, the group purchased the state's Democratic voter file. More than 20 people affiliated with Ready for Hillary, including college volunteers, attended the event.
The group made a similar showing at the Iowa Steak Fry, the annual fundraiser hosted by Sen. Tom Harkin, where the Clintons spoke last month.
"We came up with a menu of things for them to select from, and the cost that that would be," Buckley recalled, "And they said, 'We'll take it all.'"
In Bill Clinton's 40-minute speech — an unscripted riff on trickle-down economics, raising the minimum wage, combating Ebola, the Reagan years, and his "love" of New Hampshire — the former secretary of state made repeated cameos.
"I'm really quite comfortable being here to campaign for women and taking orders," he said at one point, grinning. "It's like being at home."
Toward the end of his remarks, he promised, "If you like what happened when I was president, I'm telling you it will be way better than that going forward."
After the speech, Clinton worked the rope line for about 20 minutes.
Asked if he was happy to be back in New Hampshire, he said, "Are you kidding? Is it obvious or what?
"Hillary is coming in a few days, you know."
She is scheduled to return to New Hampshire on Nov. 2 to campaign for Shaheen and Hassan. It will be her first visit to the state since the 2008 election. During the primary, voters here delivered Clinton a crucial victory against Barack Obama.
Gov. Martin O'Malley headlined the same Jefferson-Jackson dinner last year. But the Maryland governor, who is also considering a White House bid, drew about a 1,000 people, a slightly smaller crowd than Bill Clinton's on Thursday night.
"It definitely was not sold out," Buckley said. "We stopped selling tickets days ago, but people were still after us all day trying to squeeze in. It's really a phenomenal turnout."
At last year's dinner, another Democratic trademark made its debut. The co-founder of the liberal Progressive Change Campaign Committee (PCCC) passed out stickers that read, "I'm from the Elizabeth Warren wing of the Democratic Party."
In a seeming counter to the effort, a single adviser from Ready for Hillary passed out lapel buttons bearing the group's logo.
The PCCC did not make an appearance at this year's dinner.
Buckley, who has supported the Clintons in the past, seemed to welcome and encourage the sentiment behind the "READY" messaging.
Before the event began, a projector beamed old photos of the Clintons onto a large screen behind the stage. And overhead, the campaign song from Bill Clinton's first presidential race, "Don't Stop" by Fleetwood Mac, filled the ballroom.
"You can't beat Fleetwood Mac," Buckley said with a smile.
A spokesman from Buckley's office emailed on Friday morning to say he "misspoke" on Thursday about the size of last year's audience at the Jefferson-Jackson Dinner. About 1,000 people attended the event last year, not 400.