In Homestretch To Election Day, Clinton Runs Against Comey
After news of renewed FBI activity around the email investigation that has loomed over her campaign for 19 months, Hillary Clinton has become sharply critical of FBI Director James Comey's handling of the matter, and returned to a familiar message: She's a fighter.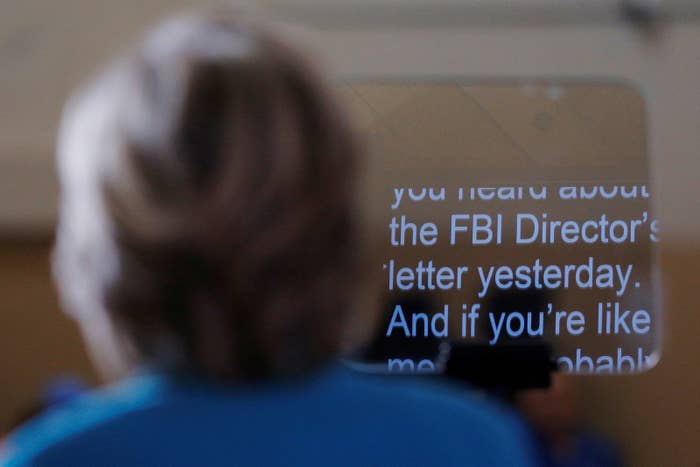 DAYTON BEACH, Fla. — She's used the line at nearly every rally this month. But when Hillary Clinton teed it up the now-famous mantra at a community center here on Saturday afternoon — "when they go low" — she wasn't just talking about Donald Trump.
"We go high!" the crowd of 900 roared back at Clinton, after she addressed the new FBI activity that blindsided her campaign on Friday.
Over the weekend — on a call with reporters, in press releases, and at stop here in Florida on Saturday — Clinton and her aides took the step of targeting the director of the FBI himself, James Comey, in what has become a 10-day stretch to Election Day without precedent.
"Some of you may have heard about a letter that the FBI director —" Clinton said before voters cut her off sharply with a round of boos.
"Well, if you're like me you probably have a few questions about it," she said. "It's pretty strange — it's pretty strange to put something like that out with such little information, right before an election."
The news of the FBI investigation, breaking Friday afternoon with little known about the pretext or purpose of the inquiry, turned the routine canvass kickoff here in Daytona Beach into the venue for Clinton to address voters about the developments of the past 24 hours. Before the candidate spoke, staffers took to the stage with a tape measure, positing a teleprompter just so on either side of the lectern. Packed into the Dickerson Community Center, the hundreds of volunteers waiting to canvass on behalf of Clinton hung onto her every line, booing Comey as if he, not Trump, were the opponent.
On Friday, after Comey sent a letter to members of Congress about the inquiry, the New York Times reported that the investigation stemmed from a separate case — into former Congressman Anthony Weiner, separated from Clinton's closest aide, Huma Abedin.
Clinton described the letter as an extraordinary and reckless move by Comey so close to Election Day. "It's not just strange. It's unprecedented," she said on Saturday. "And it's deeply troubling. Voters deserve to get the full and complete facts. And so we've called on Director Comey to explain everything right away, put it all out on the table."
Trump immediately seized on the development at a campaign rally in New Hampshire on Friday, telling voters that the FBI had "re-opened" the investigation it closed earlier this year into Clinton's email setup. (Comey's letter does not say the case has been reopened.) "Hillary Clinton's corruption is on a scale we have never seen before," Trump said. "We must not let her take her criminal scheme into the Oval Office."

When news of the new investigation hit on Friday, Clinton appeared unfazed by the crisis unfolding in the final week before Election Day. But 19 months after the discovery of Clinton's private email server, the candidate and her aides are finishing the campaign the way they started it: under the cloud of an FBI inquiry that taps into the candidate's biggest vulnerabilities, trustworthiness and favorability.
With Abedin under siege, the candidate and her campaign have assumed a familiar defensive, stalwart posture, powering through with events as planned over the weekend. Philippe Reines, the longtime Clinton hand who came to her defense when the 2013 mayor's race uncovered a second humiliation, also made his first trip on Clinton's plane on Saturday since playing Trump in prep sessions for the three presidential debates.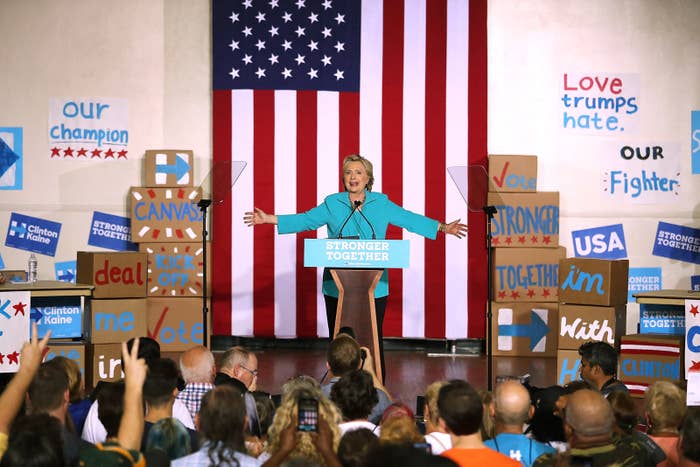 Asked about Clinton's state of mind, a Clinton official told reporters that she "took the news like a champ," describing the candidate as "a happy warrior."
At her campaign stops this weekend, Clinton tried to embrace the moment. She acknowledged the "ups and downs" of her campaign. She invoked her late mother's advice: "Everybody gets knocked down. What matters is whether you get back up." And she promised to "never stop working," to "never ever quit" — "no matter what they throw at us in these last days."
The lines reflect a consistent through-line of an often beleaguered campaign. In the absence at points of a cohesive message for Clinton, she and her aides have leaned on one obvious theme: that Clinton is, above all else, a "fighter."
Last April, the night before Clinton got in the race, senior advisers previewed the campaign message for the first time with a single anonymous quote, provided to the Associated Press: Clinton, the aides said, would run as a "tenacious fighter." Six months later, after a summer of tightening polls and scrutiny over her private email server, Clinton bounced back with an 11-hour congressional hearing on the terrorist attack in Benghazi, followed by a strong performance in the first Democratic debate. Aides unveiled a new logo on t-shirts, lecterns, and banners: "Fighting For Us, Fighting For Her."
On Saturday, Clinton fell back into the same theme. Aides argued on that the Comey letter would only motivate Clinton's base further, as the Benghazi hearing did last fall, leading to a record fundraising drive.
While Trump raises the inquiry on the campaign trail, his aides have accused Clinton of "playing the victim," as campaign manager Kellyanne Conway put it in an interview Sunday morning on the TODAY show.
"My mother taught me to never ever quit," Clinton said in Daytona. "That means everybody gets knocked down. What matters is whether you get back up. I've been fighting for families and underdogs my entire life. And I'm not stopping now."
"So no matter what they throw at us in these last days, we're not gonna back down, we're not gonna get distracted, we're not going to get knocked off course."