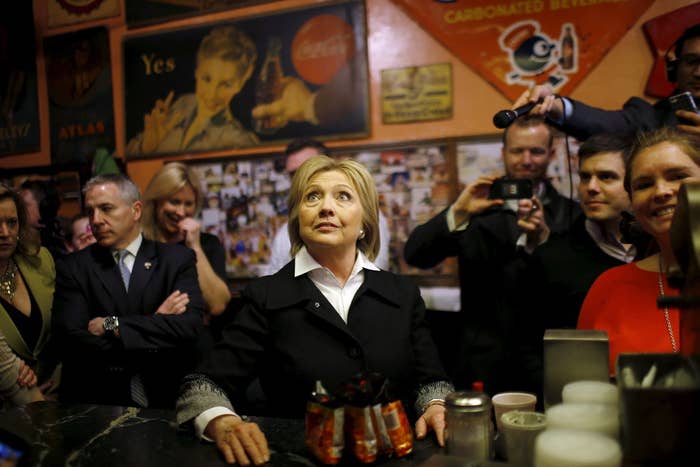 DETROIT — Eight years ago, after conceding defeat in the long and bitter fight for the Democratic nomination, Hillary Clinton had to meet with hundreds of her supporters, selected as delegates, to urge them, "Do not vote for me."
"'I want you to vote for President Obama,'" Clinton told the group, recalling the moment on Monday afternoon. "It was an incredibly emotional meeting."
This time around, Clinton hopes that Bernie Sanders would do the same with his supporters for her campaign, should she win the Democratic primary.
"I would hope to be able to enlist Bernie in helping me reach out to his supporters if I am so fortunate to be the nominee," Clinton said, during a campaign stop in Grand Rapids, Michigan, campaigning on the eve of the state's crucial primary contest.
Clinton made the comments during a town hall-style meeting with about 35 employees of a Michigan tech-software firm, Atomic Object, when a supporter at the event asked a question about how he could eventually persuade friends who back Sanders to come to the other side and rally around Clinton's campaign.
"Look, I like Bernie," Clinton replied. "I really appreciate very much his passion, his incredible drive to raise issues that have to be raised and people have to pay attention to. I am both impressed and excited about people he is bringing into his campaign."
Some Sanders voters "will be persuadable," Clinton said of the hard-charging Feel the Berners powering Sanders. "Others will be disappointed for a long time."
The same was true of her supporters in 2008, Clinton said. Many were left bitter and resentful over the long battle, and some waged a campaign for an open convention.
"I had a lot of passionate supporters who did not feel like they wanted to support then-Sen. Obama," Clinton said. "I worked as hard as I could. I nominated him at the convention. I made the case, because he and I shared a lot of the same views."
Clinton said she hopes that the Republican Party's nominee will ultimately help bring the two camps together. "Anybody who voted for Bernie will see how at odds anybody they end up nominating is… with everything we care about," she said.