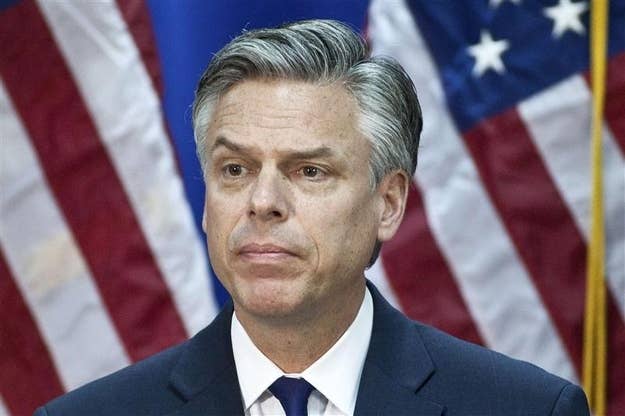 A forthcoming documentary film on former Ambassador and Governor Jon Huntsman will portray him as a reluctant candidate who never got the chance to focus the race on what he sees as a central issue: Relations with China.
Geralyn Dreyfous, a Huntsman friend based in Utah who produced an Academy Award winning documentary in 2004 on child prostitution in Calcutta, followed Huntsman around for two and a half years. She started in China, where the former Governor of Utah served as U.S. ambassador, and ended up New Hampshire, where the Huntsman campaign lived and died.
"The campaign turned out to be a non-starter," Dreyfous said.
But Dreyfous, who executive produced the Huntsman documentary, said the candidate's central disappointment had to do with American attitudes toward China.
"The campaign never got off the ground, but China never became a campaign issue in the way that he wanted it to be," Dreyfous told BuzzFeed. "It was only there as a kind of hostile example of how Republicans could be tougher on trade."
Although reticent to leave his post as ambassador of China, Huntsman ultimately entered the race "because there was a tremendous amount of pressure on him from moderate Republicans and business leaders who thought the party had gone too afar," explained Dreyfous.
From his seat in Beijing, "it became very clear to Jon that the Republican party was becoming more and more disconnected from the realities of the world stage," said Dreyfous. "He was very torn about running but he decided to do it."
Dreyfous' documentary, titled "A Forty-Year Engagement," will focus on Huntsman and United States-China relations. Select clips from the documentary were aired Wednesday night in Salt Lake City, with Huntsman and his wife in attendance, and Dreyfous plans to submit the film to the 2013 Sundance Film Festival.
Since the early days of the campaign, the major candidates have shared China as a worst best friend — a common enemy, and the best ammunition in any debate. President Obama and Mitt Romney are still fighting to define who would best "stand up to China" or be "tough on China."
In the last month alone, Romney has released five television ad spots that use China to attack the President — "Obama had years to stand up to China. We can't afford four more," one Romney ad urges. Obama, who has released three China ads in the last month, has done just the same — "Romney's never stood up to China," says one ad, "all he's done is send them our jobs."
Dreyfous said China's portrayal in the GOP primary was frustrating for Huntsman and his family, but was also reflective of the reasons the former ambassador got into the race to begin with.
"China was being used as the scapegoat. Other Republican candidates would talk about being tougher on China, and Jon was trying over and over again to say that it was more complicated than that — we don't exist without each other, we need to figure out what we have in common." said Dreyfous. "It was just an overly simplistic and extreme way of looking at the world."