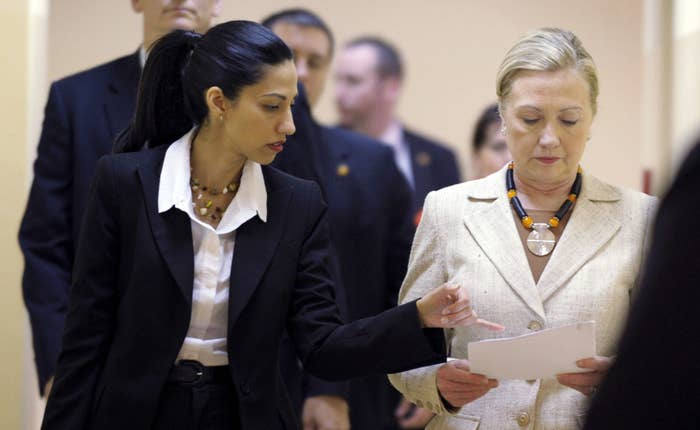 Huma Abedin, a longtime aide to former Secretary of State Hillary Clinton, is reaching out to donors to raise money for her husband, Anthony Weiner's, comeback mayoral campaign, BuzzFeed has learned.
A donor close to the Weiner operation said that Abedin has been making calls to contacts she knows personally, asking for contributions to her husband's second bid for New York City mayor.
"It's not like she's cold-calling," said the donor, describing the people she has contacted as a "more selective" list. "But it's a big deal for her to be making calls. She doesn't do that."
Asked to confirm whether Abedin has been fundraising for Weiner, campaign communications director Barbara Morgan said, "It's not a secret that Huma is 100 percent committed to helping Anthony reach City Hall. As is Jordan."
That Abedin, long-known as the very private personal aide to Clinton, is doing campaign call-time is further proof that she is not only on board with the Weiner resurgence — but acting as a driving force. Last week, The New York Times reported that Abedin had been working her rolodex "to lay the groundwork for his return." She also appeared alongside Weiner in his campaign launch video.
Weiner resigned from Congress two years ago after sending illicit tweets and pictures to women. He announced his bid for New York City mayor late last Tuesday, and his support amongst voters has grown in the week since. A Marist poll released Wednesday has City Council Speaker Christine Quinn, the leading candidate, with 24 percent of the Democratic vote. Weiner trails close behind at 19 percent.
Weiner told BuzzFeed at a campaign stop Monday that he expected Abedin to join him on the campaign trail soon.
"She's working full-time as well, but I anticipate it, yeah," he said.
Abedin, who is known to loathe the spotlight, gave an extensive interview with Weiner to The New York Times Magazine last month. But before that, she had only participated in one article — a 2007 profile in Vogue.