Huma Abedin Has Her Own Life
But Anthony Weiner's "notoriously private" wife is on the campaign trail with her husband — a calculated sacrifice from the woman who has already been through hell, and could see more of it yet. "She wants Anthony to win."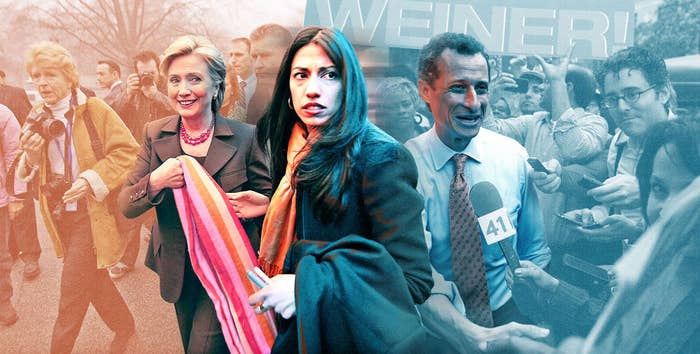 It may be shabby, secured with duct tape to the lobby floor of the American Airlines Theatre in Times Square, behind a short rope line and only a handful of reporters and television cameras, but there it is all the same: a red carpet.
And no politician at last week's award show for the New York County Democratic Party — dubbed, cutely, "the Demmys" — can possibly resist it.
In walks Mayor David Dinkins, Governor David Paterson, Congressman Charlie Rangel; in walks just about every Democrat running this year for the top job in City Hall: John Liu, Bill Thompson, Christine Quinn. They all want their five minutes on the fuzzy red velvet. Some wait in line for it.
Not Huma Abedin.
The close personal aide to Hillary Clinton — and the wife of New York City mayoral candidate Anthony Weiner — isn't having any of it. Abedin glides through the theatre's double doors, shepherded closely by her husband's press secretary, Barbara Morgan. Together, they move to the side of the rope line reserved for press, skip the red carpet, slink past the backs of photographers, and enter all but unnoticed into the performance hall.
But once inside, Abedin isn't shy about working the room.
"Oh my god! Hiiiiii!"
"Have you met Barbara?"
"Remind me what you're doing now?"
"OK, email me."
Abedin, 36, is described in just about every article written about her as "private" — and not just private, but "very private," says the New York Post; "intensely private," says the Daily News; "notoriously private," says the Washington Post. (Notoriously!) After nearly two decades as Hillary's right hand — she started in 1996 as an intern in the East Wing — Abedin has embraced that fierce proclivity toward privacy for which the press-averse Clinton inner circle is known.
"I prefer to be a private person," she says during an outing, her first with Weiner on the campaign trail, two Sundays ago. She is sitting at the bar of Lido, an Italian restaurant on Harlem's Frederick Douglass Boulevard, being questioned by reporters while her husband takes pictures with patrons nearby. The 48-year-old former congressman — who resigned two years ago after sending, and then lying about sending, messages to other women over email, Twitter, Facebook, and Yahoo (and now Formspring) — he is the reason Abedin, the very intensely notoriously private Abedin, is out in Harlem at a restaurant talking to reporters. Out in Times Square at a two-bit awards show. Out at all.
But Abedin is at the Demmys tonight in the first place to support her husband's political director, Camille Joseph, who is accepting an award and comes to Times Square with a hometown crew in tow — mother, father, sister, everyone walks the red carpet for the special night. Weiner, who arrives later, presents Joseph personally with the prize on stage. Abedin, who made sure to attend the occasion to be supportive, an aide said, seats herself between Morgan and Joseph in the fourth row of the auditorium. This is a family affair, and Abedin, it would seem, is part of this family too.
Two months into Weiner's campaign, Abedin's no longer just the "private" and much-admired Hillary aide, the glamorous body woman-turned-director of the secretary's post-Foggy Bottom "transition team." New descriptors have emerged: She is savvy, politically shrewd, confident, and very much a part of "Anthony Weiner for Mayor 2013" and her husband's "post-scandal playbook," as The New York Times christened it back in April.
Now as the wife of one of the leading candidates for mayor, Abedin is, for the first time in her political career, a principal. It's a mantle that has revealed more to the public than ever about the backroom persona on display at American Airlines Theatre last Tuesday. Not only is Abedin involved in her husband's campaign — "she's in it," as one close friend says — but she's having what you could call a coming-out moment: The most private person in politics is now at the center of what was supposed to be her husband's comeback story. And as yet another chapter in her husband's sexting scandal begins to unfold, she is likely now realizing there are upsides and downsides to her new role.
According to interviews with a wide range of associates and colleagues, Abedin has always been a fierce political operator and is now taking a leading role in Weiner's lean campaign operation. Sources say she has had a hand in aspects as peripheral as scheduling, and as central as helping to engineer the articles in People and New York Times Magazine that both helped Weiner test the waters for his return from political exile.
Asked about her role in the campaign at her third big outing on the trail with Weiner — a visit to a Jamaican jerk chicken festival in Southeast Queens this past Sunday — Abedin laughs. "I just try to be a supportive spouse," she tells me, near the entrance to Roy Wilkins Park. When I ask her why she's laughing, she pauses. "Because, look, I think people have to vote for the candidate. Anthony is the candidate. I want to support him however I can. But it's not my place to be doing campaign strategy. But it's been a lot of fun," she adds. "And I'm excited."
She'd said something similar a week before, noting that she's not quite sure yet what her role will be on the campaign. "I'm a mom; I've got my own life, my own profession that I'm very committed to, that I love; and I have my husband, who is doing something I want to be supportive of, and I'm very proud of what he's doing," Abedin said. "So, yeah, I want to help him, but I'm trying to figure out everything, and I think that's a pretty normal thing that a lot of women find that they have to figure out."
In the past month, though, Abedin's involvement in the campaign has been more evident than ever. In June, she hosted a "Women for Anthony" fundraiser, where she gave "an incredibly humble and touching introduction of Anthony" to a group of about 70 people, one attendee said. ("She's not somebody that's been public and doing public speaking," the guest added. "It was a new role for her.") Three weeks later, Abedin made her first two appearances on the campaign trail — first on a Sunday that included stops at two churches in Staten Island, and retail-politicking in Harlem, and second at the Demmys, just two days later.
A fundraising report, out the next day, showed she helped raise more than $149,000 for Weiner as an "intermediary" — read: "bundler," another new role — tapping into her Clinton Rolodex for contributions from the likes of Susie Buell Tompkins, a top Hillary fundraiser; Nancy Jacobson, the founder of the group, "No Labels," and the wife of Mark Penn, Hillary's top advisor in 2008; and Marcy Simon, the managing director of Penn's old consulting firm.
Bob Barnett, the Washington superlawyer with an unrivaled client list that includes both Bill and Hillary Clinton, gave to the campaign through Abedin too. The D.C. power broker said he had been advising the couple "for months" leading up to Weiner's rollout in late May — an early-morning press conference and meet-and-greet outside the 125th Street subway station that became so crazed by members of a hungry press corps that police officers had to step in.
"Huma has been through some difficult times," said Barnett, who has known Abedin since she was a 19-year-old intern in the White House. "Those of us who respect Huma received a strong signal that this is something that means a lot to her. And that has meaning for us."
It's no surprise, he noted, that she's been engaged in the campaign, both publicly and privately. "I'll say this: I think that Huma will be a critically important and amazingly effective supporter because of her incredible range of contacts, the respect in which she's held, and the political experiences she's lived through," Barnett said. "She will be a key part of this campaign."
A former Clinton staffer in New York said Abedin, who in the days after Weiner fessed to the scandal urged him not to give up his seat in Congress, was also a "driving force behind him getting back on the campaign trail" this year. "She's very much part of the decision-making," said another Abedin associate, who has ties to the Clintons. "Doing the profile in People magazine was something she was very active in."
Robert Zimmerman, a longtime fundraiser and surrogate for Hillary Clinton, described Abedin as "so pivotal" to Weiner's campaign. "Her integrity, her commitment, her personal grace, her intelligence, really enable her to reach out to a broad array of different people," Zimmerman said. "That's why she's emerged as an important force for Anthony. She's always been extraordinarily significant — more and more people are finding that out now."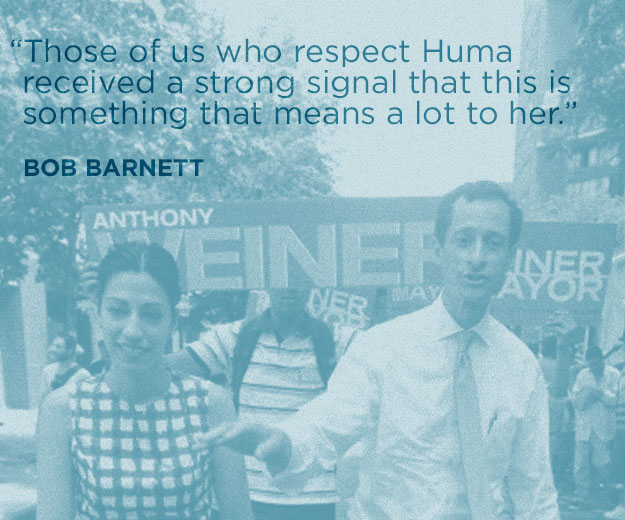 During their first day on the trail together, at a restaurant on Frederick Douglass Boulevard in Harlem, Weiner jokes to four women that his wife is the real retail-politicking pro. "Walking and campaigning with Huma after she worked on the 2008 campaign," he says, "it's kind of like doing batting practice while Ted Williams is watching. She's done all of this stuff so many times."
But on her big day out, Abedin doesn't seem entirely comfortable. A heckler at a street fair on 111th Street suggests she strip — "Take your clothes off!" — and the small talk with voters doesn't come easy. One woman approaches and says she recognizes Abedin from a Hillary Clinton event years ago. "You had come out of college or something," the voter says. "That's true! I went to…" Abedin starts, before Weiner cuts in: "When did you meet her?"
"I think it was a fundraiser for Hillary, and I wanted to take a picture," the woman says. "You were upstate, and you said, 'Go around the kitchen, I'll get you in.'" Abedin looks touched, though not quite sure of what to say in reply. "Nice to see you again. Thank you, ma'am," she nods before moving along, hand in hand with Weiner down 111th. As they turn to bound up Frederick Douglass Boulevard, stopping on the street to talk to passersby before popping into two restaurants and a T-shirt shop, Abedin follows Weiner idly, often in silence.
Just a week later, though, at the jerk chicken festival, Abedin is a natural. She inserts herself into conversations, and into photos; she glad-hands, she small-talks; she throws her head back and laughs; she picks up people's babies; and she asks for her chicken "really spicy" from the Super Wings stand, where she and Weiner stand for a good three minutes together, both gnawing meat off the bone from a sampling of wings the chef has personally presented.
When a community broadcaster, who calls herself "Posh," asks Weiner to come over to her tent to record a quick interview for her web show, he quickly agrees.
"Mayor Weiner, you're posh, you're fabulous, you're very well dressed," says Posh, microphone in hand. "Thank you," says Weiner. Abedin is standing near the edge of the tent, out of Posh's shot. "My wife is here, speaking of well dressed," he adds.
"Mrs. Weiner is...." Posh looks over at Abedin, standing to the side in a blue-and-white print dress and tan pumps. "...fabulous! Oh my gosh, Mrs. Weiner, would you like to say something on camera?"
Weiner brings her into the shot. She looks hesitantly into the camera. "Oh, I'm just happy to be here today. And I'm gonna try some yummy food, right?"
"That's right," Weiner says, before Posh sends them off to the next tent. ("All right, have a posh day!")
The interview with Posh is the most on-screen press Abedin has ever done, or allowed. She has participated in only one television interview — a group sit-down in 2007 with nine other members of what Kate Snow, then at ABC News, introduced to the world as "Hillaryland." In the entire three-minute segment, Abedin barely gets a word in.
"Well, we're —" she starts, before getting cut off by then-Chief of Staff Patti Solis Doyle. "More of our meals," Abedin added later, are eaten "in the car, on the road, and you know, a lot on the plane." That comment, about eating on the go, is the most national television news viewers have ever heard from Abedin — at least for now.
The couple may decide to do a sit-down interview later in the campaign, to reintroduce themselves on a television show the same way they did in print with their New York Times Magazine interview — to let Weiner apologize, and to let Abedin explain her side of the story. We are, after all, still getting to know the Michigan-born Abedin — and she's not easy to get to know, either.
She moved to Saudi Arabia with her family when she was two years old and stayed overseas until college, when she moved to D.C. to attend George Washington University. Her major was journalism, with minors in political science and sociology. She told Vogue, in the only extended interview she granted before her husband's scandal, that she dreamt at the time of becoming the "next Christiane Amanpour" — though she never went into the trade.
When contacted, none of the journalism professors still at the school who were on the faculty in the late 1990s recalled teaching her. She does not appear to keep up with the school itself; the only mention of her name on GW's website is on a list of "Lost Alumni" on the webpage for her class's 10th reunion. ("We have lost touch with the following alumni and we need your help in finding them!")
"She is very private," one close associate acknowledged. "Publicly she and Anthony may seem like very different people, but privately that maybe holds true less. Both of them are very focused."
It's easy to imagine that had Weiner never flashed his gray briefs, Abedin would have stayed out of the papers, off the television screen, for a quiet three-year hiatus, until her boss decided it was time to head out to Iowa for her second shot at the White House. But the scandal did happen, and Abedin, friends say, wants her husband to win, because as odd as it sounds, Mayor Anthony D. Weiner might be the closest thing — and quickest way back — to normalcy for the couple.
Bob Barnett explains it this way: "She wants Anthony to win. And she knows that her support, public and private, will be critically important to that," he said. "She has stepped up to the plate and is swinging for the fences."
Ask Abedin about it, and she'll say the same thing. "I'm happy to support him," she said out in Harlem last week. "I think he'll be a great mayor. And I'm having fun doing it."
And when Patricia Tudor, a 59-year-old nursing assistant from Southeast Queens, stops Abedin in dusty Roy Wilkins Park just to tell her, "It says so much about you guys that you're standing firm," the response from Weiner and Abedin is the same, delivered in perfect unison: "Thank you."
Tudor turns straight to Abedin. "Stand by him and give him the strength."
"Thank you," Abedin says again.
"Thank you," Weiner says again.
Later, in line at another jerk station, it happens again. Garfield Syblis whispers something in Abedin's ear.
"I said, she's a very good woman. She really is," Syblis says later, when I ask him what it is he had to tell her. "She's standing by her husband. We all make mistakes. And I really respect her, really respect her decision."
When Weiner and Abedin have stopped through every tent in the place, tried every piece of chicken in the park, they head for the exit on Merrick Boulevard, where their driver has the campaign SUV waiting.
"That was really nice, honey," Abedin says to Weiner, passing under the Roy Wilkins gate. He nods.
Before they both hop in the car, Abedin turns to the cadre of volunteers and staff that braved the sun with them that day.
"Great job, everybody! Thank you!" she yells to the group. It's a line Weiner uses at the end of most events before riding off — a line he used at his first event with his wife the Sunday before — but today, it's Abedin who wishes the group the good-bye.