Huma Abedin Debuts On The Campaign Trail With Anthony Weiner
Weiner's wife, the press-averse aide to Hillary Clinton, says she's still figuring out her role on the campaign. "I prefer to be a private person."
On stage at Harlem's annual Salsa Street Party, on a hot Sunday afternoon at what could have been a typical campaign stop for the mayoral hopeful, Anthony Weiner almost forgot one thing: his wife.
"Como se dice 'running'?" Weiner shouted to the Hispanic-heavy crowd cheering beneath him at a playground on 111th street. "Corriendo para alcalde! Muchas gracias!"
The audience roared. Weiner turned around. Huma Abedin — the candidate's wife, and Hillary Clinton's closest personal aide — stood with her hands clasped, a few paces upstage, beside a line of dancers outfitted in red and white cucaracha-style dresses, looking somewhat unsure of what to do next.
"And this is my wife!" Weiner hollered to the crowd. A moment later, he turned back, grabbed her by the hand, and led her off-stage behind a line of police barricades. "Yeahhhh! There ya go," a man shouted as the couple descended. "All right. You gonna be all right, Tony! You gonna be all right."
Although Abedin hosted a "Women for Anthony" fundraiser for her husband three weeks ago, the campaign events Sunday — which included stops at two churches in Staten Island in the morning, and a walk through shops in Harlem that afternoon — amounted to her first full day on the trail.
Since leaving the State Department along with Clinton five months ago, Abedin has kept away from the public eye — even as her husband has done just the opposite. The 48-year-old former congressman resigned two years ago after sending lewd photos to strangers online, and his comeback bid for mayor of New York City has thrust both he and his wife, who have an 18-month-old son, back into the news — the place where Abedin seems least at home.
Abedin, who now heads Clinton's "transition team," knows the campaign trail well — she was Hillary's right hand during 2008, by her side from the Iowa caucus in January to the final days of the primary in June — but alongside Weiner in Harlem, she is seemingly unaccustomed to the more prominent role of the candidate's spouse. After 17 years with Hillary, the Michigan-born Abedin, 36, has adopted the deep-rooted sense of privacy for which the Clinton inner circle is known.
"I prefer to be a private person," Abedin said later that afternoon at Lido, an Italian restaurant on Frederick Douglas Boulevard, while Weiner posed for photos with voters nearby.
Though it was Weiner who pointed out that, after her months on the trail with Clinton, Abedin is the pro. "Walking and campaigning with Huma after she worked on the 2008 campaign," he said, "It's kind of like doing batting practice while Ted Williams is watching. She's done all of this stuff so many times."
Asked if she'll come out on the campaign trail more often, Abedin turned to Weiner. "I don't know. What do you think?" she said, smiling.
"I'm gonna warn you, if you do, you're gonna have to hang out with all these cats," Weiner said, gesturing toward the small group of reporters with them.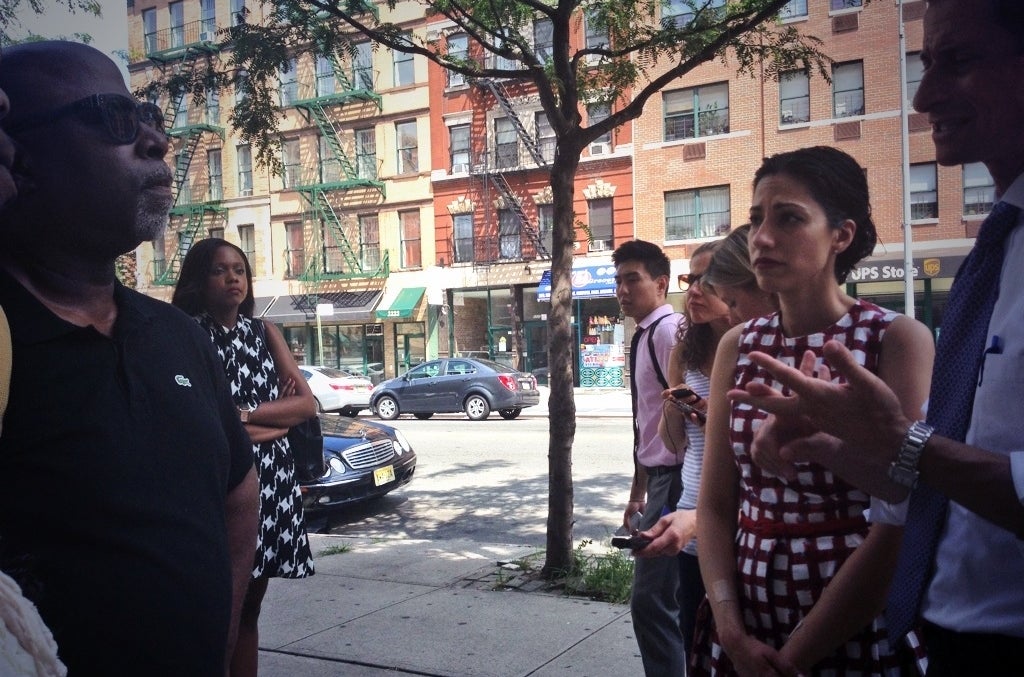 Abedin allowed that, for now, she's still figuring out her role on the campaign. "I'm a mom; I've got my own life, my own profession that I'm very committed to, that I love; and I have my husband, who is doing something I want to be supportive of, and I'm very proud of what he's doing," she said. "So, yeah, I want to help him, but I'm trying to figure out everything, and I think that's a pretty normal thing that a lot of women find that they have to figure out."
"I'm having so much fun," she added. "It's just wonderful to see the response that people have to Anthony. He's working hard, and people seem to be noticing."
Although Weiner has said since the first day of his campaign that Abedin would eventually be joining him on the trail, the timing of Sunday's outing raised questions as to whether Abedin had been brought out to contrast his bid with that of Eliot Spitzer, who is running for NYC comptroller. Spitzer, the former governor who resigned five years ago amid a prostitution scandal, has not campaigned yet with his wife, and there have been rumors of a separation.
"I don't know what his situation is. It's not intended to be that way," Weiner said, adding that Abedin's mother is in town this weekend and can look after their son Jordan.
"Its an opportunity that presented itself," he said. "She seemed eager to do it, and I of course was eager to have her."
Although Abedin has long been a subject of interest for reporters inside the Beltway — particularly since Weiner's 2011 scandal — voters did not immediately recognize her as the candidate's wife. ("They have no idea who I am," she joked.)
She did not discuss policy at any point, even as her husband stopped on the street sometimes for 20 minutes at a time to talk with voters about the merits of the city's "stop and frisk" law or the recent ruling in the Trayvon Martin case. Abedin, whose policy credentials extend far outside the New York metropolitan area, just stood by in silence, her arms folded, until it was time to move on to the next stop.
It was Weiner who seemed to relish the company most. "This is my wife, Huma," he told to almost every voter he met. "Where's my wife? There she is," he would say upon losing sight of her. The couple held hands throughout the day, though Weiner often broke away to snap a quick picture or talk with passersby.
Weiner's joke, which he told at nearly every stop in that afternoon, was that campaigning with Abedin was "kind of a date." Four ladies at one restaurant laughed and shook their heads: "Uhhhh, no, no, no," they said in unison. "It's a joke, it's a joke!" Weiner responded.
"Well, she doesn't consider it a date, but she seems to be having fun with it," Weiner said again later. "It's very nice and comforting having her around."
"It's a lot to ask of someone — walking down 5th Avenue and 111th Street in the hot sun is not everyone's idea of a fun afternoon," he said, then paused and added, "I mean, I love it."