Huffington Post Gets A Spot On "Morning Joe"
Outlets jockey for space, and to help shape MSNBC's identity, on the key morning show. "Just trying out something new," says a spokeswoman.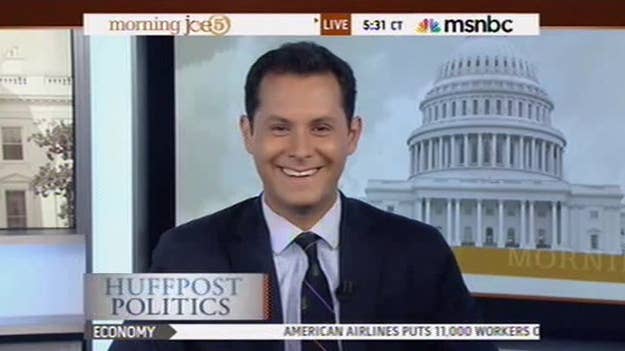 In a high-profile bit of political media jockeying, Huffington Post temporarily replaced Politico this week on the country's central political morning show, MSNBC's "Morning Joe."
A "Politico Playbook" segment usually appears each morning on the show at 6:20 a.m., and again at 8:20 a.m., with Mike Allen, chief political correspondent for the Washington-based news site, or one of his colleagues. "Playbook" was featured every day last week, but hasn't appeared on "Morning Joe" since Friday, Sept. 14. Allen was featured as a in-studio guest on Monday, but only to offer analysis.
On Tuesday and Wednesday, Huffington Post reporter Sam Stein shared Huffington Post's political headlines, in the slot often occupied by Allen.
An MSNBC spokeswoman told BuzzFeed that Huffington Post had not ousted the regular Politico segment.
"Nothing official at all," said MSNBC spokesperson Lauren Skowronski. "Just trying out something new."
"Morning Joe" executive producer Alex Korson told BuzzFeed in an e-mail that this was "not a change in segments."
"We just figured we'd mix things up a bit," he said. "[We are giving Stein] a chance to highlight some of his great reporting." Another media source said they expected the Politico segment back soon.
Mika Brzezinski seemed slightly confused as she teased the segment for Stein Wednesday morning.
"We'll see what's new on the...um, morning Huffington Post politics page, HuffPost Politics, with Sam Stein," said Brzezinski before a commercial break in the first hour. Co-Host Joe Scarborough also stumbled. "It's time for, uh, HuffPo's, uh, political moment."
Korson also noted that a number of recurring segments don't air every day without exception. This morning, for example, instead of the regular "Must Read Opinion Pages" segment, Scarborough and Brzezinski interviewed Congressman Keith Ellison. And "Playbook" has never been an absolutely daily feature.
"Nothing's ever locked in stone for our show," said Korson.
Whether or not the change is permenant, the shift gestures toward the tightrope MSNBC has always walked. To feature Huffington Post in place of Politico would edge the cable news network closer to the liberal — or progressive — identity to which they have become increasingly comfortble admitting; "Morning Joe," though, has typically been an exception to that pattern, and is defined by the center-right Scarborough, a former Republican member of Congress.
Huffington Post told BuzzFeed that Stein, Political Editor and White House Correspondent for the website, remains a contributor to MSNBC and appears on a number of their programs.
"'Morning Joe'" is the show he's on most for now, but MSNBC could decide to move him around depending on what fits their needs," said spokesperson Rhoades Alderson. Politico did not respond to a request for comment.