How Ashley Judd Can Win
The staffers who ran campaigns for Eastwood, Bono, Schwarzenegger, and Franken say the actress can win if she gets in early, stays local, and works like hell. Celebrity status can be like "a huge tire around the neck," says Padberg.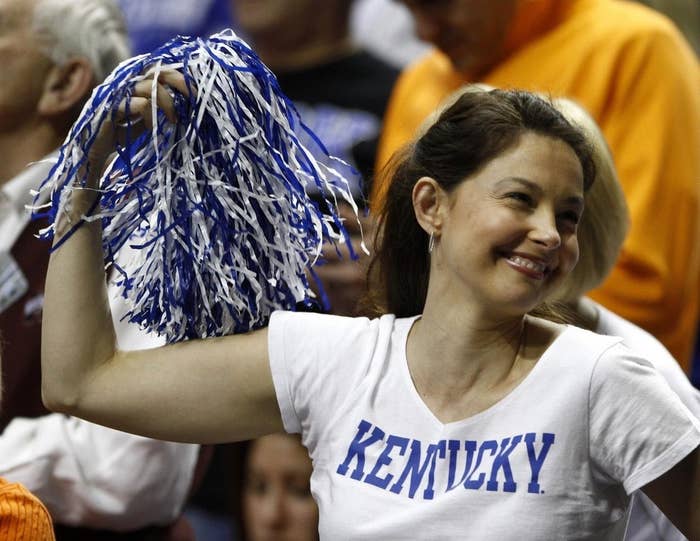 If Ashley Judd wants to get serious about running for U.S. Senate, she'll have to do in Kentucky what her predecessors — and she has many — did before her to get out of Hollywood and into politics.
Clint Eastwood and Sonny Bono; Arnold Schwarzenegger and Fred Thompson; Al Franken and, of course, Ronald Reagan all faced the same criticisms that they were just lightweights playing their latest roles. But they all won, according to the people who ran their long-shot races, by following roughly the same formula: starting early, staying local, and preventing their celebrity from weighing "like a huge tire around the neck" on the campaign trail.
Although Judd has yet to start the process in earnest — she will reportedly declare herself a candidate for the Kentucky Senate race in May, "around Derby," according to a report in The Huffington Post — the actress and longtime political activist might have what it takes to beat Minority Leader Mitch McConnell, say former staffers to celebrities who made the transition in decades past.
"She sounds like she's a serious candidate," said Eileen Padberg, who ran Clint Eastwood's campaign for mayor of Carmel, California, in 1986. "Most people think name identification is the only thing that can win you a campaign. For a celebrity, it's the opposite. They need to show substance, and that's what she needs to do now."
Bill Lacy, the director of the Dole Institute of Politics, worked for three celebrity candidates: Ronald Reagan, who had a career in film and radio before making it to the California Governor's Mansion and, later, to the White House; Fred Thompson, the lawyer who became a movie star before he ran for Senate in 1994; and Sonny Bono, the singer and actor who was elected mayor of Palm Springs in 1988 before winning a seat in the House six years later.
"The advantage that Sonny and Fred and Ronald Reagan had — and that Ashley Judd will have — is that they've played on a big stage for high stakes," said Lacy.
The most recent actor to follow the path Judd hopes to pursue is Senator Al Franken, the onetime radio personality and Saturday Night Live star, who was able to parlay his entertainment career into a razor-thin victory in 2008, carrying the day by a mere 312 votes. His success in Minnesota cleared the path to the Senate for Judd, but those close to Franken say they can easily imagine how the actress could falter with voters in Kentucky.
In the four months since Judd has begun to lay the groundwork for a potential campaign, Republican opponents have attacked her as a "Hollywood liberal" who isn't committed to Kentucky. Although Judd has family roots in the state — she says they stretch back to the Civil War — a web ad, released this month by Karl Rove's Super PAC, lays into the actress for keeping her current home in Tennessee.
To avoid that same line of criticism, Franken moved his Air America Radio show from New York to Minnesota in 2005, two years before he launched his campaign.
"If she's serious about doing this, certainly one lesson is that she's gonna have to move to Kentucky full-time right now," said Norman Ornstein, a resident scholar at the American Enterprise Institute and a close friend of Franken's since 1988. "You can't wait until the campaign actually starts."
Although Judd has not said she will move to Kentucky, she has reportedly taken meetings with the Democratic Senatorial Campaign Committee and with party leaders like Sen. Kirsten Gillibrand. But those who remember Franken's tireless door-to-door campaign in Minnesota say that a tour through Washington, D.C. — at this stage in the game, early as it may be — may not strike a chord with local voters.
"He was working his ass off," said Ornstein. "That meant not just boning up on some of the specific issues that might face Minnesota — it meant traveling all over the state all the time."
Gerry Sikorski, a former congressman from Minnesota and an early supporter of Franken's campaign, remembers a candidate who made it clear early on "in thought, word, and deed, that he was very serious."
"He spent a lot of time in people's kitchens, at feeding lots, in American Legion clubs, in church basements; he'd meet people for lunch, breakfast, and dinner, and every time he'd spend an hour and a half or two hours with them."
During his mayoral campaign, Clint Eastwood made a deliberate choice to keep his operation local, despite growing interest from media outlets well outside Carmel. "He refused to do any outside news commentary, so we didn't talk to the Japan News or the L.A. Times or anything," said Padberg. "He really stuck to the plan, which was to only talk to local news, and we tried to get people in town to understand that he was very serious."
Voters in Tennessee connected most with Fred Thompson when he traded in a traditional stump speech — "driving from place to place in a decorated van, dressed in a suit," said Lacy — for a more homegrown routine.
"At one point Fred came to me and said, 'I'm not comfortable on the stump. Let me dress down a little bit, put some cowboy boots on, and get in a pick-up truck,'" Lacy remembered. "I thought he had lost his mind. But it worked."
Franken, too, kept his campaign inside the state. His campaign events would stay small in scale; he'd hold an auction for the state party, raffling off one of his wife's apple pies — "the best apple pie imaginable," says Ornstein — or one of his famous United States maps, which he is able to draw freehand in just a few minutes from memory alone.
"He used his genius to relate to people. And god knows he didn't just have a few things that he had said in the past that wouldn't be helpful for any candidate — he had books full of things," Sikorski said. "F-words are not generally that helpful. But all that was pushed aside."
But for his opponents from both parties, Franken's celebrity made for opposition research of the quickest and easiest variety.
At the state's Democratic-Farmer-Labor convention in June 2008, one of Franken's colleagues in the party, U.S. Rep. Betty McCollum, dug up a piece he had written for Playboy in 2000. The article, titled "Porn-O-Rama," was satire, but McCollum called it proof positive that her party's potential nominee was a misogynist. Franken nearly lost his spot on the ticket.
"It took some effort to neutralize that," said Ornstein.
For Eastwood, too, his entertainment career was like "a huge tire around the neck" during the entire campaign, Padberg said. "In the beginning, we talked seriously about whether or not it was even possible for him to win."
But what helped every successful celebrity candidate was the early interest they showed in politics long before their campaigns for public office. Franken had written skits and books on politics and helped fundraise for other Democratic candidates in Minnesota; and Thompson had been the minority counsel on the Senate Watergate Committee and represented the plaintiff in a well-known case against Tennessee Parole Board chair Marie Ragghianti.
Judd has her own extensive résumé in politics and humanitarian work. She has traveled to Africa for the global health organization YouthAIDS; she has a public policy degree from Harvard; she worked with the progressive group EMILY's List last year to help elect more female candidates; and she has stumped for both of Barack Obama's presidential campaigns.
But a former aide to Arnold Schwarzenegger — the star of the Terminator films who had served on the president's Council on Physical Fitness and been active in California politics before he served his two terms as the state's governor — suggested that Judd's humanitarian experience may not cut it in a campaign for national office.
"What he had done was very specific to California politics and the issues facing California," said Adam Mendelson, who worked on Schwarzenegger's reelection campaign and has stayed with the former governor in various capacities since. "When people see celebrities doing global charity work, I don't think they see that as a direct connection to the day-to-day responsibilities of legislating."
When and if she decides to make her candidacy official, Judd will have to make the case that she is qualified for the upper chamber. But the last thing her opponent should do, Lacy warned, is "make fun of a person because they're an actor."
"McConnell and his campaign should do anything but not take Ms. Judd seriously," he said. "That's one of the reasons Fred won — his opponent spent so much time laughing at him for being a celebrity that he never got around to giving a reason why he shouldn't be elected to the Senate."
Correction: Sonny Bono was elected mayor of Palm Springs in 1988. An earlier version of this article misstated the date.