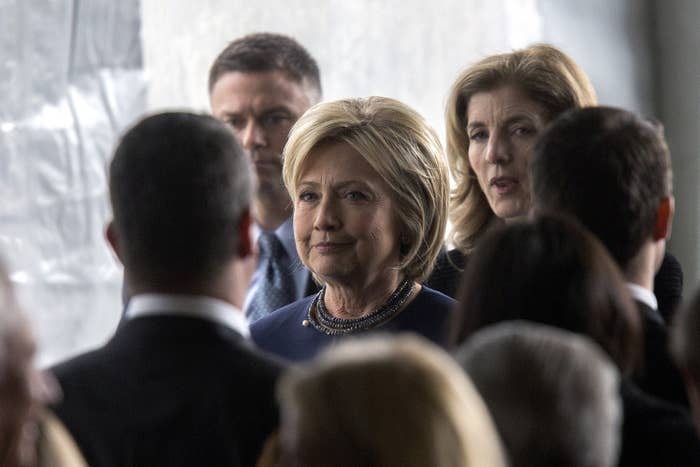 On a Tuesday in April, a week before the New York primary, Hillary Clinton's LGBT outreach director received a text from longtime HIV/AIDS advocate Peter Staley.
"FYI, the coalition is actively discussing ways to up the pressure before the primary. Including paying homage to Bob Rafsky (RIP)," Staley warned, dropping a pointed reference to the late ACT UP activist who, in 1992, famously confronted Bill Clinton at a campaign fundraiser with questions about the candidate's ill-defined AIDS platform.
For good measure, Staley added: "Google 'Bob Rafsky Bill Clinton.'"
This is the hard-charging style of a coalition of 70 or so HIV/AIDS advocates, domestic and international, who came together this spring to challenge the presidential candidates. They joined forces in March, after an unexpected opening: when Clinton, in a live MSNBC interview, praised Nancy and Ronald Reagan for starting a "national conversation" about HIV/AIDS. The assertion, described as devastating by many inside and outside the gay community, belies history and public sentiment.
Two months later, the coalition has pushed for an audience with the three remaining presidential candidates, threatened demonstrations, and pressured the campaigns with press releases and interviews. This past Thursday, the activists met with Clinton for an hour and, after one cancelled meeting and a period of silence from her challenger, finally got a tentative date on the calendar with Bernie Sanders: May 25 in California, according to Staley, the liaison with the campaigns. The group has also heard back from a Trump official, Ed Brookover, who promised in an email to be touch after the candidate's policy team had been "finalized," Staley said.
Whether it's Clinton, Trump, or Sanders, who has said he will use his influence at the Democratic National Convention this summer to push for a more progressive party platform, the candidates, activists say, can help move beyond President Obama.

"You could really be the president who puts the nail in the coffin of the pandemic," said Hilary McQuie, a director at Health GAP, the U.S.-based AIDS activist organization with an international focus, and one of the 15 coalition members who attended Thursday's meeting with Clinton. "No one else has had this opportunity."
The activists are seeking aggressive hard targets and financial commitments on a domestic and international scale, including a pledge to end epidemic-level HIV transmission by 2025 and a budget increase in the President's Emergency Plan for AIDS Relief, or PEPFAR, by $2 billion per year by 2020. And their questions for the candidates are not far from those Rafsky shouted at Bill Clinton nearly 25 years ago. "Are you going to start a war on AIDS? Are you going to just go on and ignore it?" he yelled from the crowd at a New York fundraiser. "We're dying in this state."
Neither Clinton nor the activists addressed the comment about the Reagans in Thursday's meeting, held in the campaign's Brooklyn Heights headquarters and attended by top advisers like John Podesta, the campaign chairman; Dr. Eric Goosby, the well-known AIDS expert; and Maya Harris, a senior policy aide. On the coalition's part, this was "very intentional," said Staley. "We wanted to focus on the future."
Still, it was that comment — described in recent interviews with activists and Clinton's LGBT backers as an "insult," a "personal disappointment," and an "unconscionable" mistake — that first set off the coalition's efforts the spring.
Clinton's words had a devastating ripple effect, particularly inside the community of LGBT voters, young and old, who coalesced early and enthusiastically around the former first lady. Immediately, reactions flooded in on Twitter, Facebook, and over email.
That afternoon in Simi Valley, when Clinton emerged from the two-hour funeral, aides said at the time, she immediately understood why the comment had precipitated such a visceral reaction. Clinton, often reticent to apologize for her missteps, did not need to be convinced that this merited a response, according to supporters in touch with the campaign that day. Back in headquarters, damage control was already underway.
Christine Quinn, the former New York City council speaker, now a prominent Clinton surrogate, was driving with her partner to the shore for the weekend when the news hit. Her cell phone lit up with texts and calls from friends "freaking out," she said. Quinn immediately called Dominic Lowell, Clinton's LGBT outreach director. Before she could even speak, "he was like, 'I'm on a conference call, I know, I know, I know. We're on it.'"
Not long after the memorial service ended, Clinton offered a brief and indirect apology on Twitter, saying she "misspoke" about the Reagans' record: "For that, I am sorry." Many found the statement lacking. "The initial apology was kind of an insult, honestly," said McQuie, who personally prefers Sanders to Clinton. "She didn't take responsibility. She said she misspoke, like it was an error in her language."
It wasn't until the next day, when Clinton published her extended apology, an 850-word post on Medium about the incident and her HIV/AIDS plan, that many felt ready to move forward. "That really did mollify people," as McQuie put it.
"Yesterday, at Nancy Reagan's funeral," Clinton's Medium post began, "I said something inaccurate when speaking about the Reagans' record on HIV and AIDS. Since then, I've heard from countless people who were devastated by the loss of friends and loved ones, and hurt and disappointed by what I said. As someone who has also lost friends and loved ones to AIDS, I understand why. I made a mistake, plain and simple."
Quinn, a former mayoral candidate who would have been New York City's first openly gay chief executive, said the fallout from the comment in March "was quick and strong, as it should have been quite frankly, because it was an enormous mistake. But the thing I was proud of was that her reaction was as quick and strong as the fallout."
Still, for some like McQuie, questions remain about what could have driven Clinton to make the remark in the first place. In the interview, aired live outside the Reagan Library before the funeral service, Clinton spoke steadily and raised the topic of HIV/AIDS herself. ("This was not some question on a hectic ropeline," as one prominent LGBT backer put it.)
"The Reagan administration was such a painful part of AIDS history," said McQuie. "Anybody over the age of 40 is going to have a reaction to that. She's a smart person. It was just bizarre."
Steve Elmendorf, a Democratic strategist and lobbyist close to the campaign, noted that Clinton had flown overnight to Simi Valley after a long stretch of campaigning.
"My view is she was very tired, she was removed from a campaign context and put in a funeral context on the other side of the country after flying all night," Elmendorf said. "She was grasping, as we all would have, for something nice to say about the deceased, and she messed up."
Meanwhile, as Clinton moved quickly to apologize, activists in the HIV/AIDS community were working just as fast to seize the moment. Staley, founder of the ACT UP offshoot, the Treatment Action Group, saw a post on Facebook from Charles King of Housing Works, a nonprofit that works on AIDS and homelessness.
"I commented right away and said, 'Charles, why don't we try to turn these lemons into lemonade.'" In their view, no presidential candidate, Democrat or Republican, had addressed the issue with sufficient commitment or specificity. Within 48 hours, he and King had drafted a letter to Clinton and Sanders, signed by 70 organizations. By early that next week, they had one for the remaining Republican candidates, too.
The back-and-forth with the Sanders team in particular dragged on for weeks. Eventually, his campaign's LGBT outreach director, Sarah Scanlon, promised a meeting for 12 p.m. on May 3, the day of the Indiana primary, according to activists. A group of 20 set to attend purchased tickets to Indianapolis. Forty-eight hours before the trip, the Sanders campaign canceled without rescheduling. ("They were expensive tickets!" McQuie said.)
After the called-off meeting, the coalition prepared a scathing press release about the "indefinitely postponed" gathering, complete with a meme (#FeelingBurned), and sent it off to the Sanders staff, threatening to go public. The campaign didn't respond. A few days later, another member of the activist coalition, Michael Rajner, gave a critical interview about the meeting to MSNBC's Joy Reid.
And yet still nothing from the Sanders campaign.
"To not respond isn't okay," said McQuie. "I don't know if their campaign is in complete disarray, or what."
Finally, a few hours after the meeting at Clinton's headquarters, according to Staley, a scheduler at the Sanders campaign reached out with the new date, May 25. (Later that night, however, asked by a reporter to confirm, a Sanders spokesman, Michael Briggs, would only say that the campaign was in the process of working to set up a meeting.)
As the activists sought to reschedule the meeting, Sanders did update his platform to account for several of the points raised in the coalition's letter. One was a broad vow to end the AIDS epidemic in the U.S. by 2025, Staley recounted, breaking into laughter. "I'm laughing because it reads a bit like a hollow promise. We defined it as epidemic levels of HIV transmission. He grabbed the bumper sticker without the details."
"This is why we wanted a meeting," Staley said.
On the Clinton side, Thursday's meeting was a positive step for the activists. According to participants in the room, the candidate spoke in personal terms about friends she's lost to HIV and AIDS — and in granular detail about the coalition's proposals. "She's an HIV policy wonk. That's really, really obvious," said Staley. "It was a back-and-forth in the weeds of how you go about moving the ball forward."
In the meeting, Clinton agreed on the spot to some of the coalition's asks, including a public anti-stigma campaign, activists said, but did not commit to any of the harder targets, reiterating as she often does on the trail that she doesn't "over-promise." The coalition's next step will be a meeting with Clinton's policy team, activists said.
"We are asking for very aggressive promises, and were very blunt that between now and November we hope that she endorses some of those promises," said Staley.
"And if we feel a foot dragging, we'll start upping the pressure again."
CORRECTION
Activists said the Sanders camp canceled on 20 people, 48 hours before the May 3 meeting. An earlier version of this story stated it was fewer people and more time.