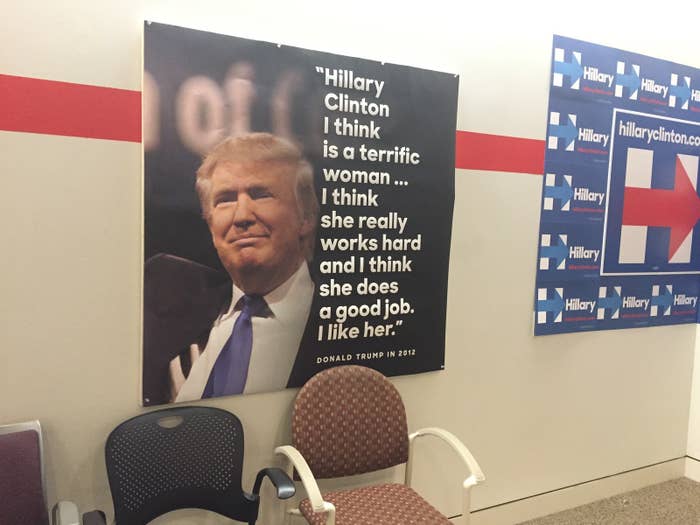 In the posters hanging from the walls of Hillary Clinton's headquarters — made just for the occasion on Thursday night — the Republicans looked twice their size.
Each print-out showed a different candidate, flashing their widest smile or most aspirational look, alongside a flattering quotation about their Democratic opponent. Clinton, according to the remarks rendered in bold-lettering on the posters, was "a terrific woman" (Donald Trump, 2012), an exemplar of "hard work" (Marco Rubio, 2013), an overall "very, very capable public servant" (Rick Perry, 2014).
It was all part of the point, or joke, at the Clinton offices in Brooklyn, where aides invited more than a dozen reporters to watch the GOP hold its first debate. Every one-off from Trump, every comment targeting Clinton, was met with some measure of celebration by the dozens of staffers gathered at headquarters for the event.
When Rubio warned the audience that Clinton would be the next president if "this election is a resume competition," the crowd in Brooklyn whooped and cheered.
When Trump dismissed a question on his remarks about women, a Clinton adviser in the press file said under her breath, "Please keep this guy in, please!"
And when Clinton's campaign manager, Robby Mook, was asked to name his favorite Republican candidate, he replied with a grin. "They're all so out of touch! I mean, it's so hard to choose, you know? Out of touch and out of date."
For Clinton, it was part watch-party, part victory-party.
Never mind that she was not participating, or that the general election is more than a year away. (Clinton didn't even see the debate, aides said.) Still, before, during, and after the Fox broadcast, her team was eager to highlight the other party at a stage in the race when the field has yet to narrow.
The decision to open up the headquarters for an orchestrated "filing center" was a first for the campaign. As reporters arrived, aides sent around a "prebuttal preview" of the debate. Then came a tour. First, to the "war room," where about 15 aides bent over their laptops, preparing for the debate. Next, to an open area, the "bullpen," where a larger group of staffers waited for the show and got a brief pep talk from Mook, also in view of the reporters.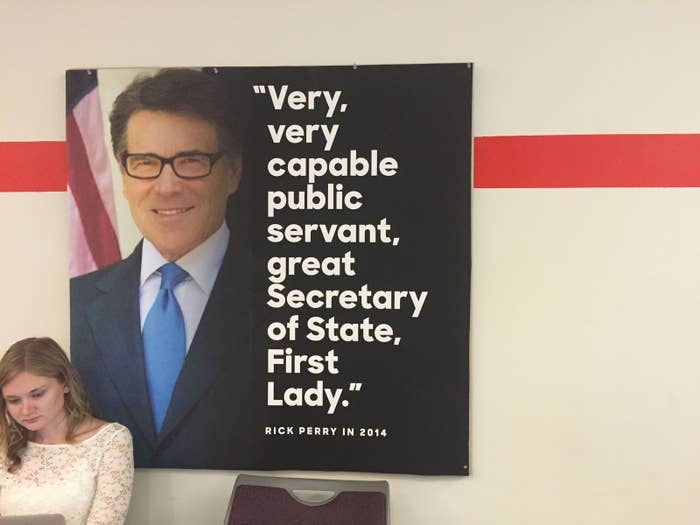 The campaign's excitement and efforts on Thursday night underscore the dual approach Clinton has taken in these early months: as a candidate dedicated to the primary contests, vowing to take "nothing for granted," but one increasingly focused on the possible Republican nominee in a general election.
Even as she leads her Democratic opponents in polls and fundraising, Clinton's time and resources have been spent almost entirely in the four states that host the first caucuses and primaries. (Aides have said the operation's lifeblood runs, particularly, in Iowa — and that, even more broadly, Clinton's is a campaign to win Iowa.)
But the candidate has also declined to engage directly with the Democrats in the race. She does not mention them by name. She will not debate them until October. Instead, on the campaign trail, Clinton has targeted the Republican Party and former governor Jeb Bush in particular.
The campaign's communications director, Jennifer Palmieri, said on Thursday night that Clinton has not started formal preparations for the Democratic debates.
"What we need to do is run our best race and let our Democratic opponents do theirs," Palmieri said, when asked when Clinton would start to engage the other Democrats as directly as she has Republicans. "There will be debates. So they will be on the stage together taking questions together. But we think that the best way for her to run her campaign, is for her to run her own race."

What those debates — and the Democratic field — will look like has remained a point of speculation, particularly in the political press. From the Clinton debate press file, Palmieri fielded questions about the newest point of speculation: whether Joe Biden will run.
Did she think he would be in the first Democratic debate? "I don't know." What would she think of that? "I don't know. I think we'll let him decide." Does she think Biden has ideas to bring? "I don't know," Palmieri said, almost laughing. "He's gonna decide. He said he would decide."
The focus for now remains on Republicans and their eight remaining debates.
"I don't hear them talking about how they're gonna fight for everyday families," said Mook, standing in front of the jumbo-sized Perry poster as he fielded questions.
It was the last commercial break of the night.
"I hear them advancing the same policies that will roll back the clock…"
He paused.
"Welcome back to Cleveland. Our next topic is foreign policy…"
"So," Mook continued, "I think they're digging the hole deeper."
"Candidates, you may not have seen the late developing news today…"
A reporter asked another question: What about John Kasich and same-sex marriage? The Ohio governor had made some sympathetic comments on the subject.
"I mean, I think that's nice of him," Mook said. "But he opposes gay marriage."
"So, Mr. Trump…"
"So, I think the fact speaks for itself."
Finally another Clinton aide, Karen Finney, cut in. Trump was about to speak.
"I love Robby but…" She pointed at the television. "Come on!"