Hillary Takes On A Bill Clinton Heckler
Usually Hillary Clinton does not respond to protesters or hecklers. On Tuesday night, she delivered an emphatic counter to a man shouting, "Bill Clinton is a rapist!"
FORT LAUDERDALE, Florida — Hillary Clinton had just started speaking at Delvoe Memorial Park for her third rally of the day when a man in the crowd raised a neon green sign into the crisp night air.
"BILL CLINTON IS A RAPIST," he shouted.
The same message was written in black on the poster. The man flashed the sign at Clinton first, then turned to face the press. Reporters moved to photograph the protester while the crowd drowned him out with chants, but quickly pointed their phones back toward the lectern.
Clinton, usually taciturn and unperturbed in the face of a stray heckler, leaned into the microphone and issued her own pointed response, raising her voice above the chants of her supporters.

"You know, I am sick and tired of the negative, dark, divisive, dangerous behavior of people who support Donald Trump."
With each word, she jabbed her finger in the direction of the man.
"It is time for us to say, 'No! We are not going backwards. We are going forward into a brighter future.'"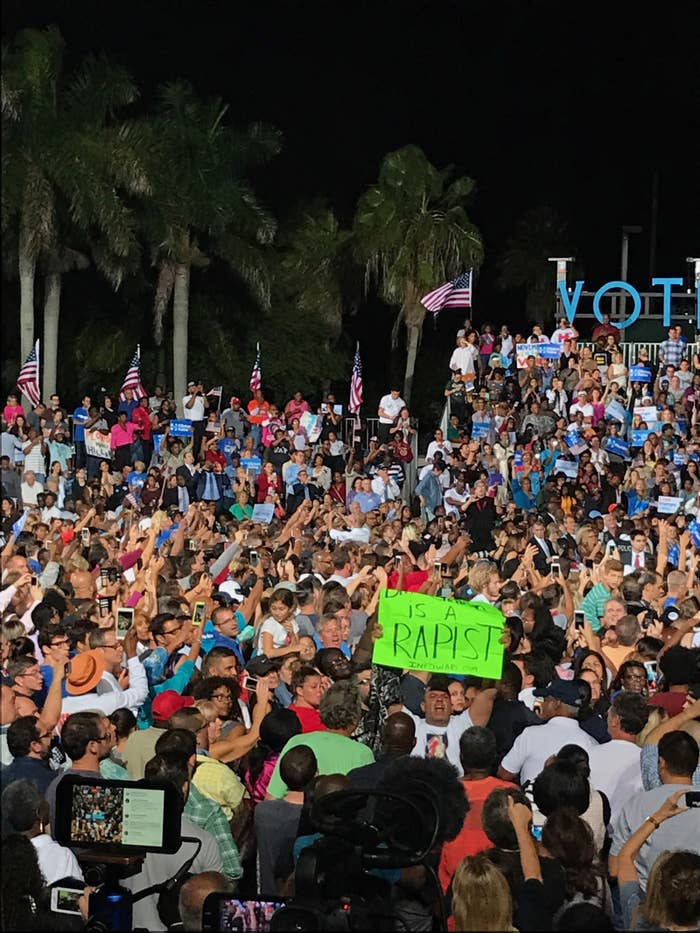 The crowd of 4,300 cheered back as law enforcement officials surrounded the man. He wore a T-shirt featuring Bill Clinton's face in the style of the red-and-blue "Hope" poster from Barack Obama's 2008 campaign, and emerged with his sign ripped. At the bottom, it read, "INFOWARS.COM."
In September, the right-wing fringe website, run by radio host and conspiracy theorist Alex Jones, offered a "bounty" for protesters who would say on television, "Bill Clinton is a rapist!" Prizes ranged from $1,000 and $5,000, depending on certain factors, until $100,000 had been expended. The contest, inspired by longtime Trump ally Roger Stone, has since closed, but interruptions have continued.
Only rarely before has Clinton engaged so directly with one of the protesters at her events. Even in the seven-day stretch to Election Day — a tense, fraught final run that has drawn cutting attacks from both sides amid the news of a renewed FBI inquiry related to Clinton's private email server — the Democratic nominee has made a point of saying she hopes to end her campaign with a positive, aspirational message.
"I have tried to stay focused in this campaign not on the barrage of insults," Clinton said earlier on Friday evening at a canvas kick-off in Sanford, her second of three rallies here in the pivotal battleground state of Florida. "My opponent can say whatever he wants about me. I don't care."
In Fort Lauderdale, as she pointed her finger at the heckler, Clinton sounded a note of organic distress and frustration. Later, law enforcement had to escort a second Bill Clinton protester from the park.
"You may be angry about something. But anger is not a plan. Don't be used. Don't be exploited. Stand up for what we can do together," she said. "Don't buy into that dark, pessimistic vision. It's not true and it's not who we are as Americans."
Clinton spoke for only about 15 more minutes.
By the end of her speech, the usual measure in her voice was back.
"This is so much fun," she said, "but it's really late and I could be here all night talking about what is at stake in this election."