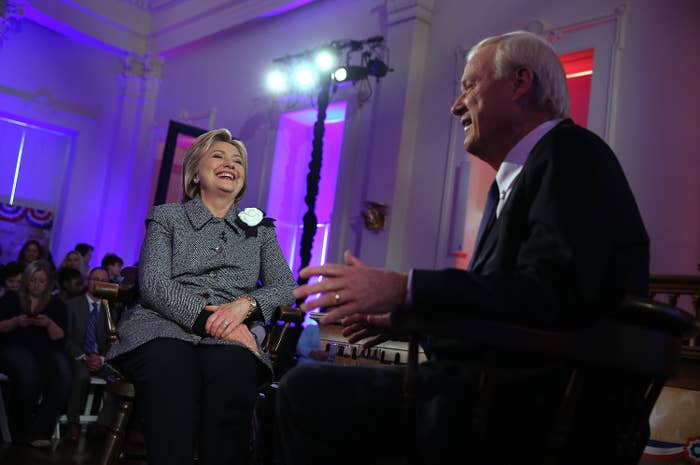 SPRINGFIELD, Ill. — On a makeshift television set here inside Springfield's Old State Capitol building, during the taping of a town hall hosted by MSNBC, Hillary Clinton and Chris Matthews were just wrapping up a segment on the state of the race. The crew cut for commercial. Downstairs, reporters watched from another room.
Suddenly, the tiny screen in the press file came back to life.
There they were — Clinton and Matthews, chatting it up as they waited for the next segment — unwittingly airing their idle small-talk to reporters one floor below.
It was immediately clear that the subject at hand was Donald Trump.
"Man, you guys cannot stop talking about him," Clinton was saying. "He is a dangerous presence and, you know, it's just like candy by the bushel."
"We dip into him, dip out of him," said Matthews. "We have a progressive audience, obviously. But, uh, nobody can tell what people want to watch."
"Yeah," she said, adding that people do "want to watch him."
"— to laugh at him," Matthews replied.
These two innocuous minutes of chitchat amounted to a thing most people — including the reporters who cover her — hardly ever get to hear or see: Clinton in a private moment, Clinton when she doesn't think she's being watched.
Part of the audio cut out, then she and Matthews were on to the next topic: Chris Christie, the New Jersey governor who stunned Republicans by endorsing Trump.
"Why did he support him?" Clinton asked.
He wanted "a future," Matthews said, noting that, with Sens. Cory Booker and Bob Menendez still in office, there wouldn't soon be any big openings in New Jersey. "Chris Christie's not gonna be president... Cory Booker is there. Cory Booker's not going anywhere. There's nowhere for Christie to go. Unless Menendez has to go."
"I don't think he could win right now, do you?" said Clinton.
"Not in New Jersey, no," Matthews replied. "I don't think he could win as a Senate candidate either, a Republican candidate in New Jersey… It's been a long time."
The conversation stalled. Clinton remarked that the Old State House made a charming venue. Then Matthews offered: "I've known Carson forever."
"You have? Did you know him when he was at John's Hopkins, too?"
"He was very soft spoken, never said a thing."
"And he was a brilliant surgeon by all accounts," Clinton remarked.
Carson's voice, Matthews said, reminded him of Tommy Smothers — one half of the 1960s comedy duo. "Remember Tommy Smothers?" he asked Clinton.
"I do! The Smothers Brothers!"
Clinton paused. "It's so funny," she said, "when I talk about things like that with my staff, they're so young —"
"Try Sid Caesar. Try Sid Caesar. Try Sid Caesar," Matthews said.
"Ed Sullivan!" Clinton said.
Another pause.
"So," said Matthews, "did you watch the end of Downton Abbey?"
A moment later, the screen went dark and the audio went silent — the mics were back off. Reporters retreated to their seats. They never heard the answer.