Hillary Clinton's Not Going Anywhere
The former secretary of state vowed Friday to continue her campaign for women's rights "in all the days and years ahead."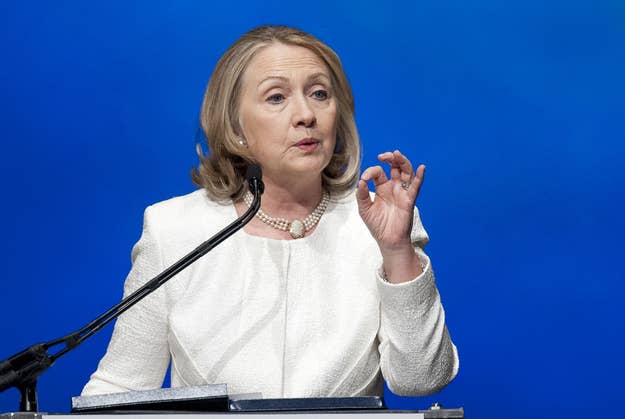 In one of her first public appearances since leaving the State Department in February, Hillary Clinton sent a clear message Friday to a crowd of 2,000 supporters at New York City's Lincoln Center: She's not going anywhere.
Delivering the headline speech at The Daily Beast's fourth annual Women in the World Summit, Clinton cast her four years at the State Department as part of her longtime work as a women's rights advocate, and made a clear promise to continue her campaign at home and abroad on what she called "the unfinished business of the 21st century."
"I look forward to being your partner in all the days and years ahead," said the former secretary of state. "Let's keep fighting for opportunity and dignity. Let's keep fighting for freedom and equality."
Clinton, though, made no reference to her specific plans for the future, nor to the widespread speculation that she is considering a bid for the presidency in 2016 — a fact Tina Brown, editor of The Daily Beast, alluded to in her introductory remarks: "Now, of course, the big question about Hillary, is what's next," said Brown, prompting a flash of applause from the crowd.
In remarks lasting about 30 minutes, Clinton urged the audience to "embrace a 21st century approach" to women's rights, citing social media platforms she herself has not been known to use. "Think about, you know, how technology — from satellite television to cell phones, from Twitter to Tumblr — is helping to bring abuses out of the shadows and into the center of global consciousness," Clinton said.
Although Clinton's speech had a largely global focus — she told stories about female activists empowering women in countries like Pakistan and India — the former secretary of state turned back to the United States in her closing remarks.
Clinton referenced The Economist's "Glass Ceiling Index," a study published last month that ranks what countries give women the best chance of equal treatment in the workplace — America comes in 12th on the list, behind France and Denmark. That the United States "was not even in the top 10," said Clinton, is unacceptable.
"For too many American women, opportunity and the dream of upward mobility — the American dream — remains elusive," said Clinton. "It's hard to imagine turning the clock back on them, but in places in America large and small, the clock is turning back."
"So we have work to do," Clinton said.
Clinton concluded her remarks by reprising her most infamous line, taken from the 1995 speech she delivered at the United Nations' Conference of Women in Beijing.
"Let's keep fighting for opportunity and dignity. Let's keep fighting for freedom and equality. Let's keep fighting for full participation," said Clinton, "and let's keep telling the world over and over again, that yes, 'Women's rights are human rights, and human rights are women's rights' — once and for all."