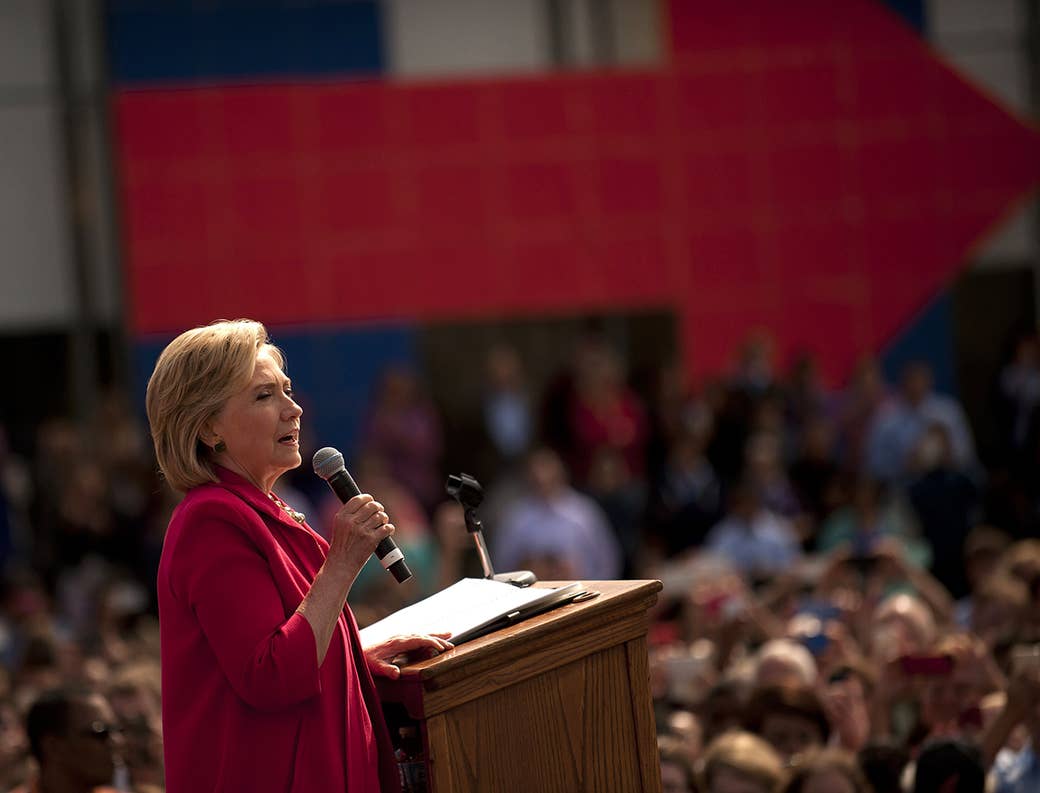 Three months ago, when Hillary Clinton's team of advisers first sat down with reporters to explain the campaign's strategy, they described their operation as fixated, singularly and intensely, on "the first four states": Iowa, New Hampshire, South Carolina, Nevada.

That afternoon in June, around a large table in campaign headquarters, the importance of these early states was conveyed in all manner of ways by Clinton's people: Our money and hires, they said, will go to the first four states. Our candidate's time, they said, will go to the first four states. Our campaign is based in Brooklyn, they said, but its lifeblood runs in the first four states. And every morning when we wake up, they said, our priority is the first four states. (Even their conference rooms are named after the first four states.) Aides also made clear that, of all four, Iowa would be the chief preoccupation of Clinton's campaign manager, Robby Mook, a seasoned organizer. First and foremost, they said, he is running a campaign to win Iowa.
Since then, Clinton's lead in these early states has diminished. Last month, Bernie Sanders moved to first in New Hampshire. This week, he tied her in Iowa.
As polls tighten, there is far more talk now about what comes after the first four states. Yes, supporters say, she could lose Iowa or New Hampshire. But they are reassured by Clinton's edge elsewhere: the high concentration of women and minority voters in the south, the reports of 440 superdelegate commitments, about one-fifth of the number required to secure the nomination. And then, they say, there's a sure safeguard come March: a second wave of caucuses and primaries, when the campaign's organizing infrastructure will kick in and lock up enough wins for Clinton to run away with the race.
To backers of the campaign, these advantages amount to a so-called spring "firewall" — a buffer assured by superdelegates, demographics, and the more nebulous sense that, in these later states, "groundwork is being laid" and "boots are on the ground."
But on an operational level, little about the campaign has changed since the press briefing in June.
For now, the first four states still command Clinton's time, money, and manpower. Across the vast majority of the country, no formal campaign infrastructure exists. Outside Iowa, New Hampshire, South Carolina, and Nevada, there are no state directors, no offices, and no staff, save for two recent hires: lead organizers in Colorado and Minnesota, which list among the 11 states that vote on March 1, "Super Tuesday."
In these later states, Clinton's infrastructure amounts to a diffuse network of volunteers who, to varying degrees of sophistication and coordination, work to organize in the campaign's absence. Most do so with their own money. And far from places like Iowa, some of Clinton's most devout supporters — self-described "super volunteers" — complain on a private Facebook page that for all the early-state investment, the campaign doesn't regularly pay to provide basic resources, such as stickers and signs.

Even in critical general election states like Ohio, aside from visits from the candidate and events with surrogates, Clinton has so far relied largely on volunteer efforts.
"What's most exciting is that it's all grassroots at this point," said Kim Kennedy, a 52-year-old retired teacher who has been organizing on behalf of Clinton in the Columbus area. "We sort of make our own schedule."
For Clinton's campaign, at this stage in the race, that's always been the idea. The original strategy is still in place. The lifeblood of the operation still runs in the early states. And the campaign is still, broadly speaking, a campaign to win Iowa. Mook, the architect, visited Iowa last month, makes regular calls to Iowa, and, along with his no. 2, Marlon Marshall, spends a good chunk of each day, in some part, on Iowa. (Clinton has 78 full-time organizers in the state. Last week, on a conference call with Iowa supporters, Mook said he plans to send even more resources — "which has been the plan all along," said Jerry Crawford, a longtime Clinton backer in Iowa who described the call.)
This spring, in other corners of the country, a 10-week "ramp-up" program helped bring a broad base of volunteers into the fold. From April to July, Clinton contracted one organizer in each state and territory to meet with potential volunteers, hold trainings, and do as much as possible to build a provisional network of engaged supporters. And then the organizers left — or at least went off the payroll. The results of the program are difficult to measure. Mook recently put the number of non-early state volunteers at more than 35,000. But in skill and commitment, supporters can run the spectrum.

The campaign's temporary organizer in Ohio started with a wide range of volunteers. In Cleveland, there was Kenn Johnson, former "neighborhood team leader" for Barack Obama and veteran as they come. This summer, Johnson organized a pro-Clinton contingent at every major festival in the area, a campaign aide said. And 200 miles away, in the red, rural Mercer County, there was Kathy Deitsch, co-founder of a women's group — part politics, part book club. Ask Deitsch, 69, how many voters she's registered in Mercer County, and she'll shrug. "I would have no idea at this point," she said.
Since the ramp-up program ended, organizing efforts have continued at their own pace. "If we had questions to answer the campaign was there," said Kennedy, the Columbus volunteer. "But we're mainly running this how we want."
Beyond individual and local efforts, one group has emerged as a central clearinghouse for only the most dedicated and diligent Clinton backers: the "HRC Super Volunteers." (Deitsch, for one, said she is a member.) The organization, which dates back to Clinton's first run for president, serves as a vessel for supporters and unlikely partner to the campaign. In interviews, members said they talk frequently with staff by phone or email.
To understand these super volunteers is to see their allegiance play out in action.

The scene at a mid-sized rally one Sunday morning in June, about 30 minutes before Clinton's arrival, is an instructive example. For most of the crowd, maybe, this is just a campaign event. People wake up early, stand in line, find a spot in the crowd, and wait. They would like to see Clinton, maybe get a picture. This is an exciting prospect. They wait and wait — and eventually, they grow listless. Too much standing. Over the loudspeaker, another Katy Perry song is playing.
It's around then, on this occasion, that Jim Livesey comes in. HRC Super Volunteers can sense a lull. "Arms up!" he shouts, darting through the crowd. "Arms up! Arms UP! Hillary!" Overhead, Livesey waves a massive piece foam-board, cut in the shape of the Clinton "H" logo. He wears an "H" shirt, "H" pin, two "Hillary" buttons, and a small "H" campaign badge that reads, "Volunteer." A co-leader of the group, John West, joins with his own sign, and together they wake up the room.
Livesey, 32, and West, 38, are not like many other Clinton supporters. In the world of Hillary fandom, these HRC Super Volunteers form a particularly passionate cluster.
Their group consists of 1,200 or so core members who then sit atop a tiered network of state, city, and rural leaders. Across the map, HRC Super Volunteers operate on one setting: total devotion to the namesake. They adore HRC… they communicate daily about all-things HRC on their private HRC Facebook page ("Secret," says West, "to protect our members from trolls")… they circulate talking points on HRC, customize HRC-themed profile pictures and collect HRC-themed personal trivia (example: "I met Hillary five times in the last year," says Livesey)… they travel the country for HRC… they door-knock, phone-bank, register voters, energize crowds — and they do it all on their own dime.

The group mindset exists, somewhat permanently, in the spring of 2008. For many members, it isn't just a campaign event on a Sunday morning in June. It is never, in fact, just a campaign event. It's Hillary Clinton in the fight of her life.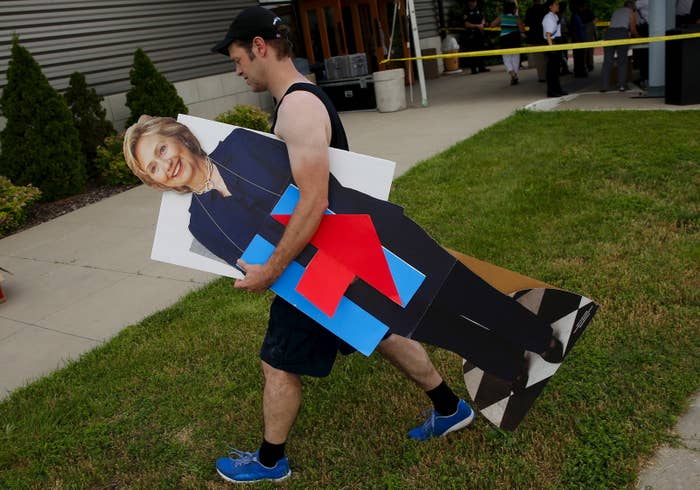 Kim Frederick, the organization's founder, described Clinton's aides as "methodical" and "quieter" compared to the offbeat intensity of the HRC Super Volunteers. "The staff and organizers love it," she added. "We bring energy to the campaign."

Outside the early states, Clinton has taken particular advantage of the network. When her team put together an ambitious series of house parties this summer — with one planned in every congressional district — West helped identify hosts in 12 states, he said.
But in recent weeks, HRC Super Volunteers have taken to their Facebook group to exchange concerns: The problem, according to a scan of the page allowed by a member who requested anonymity, is that while aides in Brooklyn "pour resources" into the early states, they haven't provided sufficient support to volunteers elsewhere.
On one recent thread, group members debriefed a conference call the campaign hosted for supporters. One commenter referenced "long-promised stickers and signs." Another offered a summary of the call this way: "Basically [the campaign] said that they're here for us, which is good, because I haven't really felt that way."
Last month, another volunteer set off a lengthy internal discussion when she commented on a photo showing a man holding a yardstick bearing multiple campaign signs: "…every time I see one these signs with 6 rally signs stapled to it I get a little bit pissed off. That awesome young man in the glasses is holding what to me would be a $36 sign," the HRC Super Volunteer wrote.
"I know the campaign needs to pour resources into the early states, but to make the rest of us spend so much money to help with visibility and outreach is maddening," the supporter continued. "I just wish those holding onto the purse-strings wouldn't be so tight-fisted when it comes to us handing out lapel stickers at events to boost Hillary's visibility. It's a hard reality to be faced with when other campaigns are passing out buttons, t-shirts, stickers and rally signs at events like they're going out of style."
Many agreed: "I've learned a new meaning for the word scrounge… LOL," one member wrote. Others defended Clinton as justly budget-conscious: "We do it for Hillary," said one. "The campaign has major overhead… Money is tight."
"I know all that," the original commenter wrote back. "Still annoyed that we're expected to sign folks up without this stuff… Doesn't show much respect to folks giving so much of their time and energy either. They have GOT to give grassroots supporters the tools we need to get those sign-ups!"
Still, as resources remain almost entirely in the first four states, Clinton has found other ways to acknowledge the volunteer efforts her campaign has come to rely on.
This spring, at a fundraiser in Houston, Clinton was working the room when an HRC Super Volunteer approached with a gift: letters from their members, bound in a three-ring binder. Kim Frederick, the founder, came to deliver it personally.
Clinton made her appreciation clear.
In a video message to the group, recorded at the fundraiser on Frederick's phone, Clinton presents the binder to the camera, eyes wide and smiling, brows raised. "Hi, H-R-C Super Volunteers!" She leans in, bouncing around a little with every line. "Thank you so much. I really need you, and I can't wait to be working with you to win!"
Weeks later, members like Jim Livesey were still showing people the video.
"She's writing them back," he said of the letters. "Every single one."
Correction
Kim Frederick, the founder of HRC Super Volunteers, delivered the binder to Clinton herself. This article originally mischaracterized who was present.