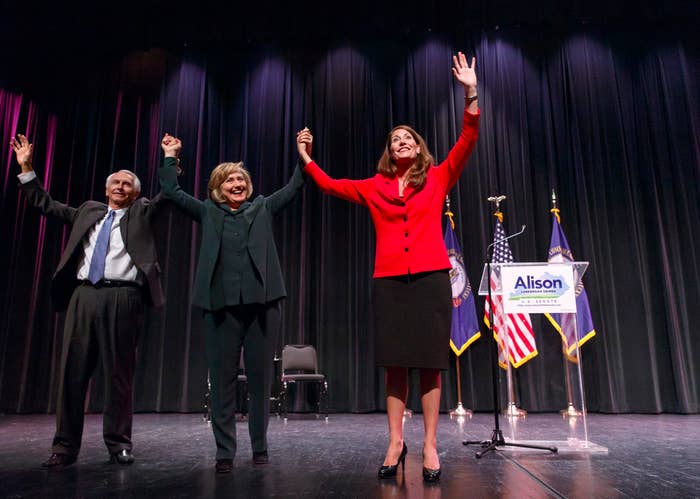 LEXINGTON, Ky. — In three weeks on the campaign trail, Hillary Clinton has hit 16 states to campaign and fundraise for Democrats facing elections on Tuesday.
But here in Kentucky, Clinton has held more campaign rallies for one candidate, Alison Lundergan Grimes, than any other single Democrat on the ballot this month.
Clinton returned to the state on Saturday to cast Grimes — the 35-year-old secretary of state running against a U.S. senator whose tenure on Capitol Hill is almost as long — as an emblem of "new thinking" and a coming "fresh start" in Washington.
Polls don't show Grimes winning on election day against Mitch McConnell, the Senate Minority Leader running for a sixth term. But she has made his long tenure in Washington the crux of her campaign, while framing herself as the face of a new generation in politics, fed up with the last. (Her speeches focus relentlessly on McConnell, and her merchandise features slogans like "Ditch Mitch" and "I Challenge Mitch.")
Clinton singled out that quality on Saturday in two speeches, both held on college campuses. The "entire country is watching" the Grimes-McConnell race, Clinton said, because of the way her new voice would shift the politics in D.C.
"Maybe more than any other place in these midterm elections, the voters of Kentucky have the chance not just to send a message, but to alter the course of politics and government," Clinton said at her first event of the day, a rally inside a large and dimly lit arena in Highland Heights, a town near the Ohio border.
Clinton's pair of speeches had a pronounced forward-looking quality that hung in part on the generation dynamics at play between Grimes and McConnell, who is 72.
She did not name McConnell directly in her remarks at the first rally or the second, which was held at Transylvania University in Lexington. But Clinton repeatedly depicted her former Senate colleague as a "permanent Washington fixture."
"Are you ready for a fresh start with a fresh voice and a fresh leader?" Clinton asked.
Speaking after Grimes at both rallies, she argued there is a "need to change course" and called upon attendees to "vote for the future." The Grimes-McConnell race, Clinton said, is "not just a contest between a permanent Washington fixture and a fresh face — it's a contest between old thinking and new thinking."
"It is a referendum on the future," Clinton said at both rallies.
Clinton herself has been involved in national politics — on her husband's campaigns; in the White House and the U.S. Senate; as a candidate for president; and as the last secretary of state — for nearly as long as McConnell has been in office.
But on the campaign trail this month, Clinton has developed a speech that is aspirational and focused on the future, describing Democrats she stumps for as change-making. In Pennsylvania, at a rally for Tom Wolf, the businessman running for governor, she called on his campaign slogan, "A Fresh Start," in her speech.
And last week, at an event with Rep. Sean Patrick Maloney in New York's Hudson Valley, Clinton said the young congressman was "part of a new political mission to make our government work again for the people of the country we love."
If she runs for president, Clinton will face the challenge of leading that "new political mission," offering a distinct path forward from the Obama administration, and convincing voters she is closer to a Grimes "fresh face" than a McConnell "fixture."
Clinton spent much of her speeches on Saturday decrying parts of the political system. She described Washington as a place where people use money to "muddy the waters" and "drown" out voters, and where troubling "patterns" develop among public officials. Some, Clinton said, "don't seem to care as much or work as hard to give everyone the same chance that Alison had and made the most of."
"We cannot in our country continue to reward the dividers," said Clinton. "We need to reward the uniters — the people who care about everybody."