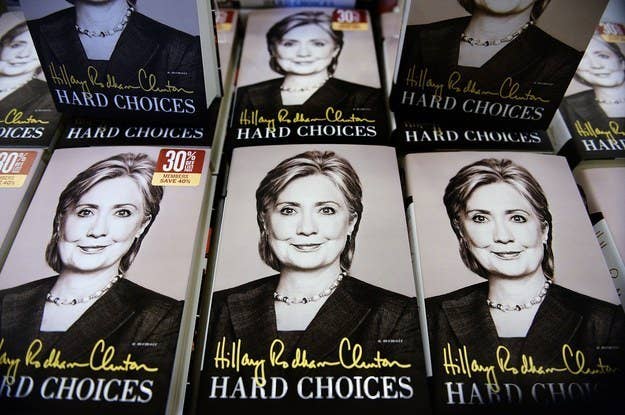 Hillary Clinton's new memoir was the second-most purchased hardcover book in its first week, according to Nielsen Bookscan data that records physical book sales at Amazon, Barnes & Noble, Books-a-Million, Wal-Mart, and other retailers.
The BookScan figures, released Wednesday to publishers and obtained by BuzzFeed, account for sales during the week ending on Sunday, June 15 — a period covering the first six days Clinton's book, Hard Choices, was available for purchase. They reflect strong but not spectacular sales for a book that has dominated the political conversation.
The Bookscan service tracks approximately 85% of retail sales for physical books at the biggest booksellers, but does not account for e-books, made for tablets like Kindle. In addition to tracking Amazon and Barnes & Noble sales, BookScan tracks hundreds of independent bookstores and big-box retailers like Costco.
The figures show Clinton sold 85,721 hardcover copies in its first week.
Diana Gabaldon's Written in My Own Heart's Blood — the latest installment in the author's long-running historical sci-fi romance Outlander series — sold 3,030 more hardcover copies than Clinton's book. (The Gabaldon novel was released on June 10, the same day Simon & Schuster published Clinton's title.)
Clinton's book topped the BookScan nonfiction list.
One Nation, the memoir by the popular Republican, Dr. Ben Carson, ranked second on the nonfiction list this week, selling more than 26,000 copies. (Carson's book was published late last month.)
Bookstores and other retailers preordered 1 million copies of Clinton's book — burning through the first printing — two weeks before it had been published.
The Bookscan data provides a partial but significant glimpse at consumer interest.
The 656-page book, Clinton's second memoir, is an account of her four years as secretary of state. The coast-to-coast Hard Choices publicity tour, which began last Tuesday at a Manhattan Barnes & Noble, may preface what many Democrats hope will be Clinton's second White House bid in 2016.
Clinton allies and critics have been waiting to see how well the memoir sells, and where it debuts on the New York Times best-sellers list this week.
Specific figures for sales at Barnes & Noble, the country's largest retail bookseller, were released to publishers on Monday and reported by BuzzFeed.
Hard Choices sold just over 24,000 copies through the retailer, debuting at No. 1 on the store's hardcover sales list.
But the book did not perform as well at the store as her first memoir, Living History, did in the summer of 2003. The week it was released, a Barnes & Noble spokeswoman said it sold more than 40,000 copies in 24 hours — breaking the record for the retailer's release-day sales. Barnes & Noble, which represents an increasingly small share of the book market, sold just over half that amount in Hard Choices hardcovers this past week, according to the BookScan figures.
Later on Monday, the conservative magazine, the Weekly Standard, quoted a publishing source who described the book as "a bomb." The following day, Simon & Schuster President Jon Karp told Politico he was "thrilled" with the book's sales.
"We're confident we have a major best-seller," Karp said.
Politico also cited a Simon & Schuster source saying the book sold 100,000 copies overall, including hardcover, e-book, and pre-order sales.
Clinton's advance for Living History was $8 million. Simon & Schuster is rumored to have paid significantly more for her second book.
Even if Hard Choices does not sell as well as its predecessor, the publishing house will still make back millions of the advance from licensing foreign editions of the book. Clinton is also expected to spend time overseas during an international portion of her publicity tour sometime later this summer.
A Simon & Schuster spokesman did not immediately return a request for comment.