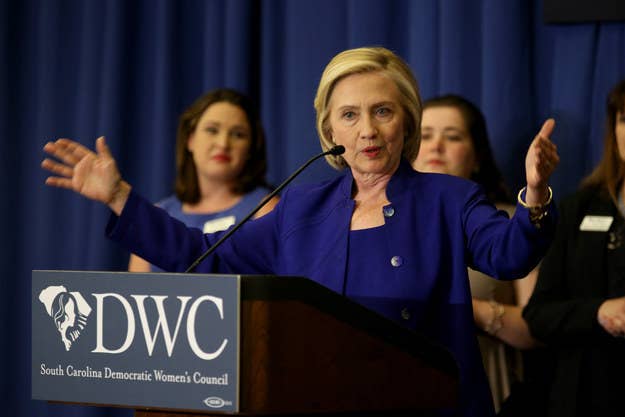 Three Democratic candidates each traveled to Washington this week to court the endorsement of the American Federation of Teachers — and after taking part in the hour-long meetings, the thing that stood out most to Randi Weingarten, the union, president, was this: Hillary Clinton knew what she was doing.
The other two, Martin O'Malley and Bernie Sanders, maybe less so.
The AFT meetings, which took place over the course of Tuesday and Wednesday, may offer Clinton the possibility of an early, influential endorsement from the major teachers union that endorsed her in the 2008 presidential race. Weingarten herself is close to and has supported Clinton for years. She sits on the board of Priorities USA Action, the super PAC raising millions to support her candidacy.
On matters of education policy, according to Weingarten, Clinton engaged the group with noticeably more depth and granular detail than her competitors. It was, she said, the most striking difference between the three candidates, particularly on the set of issues that have created fissures inside the Democratic Party, including testing, teacher evaluations in tenure decisions, and Common Core.
"Both in terms of the presentation as well as the questions, Secretary Clinton was clearly understood and spoke in great depth," said Weingarten. "The members of the board did not ask Sen. Sanders or Gov. O'Malley as many questions about public education. I don't frankly…" Weingarten paused. "I really don't… Let me just observe that it was interesting. I don't really want to draw a conclusion about it."
Weingarten said that all three candidates — Clinton; Sanders, the U.S. senator from Vermont; and O'Malley, the former Maryland governor of Maryland — voiced strong support for public school teachers. But Clinton "talked so granularly about the issues that people felt a freedom to ask follow-up questions," she said.
The three meetings, hosted at AFT's headquarters, were each attended by about 150 union members, around one third of whom are on the group's executive council. Each of the candidates gave brief introductory remarks before answering questions from the audience. The conversation with Clinton, O'Malley, and Sanders touched on five key areas, said Weingarten: the "imbalance in the economy," public education, health care, retirement security, and the democracy.
The AFT effort to engage the candidates marked the first formal endorsement meeting of its kind by a union or interest group in the 2016 Democratic primary.
The meetings were not open to the media. But in an interview on Wednesday evening, Weingarten described AFT's endorsement process and outlined in broad strokes each candidate's message. She declined to elaborate on any shades of difference in policy or position between Clinton, O'Malley, and Sanders.
Prior to the meetings, the candidates each completed a policy-focused questionnaire, which AFT leadership began preparing in collaboration with its members in February. The attendees on Tuesday and Wednesday formulated their questions for the three Democrats — which were not prescreened — having reviewed their responses to the questionnaire. AFT plans to use the documents, as well as taped video from the three meetings this week, during the election.
AFT also invited Republican candidates to participate in the same process. None acknowledged receipt of the questionnaire, according to Weingarten.
Lincoln Chafee, the former Republican and Independent from Rhode Island who announced his presidential campaign on Wednesday as a Democrat, declined to participate, telling AFT officials his record could speak for itself, Weingarten said.
Asked about her past support for Clinton in relation to AFT's endorsement, Weingarten said it wouldn't be an issue, noting that some of her colleagues had relationships with O'Malley and Sanders: "I'm one person on the board."
Since she launched her campaign in April, Clinton has not discussed the finer points of her positions on a number of policies important to teachers unions. (She is expected to outline a more detailed agenda following her formal campaign launch speech on June 13 on New York's Roosevelt Island.)
The AFT backed Clinton over Barack Obama in October 2007. The largest teachers union, National Education Association, did not endorse a candidate in the 2008 Democratic primary, though the union did back Obama's re-election.
Eight years later, however, Clinton may face more pressure from a share of the Democratic Party, and donor community, that has fought unions for more charter schools, voucher programs, and measures that test teachers and link tenure to achievement.
Wealthy Democrats who have made education their top priority have already said that Clinton, despite her lead in early polling, should make her beliefs known sooner rather than later. Ann O'Leary, the campaign's top policy adviser, told the New York Times earlier this year that Clinton would be engaging with leaders on both sides of the debate more than Obama administration has: "both the teachers union and the reformers will really feel like they have her ear in a way they haven't."
But Weingarten said she wasn't worried. The union leader was head of the New York-based United Federation of Teachers when she first backed Clinton, then the state's junior senator. Weingarten dismissed the donors, saying Clinton "follows the evidence, not ideology — that's what she told our members."
Asked to detail Clinton's stance on the issues discussed, Weingarten said the candidate "addressed issues of testing, of standards, and she did it in a very direct way. She basically said, which was the bottom line over and over again, you cannot help students, virtually all students, if teachers aren't our partners."
Weingarten said Clinton signaled a need for "a change in that direction."
But she added that, when it comes to AFT's endorsement, the union will take into account characteristics such as "tenacity," "openness," and "integrity."
"As people are on the campaign trail, they'll be more and more specific about policies," Weingarten said. "The different was, Secretary Clinton spoke in a very extensive way about policies and practices that would help more and more children be ready for life and career and college — and that there was a depth there in terms of the conversation that she had. That was the big difference."
The topic of the Trans-Pacific Partnership, another issue dividing the Democratic Party, also came up in each of the three meetings. Weingarten said that Clinton's comments to the AFT members were consistent with her public remarks on the issue: that she would support a trade deal that protects U.S. workers and wages, and strengthens national security, but would not weigh in on this trade deal until the president finished the negotiations that are still shaping its makeup.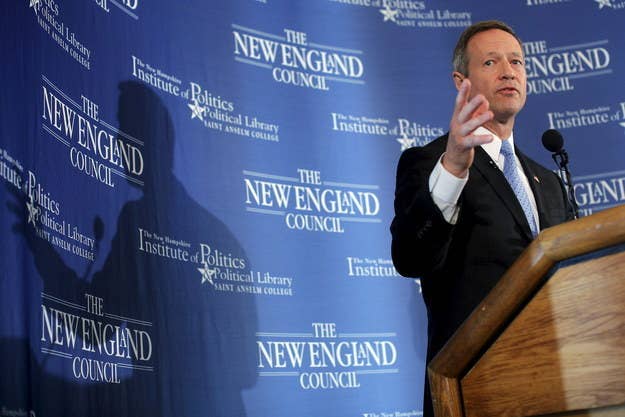 O'Malley and Sanders have both stated that they oppose the trade deal.

The AFT did not expand on the details of the candidates' introductory remarks. But the union did share small excerpts — about two paragraphs each — from the speeches to the group by Clinton, O'Malley and Sanders.
In hers, Clinton told the executive council that the election would be a "pivotal turning point" — and that education should be restored "at the top of our agenda."
"The most important and impactful thing we can do for our public schools is to recruit, support and retain the highest quality educators," Clinton said. "It is just dead wrong to make teachers the scapegoats for all of society's problems. Where I come from, teachers are the solution. And I strongly believe that unions are part of the solution, too."
Clinton called for a "stronger, fairer, more inclusive America," in which every child has access to child care and pre-Kindergarten and every public school official is treated with "the respect and dignity that comes with the teaching profession."
O'Malley, who made his campaign official last weekend, told the group that he worked frequently as governor of Maryland in partnership with union leaders.
"I don't know how these other guys think," he said. "How do you improve public education if you vilify and turn into enemies the teachers that are responsible for our children?"
With the campaign slogan, "New Leadership," O'Malley and some of his advisers, two of whom recently launched a super PAC called "Generation Forward," have targeted younger voters as a possible support base. In his meeting with AFT, O'Malley identified "access to higher education for the next generation of Americans" as a "building block of this American dream that we share."
Sanders, in his remarks at AFT, repeated his call for a "political revolution." The senator said he envisioned a vast restructuring of the country's fiscal priorities — with no cuts to education. "We are the wealthiest nation in the history of the world. Today. Why in God's name is there any school in America talking about cutting back?" Sanders asked, citing a favorite statistic: that a few years ago, 25 of the nation's hedge fund managers made as much as 435,000 public school teachers.
It's not clear when the union will make its endorsement. Weingarten said that AFT will continue to engage its members "in the coming days, weeks, and months," but indicated that the timeline will be somewhat similar to 2008.