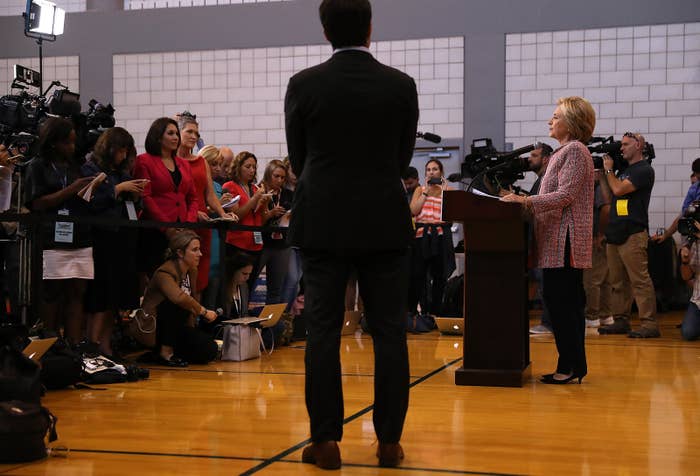 GREENSBORO, N.C. — Hillary Clinton declined to answer repeated questions Thursday at a campaign stop here in North Carolina about when her vice presidential nominee Tim Kaine knew about her pneumonia diagnosis.

Instead, the candidate told reporters that a number of senior aides were informed of the illness at the time of the diagnosis on Friday. Only two days later, when a widely watched video showed Clinton struggling to walk as she left New York's 9/11 memorial ceremony, did she reveal her pneumonia to a wider audience.
"My senior staff knew, and information was provided to a number of people," Clinton said, skirting the question about when Kaine specifically was informed.
"Look, this was an ailment that many people just power through — and that's what I thought I would do as well. I didn't want to stop. I didn't want to quit campaigning. I certainly didn't want to miss the 9/11 memorial," she said. "As a senator at that time, I consider it a sacred moment, and I was determined to get there. It didn't work out."
Clinton returned to the trail on Thursday after taking three days off to rest.
At a 10-minute press conference here in one of the campaign's most crucial battleground states, the former secretary faced questions about her reflex toward privacy — and why, often, only a select few are let into her tight inner-circle.
On Sunday, after Clinton made a sudden departure from the 9/11 memorial service, press staffers went silent for 90 minutes, unable to provide basic information to reporters about what had happened to the candidate.
In a 20-minute speech in the gymnasium of the University of North Carolina at Greensboro — her first event since stepping off the trail on Sunday — Clinton admitted that she has put up a number of defenses over a long career.
"When it comes to public service I'm better at the service part than the public part," she said, delivering the second of four "Stronger Together" speeches — part of a series billed as a more personal and aspirational glimpse at Clinton's message.
Afterward, reporters questioned whether Clinton had, as one put it, given voters a look at those defenses in the way that her campaign handled Sunday's events.
"My campaign has said that they could have been faster and I agree with that," Clinton said, limiting her reply to only what her staff could have done better.
"I certainly expect them to be as focused and quick as possible, but I have to say, from my perspective, I thought I was going to be fine, and I thought that there wasn't really any reason to make a big fuss about it," Clinton said. "So I should have taken time off earlier. I didn't. Now I have. And I'm back on the campaign trail."
Still unanswered after Thursday's press conference was whether Kaine, Clinton's running mate of about two months, was let in on the diagnosis. Earlier this week, the Virginia senator declined to answer four questions on the same subject, telling reporters he did not want to discuss his private conversations with Clinton.
On Thursday, Clinton described her relationship with Kaine as a close one.
"I communicated with Tim. I talked to him again last night. He has been a great partner, and he's going to be a great vice president," she said, declining as her vice presidential nominee did days earlier to go into any "personal conversations."
"We communicated," she said. "We communicated."