Hillary Clinton: Wage Growth Is The "Defining" Economic Problem Today
Emphasizing income, "growth and fairness," and cracking down on Wall Street, Clinton delivered her first wide-ranging speech on her economic agenda — one that broadly resembles the ones put out by the other Democrats running.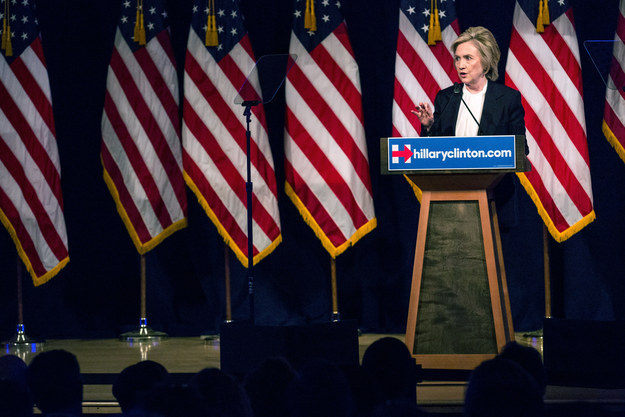 In a wide-ranging speech on the economy — the first of her campaign — Hillary Clinton cast wage stagnation as the "defining" challenge for America's next president, and outlined as the solution an extensive, diverse set of proposals to encourage "growth and fairness," raise the minimum wage, cut taxes for the middle-class, lift them on the wealthy, and strengthen working families by implementing policies for paid leave, equal pay for women, and earned sick days.
"We must raise incomes for hard-working Americans so that they can afford a middle class life," Clinton said. Lifting wages, she told the crowd, will be "my mission from my first day as president to the last."
Clinton, now three months into the race for the Democratic nomination, spoke for about an hour on Monday at the New School in New York City on a broad array of topics, promising to deliver more specific proposals in the coming weeks.
She will, for instance, make more detailed remarks on her ideas for tax code simplification, college affordability, profit-sharing, and paid leave.
About 200 people attended the speech. A mix of surrogates, supporters, and donors, could also be spotted throughout the auditorium, including Van Jones, the pundit and liberal advocate, and Tom Nides, the Morgan Stanley executive and former State Department official. (The campaign's finance director, Dennis Cheng, also greeted guests in the lobby before the speech began.)
The speech Monday was put together following a months-long period of outreach to more than 200 domestic policy experts, according to the campaign. Outside advisers included Neera Tanden, the head of the Center for American Progress, a liberal think tank closely aligned with the campaign, as well as former administration advisers such as Gene Sperling and Alan Blinder.

Clinton touched on some topics more broadly than others: One of her more oblique references was to the so-called "gig economy," and the rise of companies like Uber, which has embodied a long-term shift toward freelance and contract work.
The industry, she acknowledged, has created "exciting opportunities" and unleashed "innovation." But Clinton also said the companies have raised "hard questions about workplace protections and what a good job will look like."
She concluded that these and other "technological advances" influencing the economy were not "going away" anytime soon. "But they don't determine our destiny," Clinton said. "The choices we make as a nation matter."
The speech on Monday, details aside, was framed as a sweeping roadmap for Clinton's economic vision and an overview of her differences with Republicans, three of whom she mentioned by name: Jeb Bush, Marco Rubio, and Scott Walker.
"For 35 years, Republicans have argued that if we give more wealth to those at the top," Clinton said, "it will trickle down to everyone else. Yet every time they have a chance to try that approach, it explodes the national debt, concentrates wealth even more and does practically nothing to help hard-working Americas."
Her proposals did not differ drastically with those already outlined by Martin O'Malley, the former governor of Maryland, and Bernie Sanders, the U.S. senator from Vermont — two Democratic competitors who have made tough rhetoric on Wall Street and income inequality the central piece of their campaigns.
Her administration, Clinton said, would appoint regulators who believe "too big to fail is still too big a problem." In a comment that was seen as a contrast with a more passive approach by President Obama, Clinton promised to "prosecute individuals as well as firms when they commit fraud or other wrongdoing."
She added that problems of inequality "are not limited to the big banks that get all the headlines," describing a "shadow banking system" of hedge funds, high-frequency traders, and other new entities that "see little oversight at all."
Clinton received an initial positive response to the speech from progressive groups that have cast Sen. Elizabeth Warren of Massachusetts as a liberal benchmark.
Democracy for America — a group that until earlier this summer was waging a draft movement to recruit Warren into the race — released a statement praising the speech as consistent with the Massachusetts senator and her economic priorities.
The remarks reflect a "clear understanding that the Democratic Party and the vast majority of the American people want a president who will fight alongside [Warren] and refuse to kowtow to wealthy and powerful interests," said Jim Dean, the chair of Democracy for America, which has not formally endorsed a candidate.
But just as Clinton was closing her speech, one unhappy protestor presented a jarring interruption, yelling repeatedly, "Will you restore Glass Steagall?"
Clinton did not answer the question.