PHILADELPHIA — Inside a small Gothic hall here at Temple University, a modest crowd of young people waited to hear Hillary Clinton deliver what her aides titled a "Millennial Speech."
Outside, holding a white poster-board scrawled in loose handwritten script, a man greeted attendees with a less official account of the political reality that necessitated Monday's speech: "This election cycle has produced the two most hated candidates we've ever had," his sign read. "Grow a pair and vote third party."
That Clinton needed to address young people with so direct a pitch as her capital-M, capital-S "Millennial Speech," a 30-minute address aimed at what her aides described as the "millennial generation," underscored Monday the deep skepticism the Democratic nominee still faces from voters under 30, particularly among those who backed Bernie Sanders and may now pledge their support to one of two third-party candidates.
Polls show that Gary Johnson of the Libertarian Party and Jill Stein of the Green Party take a worrisome share of voters away from both Clinton and Donald Trump. Last week, a New York Times-CBS News survey of voters under the age of 30 found that Clinton lost 10% among likely voters when the two third-party candidates were included.
As the race enters the 50-day homestretch, Clinton aides have been forthright about not doing well enough with young voters. Most concerning for Democrats are the possible warning signs that Clinton has yet to convince young black and Latino voters.
In Philadelphia, flanked by newly made campaign signs that read "L-O-V-E" and "Love Trumps Hate," Clinton made direct reference to the young people who may view her warily or know little about her background, delivering a speech heavy on personal biography and speaking at points as if introducing herself for the first time.
"Even if you are totally opposed to Donald Trump, you may still have some questions about me. I get that. And I want to do my best to answer those questions," Clinton said. "When it comes to public service, the service part has always come easier for me than the public part."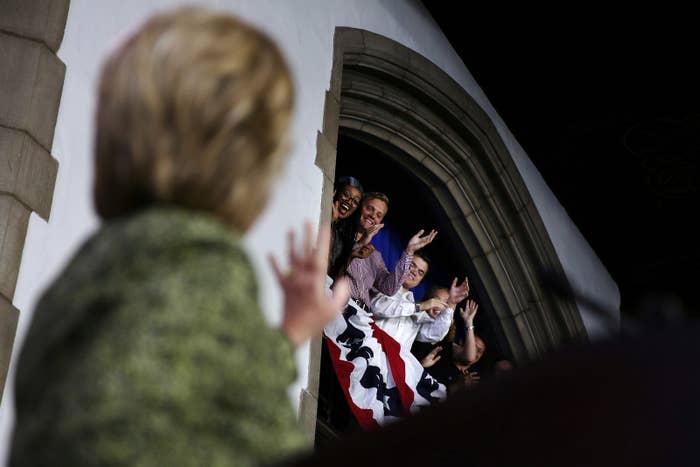 Clinton, admitting that she'll never be a "showman" like her opponent, outlined what she described as "the values that drive me and my vision for the future."
The highly personal speech recalled "pivotal moments," family members, and mentors, drawing a line from the candidate's mother, Dorothy Rodham, and the kindness she experienced during a troubled childhood, to the way it later inspired a young Hillary Rodham to pursue public service as an advocate with the Children's Defense Fund in her very first job out of Yale Law School.
It came down to "one word," Clinton said. "Kindness."
That was embodied, she told the crowd, in the creed of her mother's Methodist faith, to "do all the good you can," and it was solidified as a practical call to service after Clinton saw a flier on a campus bulletin board for Marian Wright Edelman's Children's Defense Fund. ("We used to have those fliers!" she added to some laughs from the crowd.)
From the moment she met Edelman, "something just clicked in my brain," Clinton said. "I began to see how I could translate the commitment to helping others I learned from my mother and my church into real social change."
The crowd of 300 young people, including a careful staging of young voters behind the candidate and on two balconies above the stage, listened attentively, but throughout the speech, their loudest cheers came when Clinton mentioned her work with Sanders on a revised college plan and when she unleashed her usual round of attacks on Trump.
"We can't get distracted when the media or my opponent turns this election into a circus," Clinton warned at one point. "My husband has a saying about that. He calls it 'majoring in the minors' — getting so wrapped up in stuff that doesn't matter, you forget what's really important to your future and the future of this country."
After committing the summer to a series of blistering speeches on Trump, Clinton and her aides have said the campaign will focus more in its final weeks on making giving people something to "vote for," not just something to vote against.
The candidate hit that point again here on Monday, promising to close "my campaign the same way I started my career, fighting for your people and families," but as in all her recent speeches, Clinton did not stray too far from her opponent.
"We have to stand up to this hate. We cannot let it go on," she said. "And when we do that, we send a clear message: America is better than this. America is better than Donald Trump. Just as important, we have a chance to make real progress together in our country. I need you."
In advance of Monday's speech, Clinton communications director Jennifer Palmieri told reporters that the Philadelphia appearance would allow the candidate to "speak directly to millennial voters" and "pro-actively make the case."
"The millennial generation is a key voting bloc in this election," she said in a statement, admitting, "It's clear that the campaign must do more to earn their vote."
In June, after the end of the Democratic primary, the team in Clinton's Brooklyn headquarters launched a new "millennial engagement" program, adding a new team of staffers, including one from the Sanders campaign.
Clinton did not name Johnson or Stein during her speech, only leaving voters here with the prospect of two choices.
"Give us both a fair hearing. Hold us accountable for our ideas. Both of us," she said.