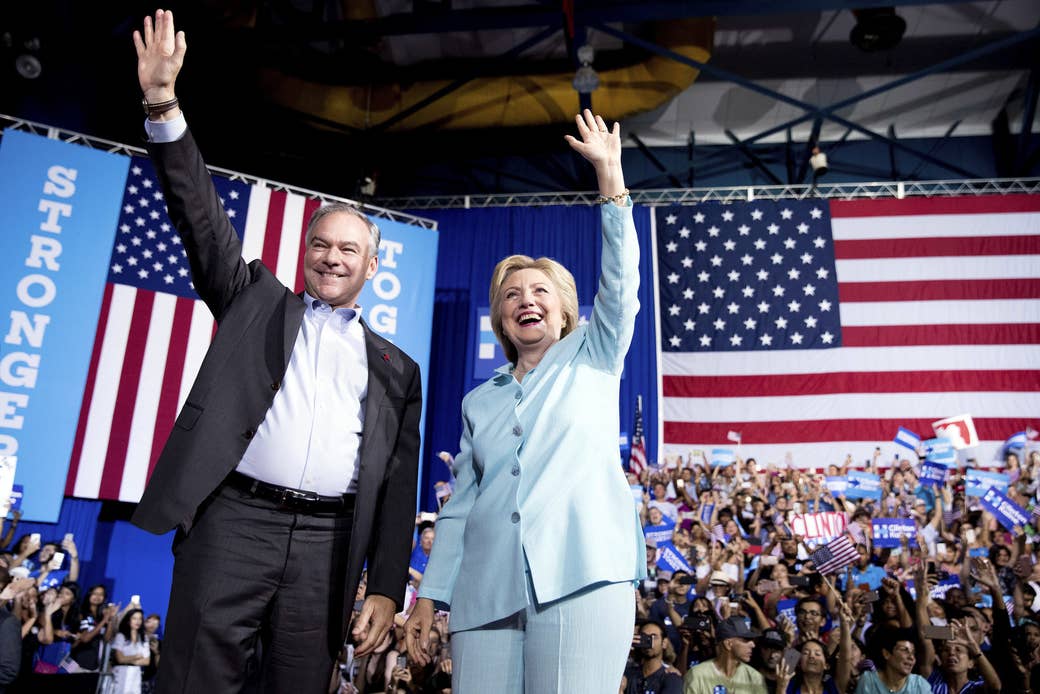 TAMPA, Fla. — Hillary Clinton has made Virginia Sen. Tim Kaine her running mate, lending the Democratic ticket a seasoned, steady vice presidential nominee with extensive domestic and national security credentials, and a link to a key battleground state.
Eight years after Barack Obama nearly picked the 58-year-old father of three as his own running-mate, Kaine joined Clinton on Saturday at a campaign rally in Miami, making his first appearance as the potential next vice president.
"Senator Tim Kaine is everything Donald Trump and Mike Pence are not," Clinton told the crowd of thousands packed into Florida International University. "He is qualified to step into this job and lead on day one. And he is a progressive who likes to get things done. That's just my kind of guy."
Despite his many years in politics, Kaine conceded many of those in the crowd may have been hearing his name for the first time. "But that's okay," he said with a grin, "because I'm excited for us to get to know one another."
His speech alternated between outlining the high points of his own career and attacking the low points of Donald Trump's — all done with a Southern smile.
Kaine also addressed the crowd in Spanish at several points, promising that a Clinton White House would work to achieve immigration reform in their first 100 days in office. Supporters cheered, while Spanish-speaking Twitter users provided instant reviews of his accent and grammar.
When discussing gun control and his battle against the Virginia-based National Rifle Association, Kaine became emotional when remembering the Virginia Tech massacre, which occurred during his time in office.
"I'm one of only 20 people in history to serve as a mayor, a governor, and a United States senator," Kaine said. "So I have been able to see how government works and how sometimes it doesn't, from just about every perspective."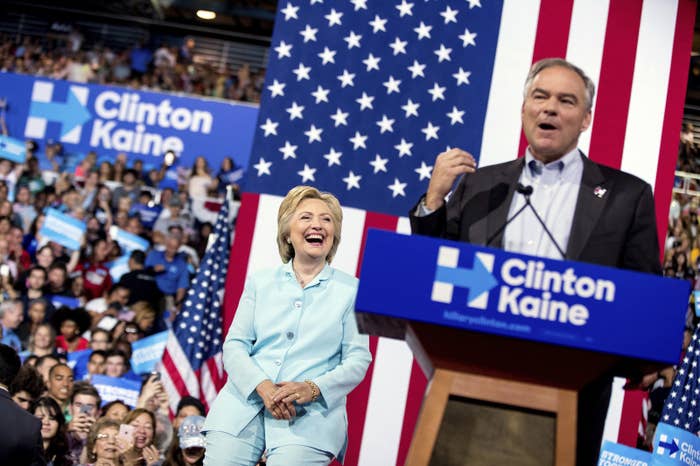 Clinton announced the decision in a text message to supporters late on Friday afternoon, nearly 24 hours after Donald Trump officially accepted his party's nomination.
The first-term U.S. senator has been cast by some as Clinton's "safest" choice, even a "boring" one. Kaine, though, perhaps more than any other contender for the No. 2 spot, also reflects a balance of the qualities Clinton has said she wants in a partner: He is an authority on foreign and military affairs in the Senate, where he serves on the Armed Services Committee; he offers the experience of a governor and mayor; he is a versatile, solid campaigner, popular in his crucial home state of Virginia; and he comes to the ticket as a well-liked party servant, with the potential if not to excite, then to inspire trust.

During Clinton's search for a vice president, campaign chairman John Podesta offered the candidate one key piece of advice: "It needs to be someone who, whenever they walk into a room, you are glad to see them and want to have them as part of any conversation," he told her, according to a campaign official who briefed reporters on the process.
At the end of the process, it was Kaine who fit the bill for Clinton.

Clinton, the official said, made her final decision on Friday, and called Kaine with the news at 7:32 p.m., before calling Obama at 7:48 p.m., shortly after a rally here in Tampa.
Clinton's priority, campaign aides have said, was to find a candidate whose domestic and international resumé made them prepared without question for the presidency — particularly as she attacks Trump as inherently unqualified and unfit for the job.

In 2008, Obama opted for Joe Biden over Kaine, who at the time was still governor of Virginia, boasting little foreign policy experience. Eight years later, Kaine has become a forceful voice on defense and international affairs in Washington, emerging at times as a critical voice against the president's approach against the terrorist network ISIS.
Kaine, a former Democratic Party chairman, is not without his detractors on the left.
Amid intense speculation this week that he had edged to the top of Clinton's list, progressives formerly aligned with Clinton's primary opponent, Bernie Sanders, criticized Kaine's support for the Trans-Pacific Partnership trade deal and highlighted two recent letters he wrote in support of easing some rules on smaller banks.
One of Sanders' strongest allies in the primary, Democracy for America, said on Thursday that the letters should "disqualify" Kaine as a finalist for the job.
Clinton, who hopes to turn the Senate back to Democrats this fall, was also said to be concerned about what could happen to Kaine's seat should he vacate it. Virginia Gov. Terry McAullife, a longtime Clinton ally, has the power to appoint a Democratic successor, but the seat would open up again for a special election in 2017.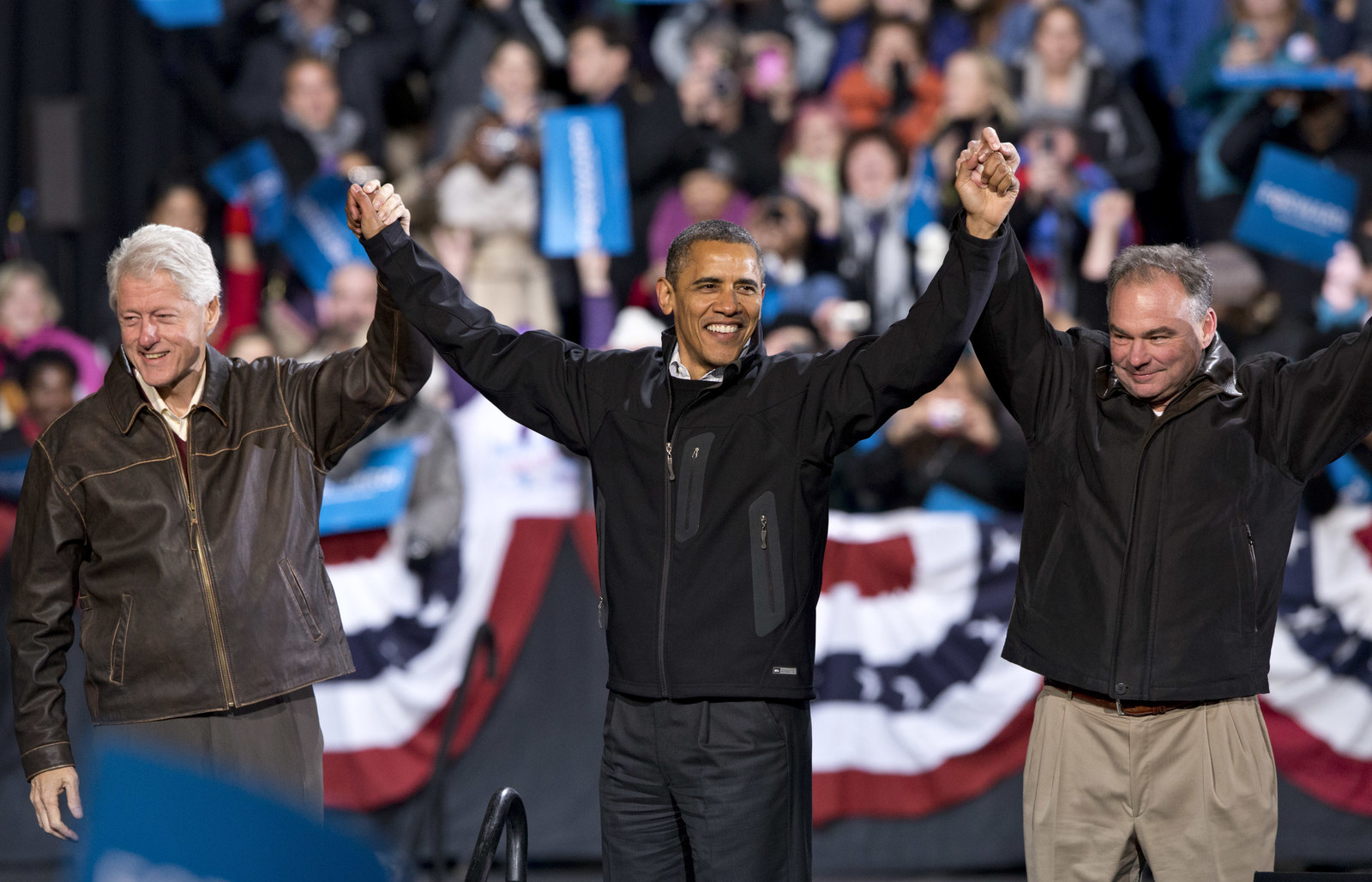 Friday's announcement ended a three-month, tightly guarded search led by Clinton and a small group of advisers, including longtime allies John Podesta and Cheryl Mills.

Against the backdrop of this week's hectic Republican convention, Clinton's campaign officials said they were aiming for a clean and contained roll-out. Trump's deliberations, by contrast, unfolded almost entirely in public. His choice, Indiana Gov. Mike Pence, leaked in the press early. And up until his announcement — even after his campaign made it official — there were reports that Trump might still waver on the decision.
In the days leading up to Clinton's final selection, Kaine remained largely quiet about his prospects. "I'm glad the waiting game is nearly over," he told the collection of reporters trailing him on Thursday. "But I don't have any idea of what will happen."
Clinton began her search by casting a wide net, compiling a long list of politicians, military figures, and businesspeople, with an open mind to the idea of an all-female or even a bipartisan ticket, according to a person familiar with the process.
In April, after the New York primary, the search intensified. Podesta, Clinton's chairman, visited Clinton at her home in Chappaqua, bringing with him a Duane Reade bag filled with two dozen binders of vetting material, one for each candidate on the list.
By the end of June, a handful of key names remained in the mix: agriculture secretary Tom Vilsack, labor secretary Tom Perez, New Jersey Sen. Cory Booker, Massachusetts Sen. Elizabeth Warren, housing secretary Julián Castro, Colorado Gov. John Hickenlooper, and four-star navy admiral and NATO commander James Stavridis.
In the final days, sources said, the search narrowed to Kaine, Vilsack, and Booker.
The campaign viewed her rally with Kaine on Thursday, June 14, as an opportunity to try out the ticket on the stump. Clinton enjoyed their rapport and was impressed by what a campaign official described on Friday night as a low-key, relaxed campaign style.
After the rally, Clinton invited Kaine back to her house in Washington for a 90-minute meeting, departing around 10 p.m. that evening. The pair were initially joined by aides, then broke off into a one-on-one discussion. The next day, Friday, Clinton met with several other contenders, but told her aides that she wanted to see Kaine again, and this time with the families, the official said. That Saturday, Kaine and his wife, Anne Holton, joined Clinton, her husband, daughter Chelsea, and son-in-law Marc Mezvinsky.
Other VP contenders might have provided the Democratic base, and progressives, a more appealing or exciting ticket. The 47-year old Booker, for instance, was seen as a leader from a new generation with the potential to inspire enthusiasm. He would have been the first black presumptive vice presidential nominee in U.S. history.
Clinton has also said she is aware of the complications that come along with a vice president who might one day want to pursue the Oval Office. The former first lady privately cites the internal challenges associated with Al Gore's presidential ambitions. Kaine is seen as someone more likely to fully embrace the job of vice president.
Bill Clinton, according to the New York Times, also favored Kaine. The Clintons don't have a long relationship with him, compared with finalists like Tom Vilsack, the agriculture secretary and Iowa Democrat who has been close to the couple for decades.
Kaine comes from a working-class Catholic family in Kansas City. His father was a welder. Kaine and his wife, Anne, met at Harvard Law School before moving to Richmond, where he began on the city council, rising to mayor of the majority-black city. It is not uncommon to spot Kaine around town at a minor league baseball game, in Trader Joe's, or at the predominantly black Catholic church he's been going to for years.
Kaine, as former aides describe him, can just as easily connect with voters in rural southwest Virginia (he plays harmonica at the Bristol Rhythm and Roots Festival), as on a tour of Hispanic businesses in Northern Virginia (he speaks fluent Spanish), or a trip through the military bases at Hampton Roads (his oldest son, Nat, is a Marine).
So the "boring" trope, said Beau Cribbs, Kaine's body man from 2008 to 2010, irritates those who know him well, including a network of fiercely loyal former staffers.
"I just hate it," Cribbs said. "I think boring is a code for white and male, frankly."
His style as a campaigner is not unlike that of his new boss. Kaine, like Clinton, is not known best for the rousing speeches so often associated with Obama. He excels in small groups, or one-on-one — a hard worker known for 14- or 15-hour days on the trail.
During his Senate race in 2012, Kaine held more than 100 roundtables.
The small-scale, discussion-driven style of event has also become a campaign staple for Clinton. Perhaps it was no surprise this week then, when CBS News' Charlie Rose asked about Kaine's joke that he is in fact "too boring," that Clinton replied with enthusiasm.
"I love that about him!"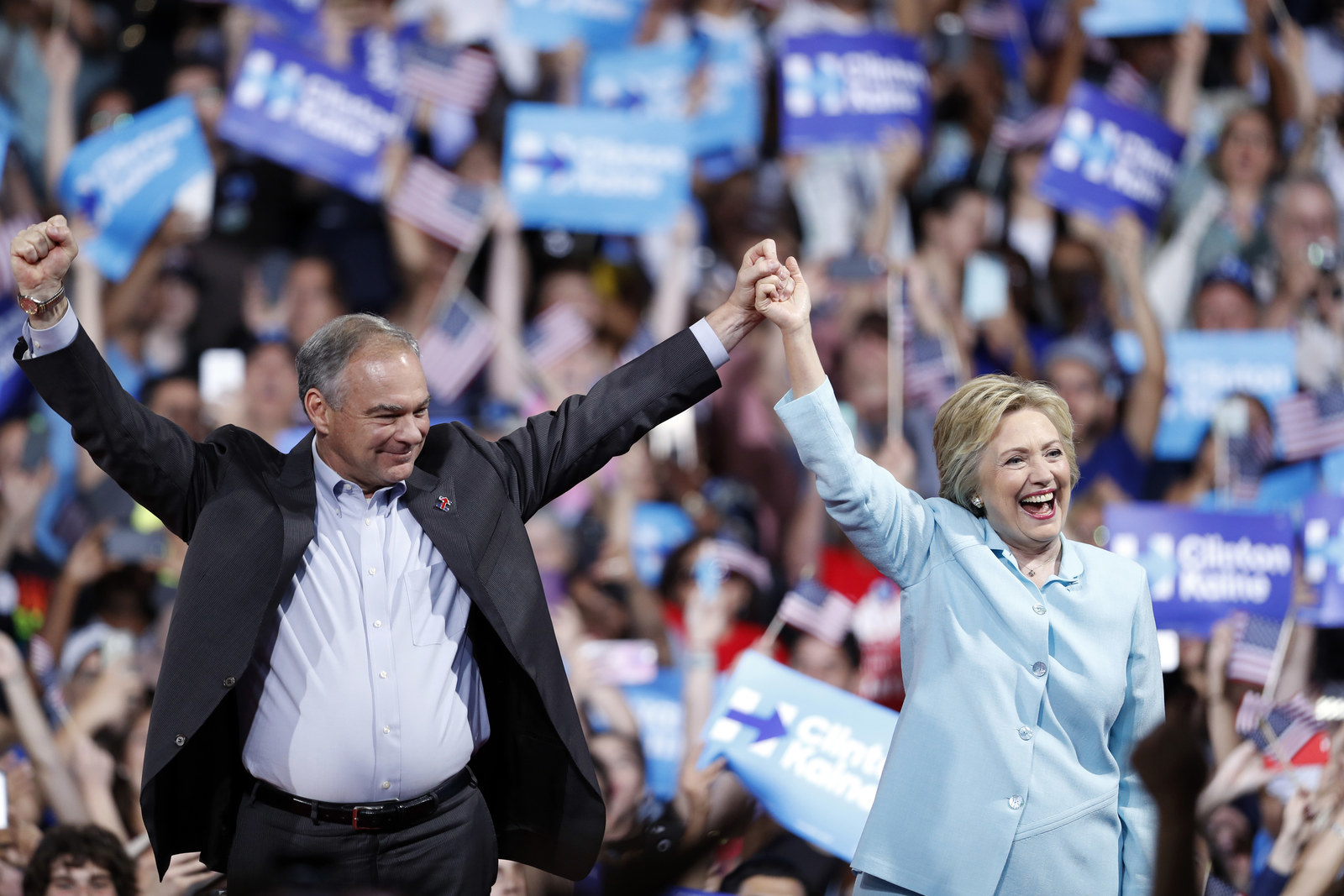 David Mack contributed to this report.
A previous version of this story misspelled Admiral Stavridis's name.