Hillary Clinton Spends A Day As Local Notable In Westchester
Memorial Day in Chappaqua. Getting in shape for...something.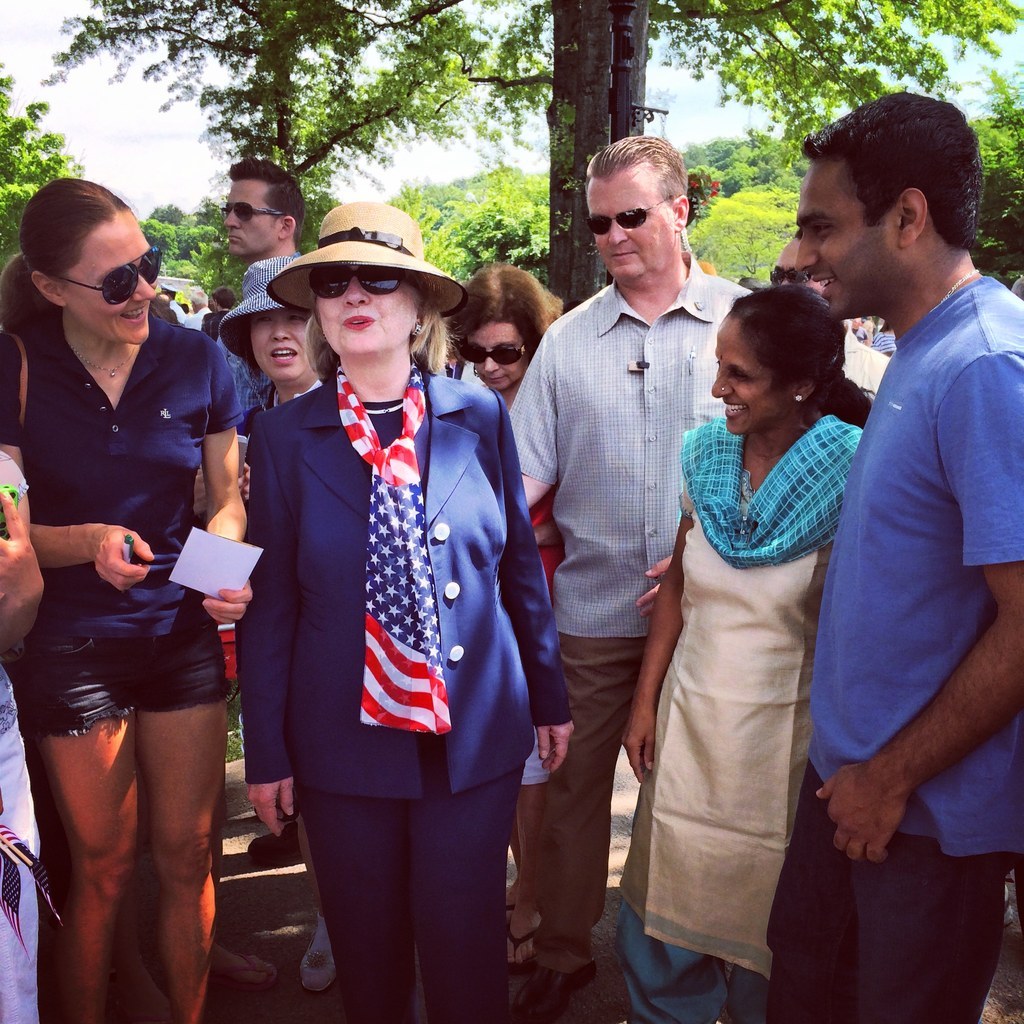 CHAPPAQUA, N.Y. — Just off King Street, the main drag of this small hamlet, a parade slowly took shape under perfect blue sky: A band practiced drum rolls; veterans steadied their flags; bagpipes sounded; and three or four local officials, assembled near the front, traded small talk in the cool summer shade.
Then the black van pulled up. Heads turned. Out of the GMC Savana, a big and boxy hulk of a car, Hillary Clinton bounded into the crowd.
As soon as her feet hit the pavement, the parade fell apart. Marchers left their spots in line to get closer. The crush thickened, with Clinton at the center.
"Hillary!" "Hillary!" Hillary!!!"
"Hey!" she smiled.
"Madame Secretary!"
"Can we get a photo?"
"I would love that," Clinton said.
The picture was one of hundreds she took with her neighbors on Monday at the New Castle Memorial Day Parade. She and her husband have attended nearly every year since purchasing their white Dutch colonial home here in 1999.
The Clintons have become pillars of this Westchester County community; every shop owner has a story about "that time" Hillary said this or Bill did that. But on Saturday, even among neighbors, in the town she calls home, Clinton was in constant demand, always posing for pictures or at the center of a throng.
Was she often swarmed like this in Chappaqua? "Yes," Clinton smiled.
But she makes it a priority to keep coming to the parades. "I started walking in the Memorial Day parade about, I think, 14 years ago and have only missed a few of them," Clinton said. "I love living here. Bill and I are very grateful that we ended up in a town that has such a great community spirit."
This year, Clinton arrived solo, wearing a stars-and-stripes scarf and a straw Eric Javits hat, a brand sold in a boutique downtown. Bill, she said, could not attend because he was in Europe. "I think Sweden is where he is today," she said.
It was a more relaxed scene than Clinton is used to. Since stepping down as secretary of state last year, she has filled her schedule with speeches to college students and trade groups — settings that don't often allow for unscripted moments. In smaller venues, moderators have asked the audience to remain seated at the end of an event, so that Clinton can exit quickly.
At the parade, she traveled with only one personal aide, Oscar Flores, a retired Naval officer who helps run the Clintons' home on Old House Lane. Only one member of her security detail could be seen following her and Flores.
Strangers, fans, and old friends were free to approach. Steve Goldenberg, who said he lives about a minute and a half away from the Clinton home, found her almost as soon as she arrived. Goldenberg shared some news about a recent surgery, then added, "And I'm getting in shape for you-know-what."
Clinton laughed. "We all are, we all are," she said.
The "what" in question, of course, was the next presidential race. Clinton has not announced yet whether she will run. Many Democrats hope that she does. In Chappaqua, the pleas for another Clinton campaign came frequently.
"HILLARY," someone boomed from the crowd, just before the parade started up.
Clinton looked around. "Yes?"
A tall man emerged. "2016," he said. "Run! Run! Run!"
"I'm gonna walk, walk, walk in the parade," Clinton responded.
Finally, James McCauley, the Memorial Day Grand Marshall, cut in. "Secretary Clinton, please get in formation, because if you don't, nobody else will."
"Yes, sir," she said, taking her spot in line next to New York state assemblyman David Buchwald, a Democrat. Rob Astorino, the Republican county executive running against Gov. Andrew Cuomo this year, filed to Clinton's left. Flores, the aide, walked in between Astorino and Clinton as the group descended King Street.
Cuomo, who was Housing and Urban Development secretary in the Clinton administration, is considered a close friend of the family. He marched in the New Castle parade last year beside both Clintons, but did not attend this year.
Clinton and Astorino exchanged brief words.
"You having fun traveling around the state?" Clinton asked.
"Yeah," he laughed. "I could ask you for advice on that."
"It's a big state, Rob."
As the parade approached the heart of downtown, where most residents gathered to watch, more shouts about "2016!" echoed from supporters on either side of the road. "Hillary, we're behind you!" said one. "Get back to the White House," said another. Clinton only smiled and waved.
Even in the sea of people, without press aides by her side, Clinton maintained the discipline for which she is known. She refused several requests for autographs, no matter how many times a person pleaded, pen and pad outstretched.
"No, I can't do autographs," she said to one woman.
"Send it to me. I'll sign it and send it back," she said to another holding a photo.
She answered one question from a local TV news crew, before moving away from the cameras and back into the crowd, where more residents waited for pictures and handshakes. And, approached by this reporter mid-march, Clinton said she wouldn't answer questions "in the middle of the parade."
She did later, after a ceremony on the lawn outside the Chappaqua train station, but was only receptive to queries about the day's events.
Asked about her upcoming book tour, Clinton said only, "It'll happen."
She then took another photo — "Last one!" she warned — and then another, and another, and another, until finally she climbed into her van and sped away.