Hillary Clinton Shadow Groups Grapple With Question Of Midterms
The danger in campaigning for 2016 early. Ready for Hillary, the leading super PAC supporting a Clinton run, starts organizing for the midterms.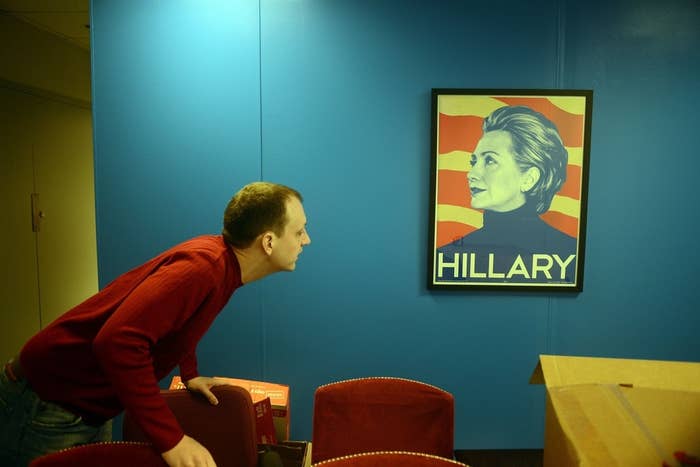 When "Ready for Hillary" went to Iowa in January to talk about the next presidential election, Democrats there said they had another set of races in mind: the midterms.
"We got a little something ahead of us first," said Ken Sager, the president of the Iowa Federation of Labor and one of dozens of activists who attended the Ready for Hillary "kick-off" meetings in Des Moines. Sager and other Democrats who talked with officials from political action committee brought the conversation back on multiple occasions to the slate of key races in Iowa this fall.
About a week after the meetings, Ready for Hillary held a state-wide organizing call with Iowan activists and volunteers. The same thing happened. Democrats on the call asked what the group could do this year, according to a participant.
The question of how active Ready for Hillary is in the midterms puts the group, and Clinton herself, in a tenuous position: Until Clinton decides whether or not to run for president, some Democrats expect Ready for Hillary to be the player on her behalf. Officials with the PAC have indicated they will not give paid staffers or money to other Democratic campaigns. But as they spend more time on the ground in states this year, the topic of midterms, and how the group can be helpful, isn't going away.
The situation raises a more troubling prospect for Clinton: The advance work of groups like Ready for Hillary — and Priorities USA Action, the party's largest super PAC — might hurt Clinton's standing if they are seen as unhelpful in a year Democrats risk losing control of the Senate. Some view the PACs as an extension of Clinton herself — even if, by law, she has no involvement with the organizations or the operatives working for them.
Since the conversations with activists in Iowa earlier this year, Ready for Hillary put together what they call the first phases of a 2014 strategy.
When registering supporters, Ready for Hillary will now ask whether or not those people would like to volunteer for other campaigns as well. The super PAC has put together a state-specific "supporter card" that includes a check-box on the back: "I want to volunteer to help elect Democrats in Iowa in 2014," reads the Iowa card.
"We'll put those people into our database, get them signed up for our email list, and make sure to connect them with the state Democratic Party or with specific campaigns," said Seth Bringman, Ready for Hillary's spokesman.
"Across the board, in all 50 states," Bringman said, "we're going to be encouraging our supporters to get out and vote, to volunteer for Democratic candidates, and to make small-dollar contributions to Democratic candidates."
The group also plans to help campaign for candidates whom Clinton herself endorses. (Clinton has yet to endorse or campaign for Democrats in the midterms, but she did appear at a campaign rally for one candidate last year: her close friend of many years, Terry McAuliffe, who won his race for governor in Virginia.)
Last weekend, the group appeared in the state again, this time for the county conventions, which are held in every one of Iowa's 99 counties. Ready for Hillary had volunteers, 250 in total, at 80 of those county conventions. At the events, volunteers came bearing the 2014 supporter cards, which the officials with the PAC plan to use in New Hampshire at events there early next week.
Bringman said idea to attend county conventions "came at the suggestions of the meetings" with organizers in Iowa last month.
"It's not as if we need supporters to knock on doors across the country for Hillary Clinton right now," said Bringman, "but the 2014 candidates certainly could use those volunteers on the phones and on the doors."
Priorities USA, the other group backing Clinton's could-be campaign, has also had to tackle the question of how to engage in the midterm elections while fundraising for the next presidential race.
The high-dollar super PAC provoked a spate of negative attention last month when a spokesperson said the group would sit out the midterms, leaving this year's House and Senate races to House Majority PAC and Majority PAC, the two groups dedicated to supporting Democratic congressional candidates.
Later that month, Priorities USA's executive director, Buffy Wicks, sent a memo urging the group's donors to give to 2014 campaigns. The PAC also gave $250,000 each to House Majority PAC and Majority PAC, and is asking donors to hold off on large contributions until after this year's races have finished.
For Ready for Hillary, it's unclear whether redirecting volunteers to campaigns will be enough of a boost to Democrats focused on 2014 for a group that wants to start organizing for Hillary Clinton in primary states right now.
Christina Freundlich, the communications director for the Iowa Democratic Party, whose chairman helped facilitate Ready for Hillary's presence at the county conventions, said her organization will turn to 2016 after this year.
"There is a lot to be said for Ready for Hillary having a presence on the ground this far out, but right now, Iowans are eager and committed to getting Bruce Braley elected to Senate and unseating Terry Branstad once and for all," Freundlich said, referring to Braley, the Democratic congressman running for Senate, and Branstad, the Republican governor running for a sixth term in office.
"We will focus our energy on 2016 after November 4," said Freundlich.
But Bringman said the volunteer effort is just an "initial step" for the group.
"Wherever we are, we're encouraging our supporters to get involved," he said.
Officials with the PAC point to a small-dollar fundraiser they hosted in Florida last month. The group chose to hold the event in the state's 13th district, where Democrat Alex Sink and Republican David Jolly are in a tight special election race. Representatives from the Sink campaign spoke at the fundraiser and registered supporters there, according to the group.
"There will be a lot more to come," Bringman said.