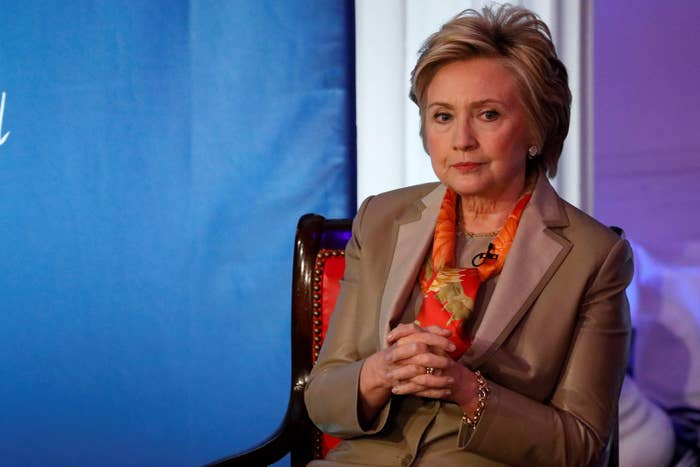 Hillary Clinton has found her next role in politics: powering the "resistance."
The former presidential candidate will help launch a new entity dedicated to funding and supporting grassroots activists and organizers, with a focus on translating the energy of the opposition movement into organizing and tangible results. The project, first reported this week by Axios, marks Clinton's first political effort since her loss.
In recent interviews people familiar with the plans outlined a project that is still very much in the works, with details as major names and a launch date still not final.
A Clinton spokesman, Nick Merrill, declined to comment on the plans.
The central mission of the organization, likely to be structured as a PAC, will be selecting a small but diverse number of progressive groups — new, old, large, small — to not only fund and support those groups, but also build a cooperative, well-organized network.
For two months, Clinton has worked on plans for the project alongside three partners — including the former governor of Vermont and Democratic Party chair Howard Dean, another failed presidential candidate. The idea behind the group, to seed members of the loose movement on the left incited by President Donald Trump, is a role Dean sees as unique and needed. "We're not looking to duplicate or replace the DNC or the DCCC or all that stuff," he said of two central party committees. "We're looking to give these folks the opportunity to do the building they're already doing on their terms, but in a more organized way, when the one hand knows what the other hand is doing."
It's an unlikely image of Clinton at age 69. The presidential campaigns are done. The book is closed for good on electoral politics. And Clinton, a mainstay of institutional politics, disliked on the left, decides to carve out a place for herself among the ranks of the grassroots. In other ways, though, it is the one place she sees traces of her own campaign.
At one of her first public appearances since the election, she described the outpouring of activist enthusiasm as an extension of her campaign. "Ideas we championed are now inspiring leaders and activists across our country," Clinton told a DNC audience.
Clinton herself has become invested in the idea of the young activists, particularly over the course of about a half a dozen meetings and phone calls with groups, including new ones and people who just have an idea, according to a person familiar with the conversations.
Clinton's collaboration with Dean began around two months ago. At a dinner with a mutual friend of theirs, Dean mentioned the new generation of activism and a distaste for institutions that prevent them from organizing together. The friend later relayed this to Clinton, who had been toying with similar ideas — "and that was that," Dean said.
(He said both the dinner companion and a second woman were integral to the project, but would describe them only as "high-powered former executives" — one from California, one from New York — "movers and shakers" who have played "major roles on the American scene.")
The design of the project is simply figuring out how best to support new or existing activist groups.
Over the two months, in three or four meetings, they formed a rough plan: The groups undergo heavy vetting, submit a budget for funding, and are winnowed to a pool of 10 or 12 organizations, each with distinct functions or tactics.
The project is still very much in the works. Dean said, for instance, he did not know if they would be hiring staff. ("We haven't gotten there yet.") He is adamant that this kind of project can't be run from "the top down" and that he will "absolutely not" be running it with Clinton.
There's no name for the project, either. "Not only is there not a name for it yet, but there probably never will be," Dean said, describing the effort as a "loose affiliation of groups" that the project will try to facilitate working together.
"We're not gonna tell them what they have to do," he said. "This is not a top-down organization. It can't be with this generation."
For her part, Clinton is back on the speaking circuit and working on her memoir. She's also spent that time fielding dozens of suggestions on new projects: university offers, a new women's institute. The question of her new role in politics has required consideration, as such. Before the project with Dean, Clinton considered some combination of a PAC and a nonprofit, a vehicle for travel and fundraising on behalf of Democratic candidates. The idea was shelved, as was the PAC's tentative internal name, "Our American Future." Clinton, those around her say, will almost certainly want to help Democratic candidates in the 2018 midterms. How she does that, and whether it's through the new activist group, are questions yet to be answered.
When it comes to Clinton, even after two lost presidential campaigns, there are people for whom the news of something like an "Our American Future" group, for example, will always set off alarm bells. Some Democrats have hoped the Clintons will recede into the background of politics, creating space for new leaders and groups.
Six months after the vote, the subject still ignites immediate debate, much like Clinton's campaign and why she lost. Her comment on the subject on Tuesday, in a televised interview, overtook Twitter in an hours-long debate, nasty at points, between operatives, pundits, and reporters.
Dean, it seems, is ready to charge into that reality. Two or three times on the phone, he punctuated a thought with a sudden, outraged defense of Clinton, responding to a statement that had not been made, maybe anticipating a critical thought or question.
"Hillary's a key player, of course. Hillary's a critical part of this. But this is not some effort by Hillary to redeem herself!"

Outside Your Bubble is a BuzzFeed News effort to bring you a diversity of thought and opinion from around the internet. If you don't see your viewpoint represented, contact the curator at bubble@buzzfeed.com. Click here for more on Outside Your Bubble.