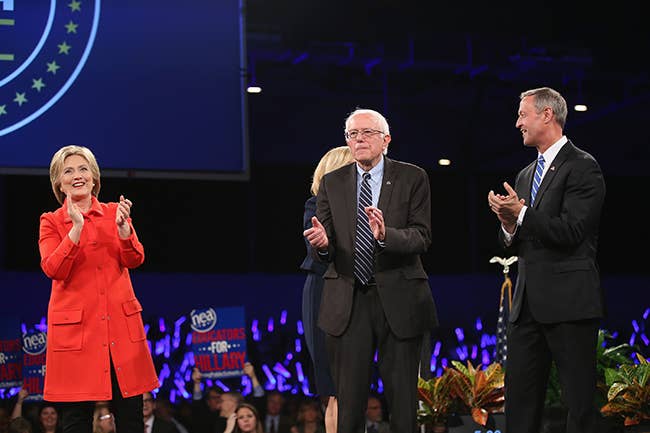 DES MOINES — Eight years ago, Barack Obama delivered a speech that rocketed his unlikely campaign to victory in Iowa, setting his course to the nomination, the election, reelection, and his two-term legacy in the White House.
Here on Saturday night, on the same stage at the Jefferson-Jackson Dinner, the annual state party fundraiser, Obama appeared only briefly and in pixelated form, by way of a video message to the crowd. But the candidates hoping to replace the president each made him a centerpiece of their message to the more than 6,000 caucus-goers, officials, and activists gathered in Des Moines.
In dueling speeches, Hillary Clinton and Bernie Sanders each sought to claim opposite aspects of the Obama mantle.
For Clinton, it was the very Obama legacy — and an eight-year record of "progress," in need of safeguarding. For Sanders, who has suggested the country needs to change direction from Obama's record, it was the underdog spirit and momentum of his 2008 campaign.
Sanders, highlighting how far his campaign had already come in the polls after just six months, predicted his candidacy would be the next to, "prove the pundits wrong again," as Obama's did in 2008.
Pacing the stage, delivering the first speech of the night from the JJ stage, stirring roars from the Hy-Vee Hall, Sanders drew parallels to Obama's campaign, while drawing sharp and aggressive contrasts with Hillary Clinton on one issue after the other: trade, same-sex marriage, and the suggestion that, unlike Clinton, he would govern "based on principle not poll numbers."
In 2008, Sanders told the crowd, there was a candidate pundits called "unelectable" and unknown to the wider electorate. "Remember that guy's name? Oh, it's President Obama."
"Iowa, we're going to prove the pundits wrong again," Sanders said in one of the most spirited speeches of his campaign. "I believe we're going to make history one more time."
"I promise you tonight as your president I will govern based on principle not poll numbers," Sanders said. "I pledge to you that every day I will fight for the public interest not the corporate interests. I will not abandon any segment of American society — whether you're gay or black or Latino or poor or working class — just because it is politically expedient at a given time."
In an interview this week, Sanders dismissed the inherent "tension" in calling for a new direction, while still praising Obama. Sanders told MSNBC's Chris Hayes that, "given the crisis we face right now with the power structure in America," American voters needed a "political revolution." When Hayes asked if the administration shared that view, Sanders replied, "Not really."
Clinton, following a speech by Martin O'Malley, took the stage to sustained applause from the largest contigent of supporters in the hall, lit up in neon blue by hundreds of campaign-issue glow sticks.
Her Jefferson-Jackson speech did not differ much from the one she typically gives at campaign stops. But Clinton had a greater focus on the the need to defend and preserve Obama's record by electing a successor from the party, remiding voters here, "I am running as a proud Democrat." Sanders is seeking the nomination as a registered Independent.
As supporters chanted, "I'm With Her," Clinton was also sure to thank Joe Biden, who earlier this week announced after months of intense speculation that he would not seek the Democratic nomination. "Let's show him how much we appreciate Vice President Joe Biden," Clinton said, noting that Biden was by Obama's side, "every step of the way."
"We need to defend the progress that we've made under President Obama," Clinton said, arguing as she often does that her former opponent doesn't get the credit he deserves for steering the country through a recession.
For Clinton, the strong performance on Saturday would cap off what has so far been the best month of her campaign: After a difficult summer, with flagging poll numbers and negative headlines about the personal email account she used as secretary of state, Clinton delivered a decisive victory in the first Democratic debate, and this week won praise for her marathon 11-hour testimony before the House Select Committee on Benghazi.
Before the JJ dinner, her campaign hosted a rally outside Hy-Vee Hall with Bill Clinton, making his debut as a surrogate for his wife — along with singer Katy Perry, who also attended the dinner, seated at a table near the stage.
Sanders, still polling competitively with Clinton in Iowa and New Hampshire, aimed on Saturday to showcase the excitement around his campaign, as Obama did here in 2007, with thousands in the hall for a speech that immediately out-shined his primary opponents, Clinton and John Edwards.
Joe Trippi, a strategist on the Edwards campaign, remembers standing in Hy-Vee Hall that night eight years ago — head down, eyes fixed on his shoes — with just one thought as he listened to Obama's rousing speech: "That's it."
"You knew that night," Trippi said.
Without naming them, Bernie Sanders knocks Clintons on DOMA
In his remarks at tonight's JJ dinner, Sanders heralded his long-time support for gay rights, and specifically his opposition to the Defense of Marriage Act — which Bill Clinton signed into law.
"In 1996, I faced another fork in the road — another very, very difficult political situation," Sanders will say. "It was called the Defense of Marriage Act — DOMA — brought forth by a Republican-led Congress. And its purpose was clear: to discriminate against gays and lesbians into law. Let us remember, that support for gay and lesbian rights were not popular then as they are now."
Calling the vote not "politically easy," he went on to say that "today, some are trying to rewrite history by saying they voted for one anti-gay law to stop something worse."
"That's not the case," Sanders said. "There was a small minority opposed to discriminating against our gay brothers and sisters, and I am proud that I was one of those members."
(Sanders left out a line that was in his prepared remarks: "Not everybody held that position in 1996.")
Neither of the Clintons voted for DOMA. Bill Clinton did sign the bill into law, however.
In an interview with Rachel Maddow that aired on Friday, Clinton called Bill Clinton's decision to sign DOMA a "defensive action."
"DOMA was a line that was drawn that was to prevent going further," she told Maddow.
"The culture rapidly changed so that now what was totally anathema to political forces — they have ceded," she said. "They no longer are fighting, except on a local level and a rear-guard action. And with the U.S. Supreme Court decision, it's settled."
Clinton has faced scrutiny on the issue of gay rights, particularly marriage. She did not publicly endorse same-sex marriage until 2013, after leaving the State Department, and did not describe marriage for same-sex couples as a constitutional right until 2015.
In his speech on Saturday night, Sanders also talked about his opposition to trade deals, the Keystone pipeline, and the Iraq War — all implicit contrasts and criticisms of Clinton's record.
– Katherine Miller
Clinton and Sanders campaign managers arrive in the same outfit
This is a weird time.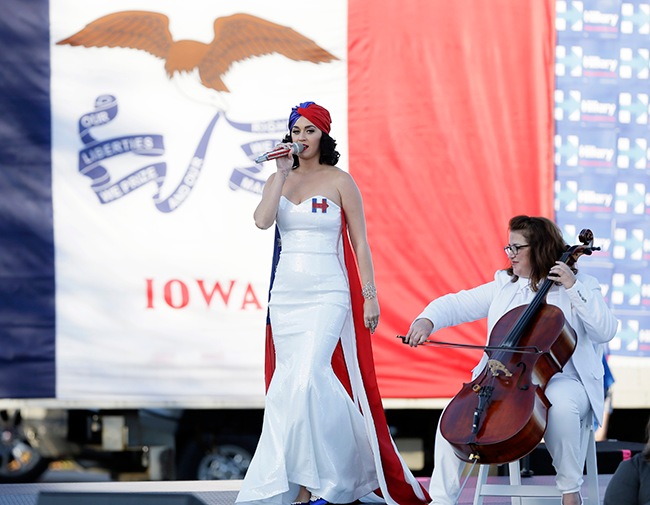 "We heard you. And this guy, he really thinks you came to see him! So give him a big hand and maybe he'll know you got it. Thank you. So the other — we got it, we got it. Wait, wait, wait. Thank you. We got it. Will you please quit now? Thank you. Thank you. Give him a hand. Let me tell you something — at least that guy's for something. He didn't come here to bad mouth anybody. We ought to give him a hand."
— Bill Clinton to an animal rights protester at his wife's pre-JJ rally
The new Clinton campaign theme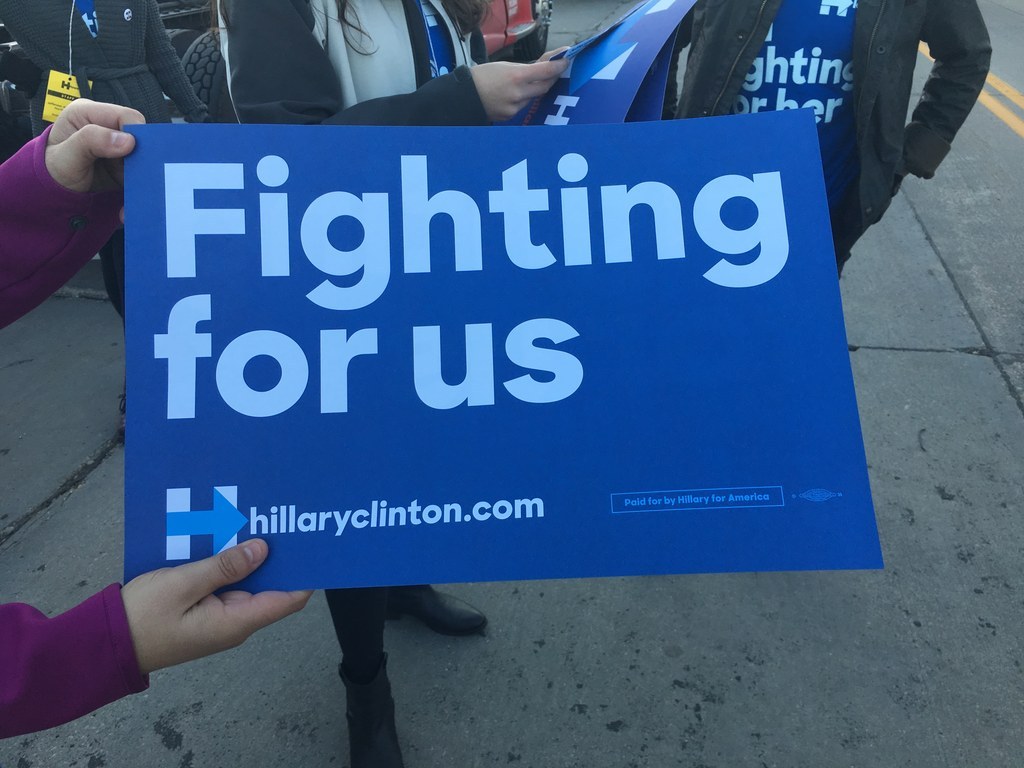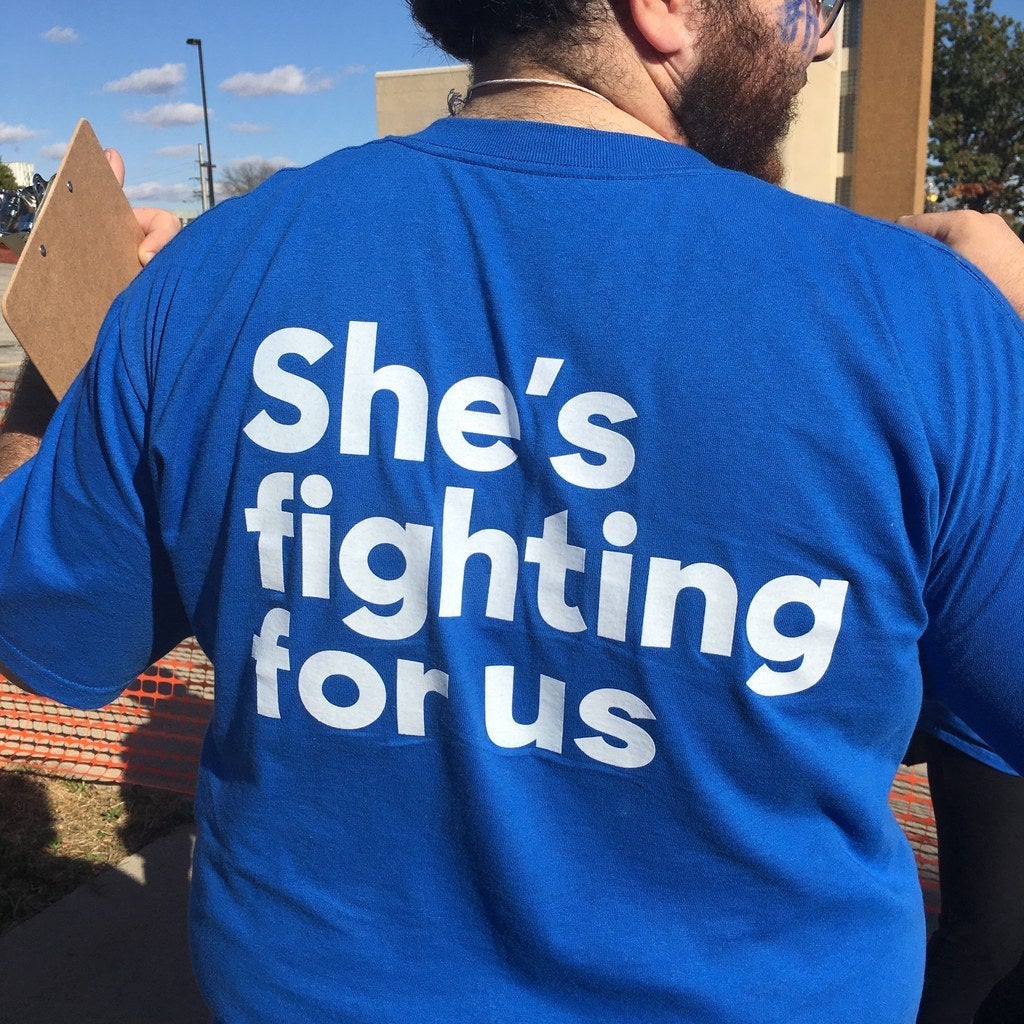 Bill Clinton: America saw the real Hillary in debate, hearing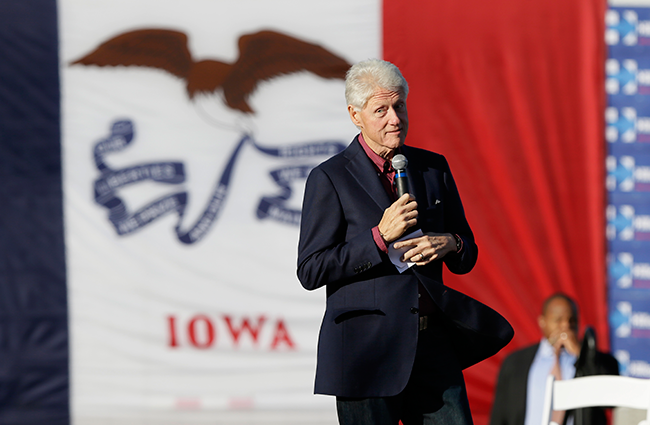 Appearing for the first time as a surrogate for the campaign, delivering a 15-minute warm-up speech before yielding the stage to Katy Perry, Bill Clinton cast his wife as a fighter voters can trust, citing events this month that showcased the candidate in unfiltered settings, "without all those barnacles."
"The American people in the last six weeks have learned a lot about Hillary — what she's for, why she's running, and what kind of president she'd be," he said. "If they watched Saturday Night Live, they know she's a pretty good bartender, too."
The former president, who until Saturday had only appeared at fundraisers for Clinton, said his wife's candidacy is defined by the issues she's been championing for decades. "That's the person I know and the person America got to see again without all those barnacles in the debate and in those 11 hours of testimony," he told the crowd.
Bill Clinton also appeared to allude to polls suggesting voters do not see his wife as trustworthy. "She's still got the best friends that she had in grade school," he said on Saturday. "Anybody whose best friend in grade school is still close to her — sends her out pictures of her 50th high school reunion, which she couldn't go to — is by definition a trustworthy, reliable, good person."
"Unless they had a toy theft gang going in grade school," he joked.
Clinton, her husband said, would also restore the "broad-based prosperity" that defined his administration with a pragmatic, problem-solving approach to issues at every scale, including the President Obama's health care law and the U.S. Department of Veterans Affairs.
"You are hiring a president to do the big things, like fight for broad-based prosperity, fight for women's rights and gay rights and inclusive society — but you're also fighting for somebody to figure out how the health care reform can include mental health," he said, "to deal with the challenges that parents with children with autism face, and to fix things that we as an honorable nation must fix, like the VA system."
"This is a job," he said, in an apparent contrast to Sanders, suggesting that the next president should be one with an achievable agenda.
Bill Clinton, however, had broad praise for the Democratic field. On the night of the party's first debate, he said, "I was proud to be a Democrat, because I watched five hours of the Republican debate, and, you know, every one of our people, every disagreement they had was over an issue. Every difference of opinion was over whether this or that course would be best for the american people. That's politics at its best. Nobody insulted anybody else, nobody was out there to try to get people to stop thinking, nobody was out there trying to denigrate anybody."
"And then a couple of days ago we had that 11-hour marathon in Washington," he continued. "And I will say this, we had the friends of our lifetime — Hillary and I did — emailing me furiously saying they thought she was doing great and all that."
"And to every one of them I wrote back a simple answer: 'I think I'll vote for her.'"
Katy Perry on Clinton: "She's my 'Firework'"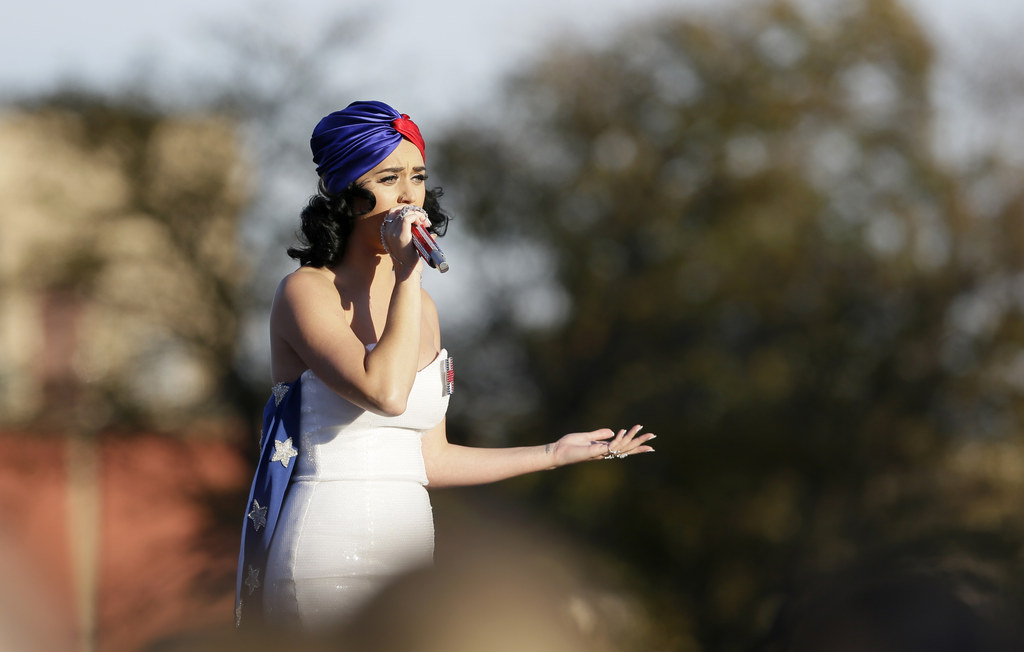 Following his 15-minute speech, Bill Clinton left the stage. Soon after, cheers erupted when Perry appeared in floor-length dress, all white save for the pin on her neckline, designed in the style of Clinton's red-and-blue "H" insignia.
Perry began with "Roar," a favorite at Clinton events this year, followed by "Wide Awake." Before her final song, a two-in-one rendition of the national anthem and "Firework," Perry told the crowd, "We love you Hillary. Thank you for having me."
"She's my firework," Perry said.
"We love you Iowa," she said. "Fight on — 2016 is right around the corner!"
Clinton staff wakes up to Katy Perry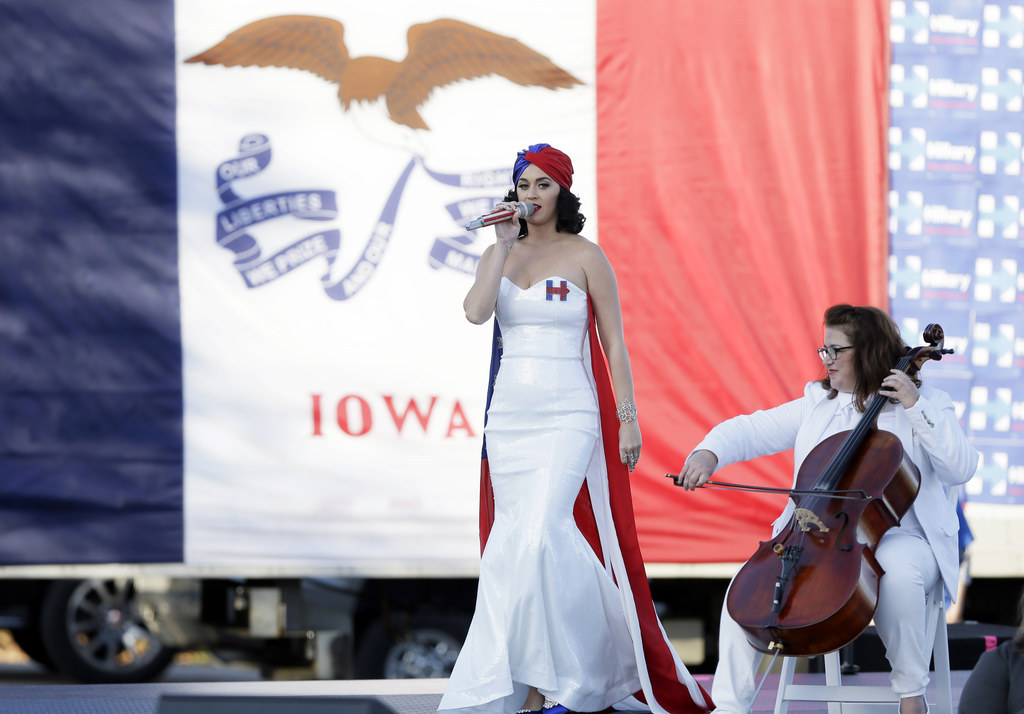 At 5:30 a.m., dozens of Clinton staffers in Iowa woke-up to the sound of Katy Perry.
The singer, slated to star on behalf of Clinton at a pre-JJ rally, recorded a robo-call for every member of the state staff:
"Wake-y Wake-y eggs and bakey. It's Katy Perry here," she said in the message. "I know it's early, but you know what they say, the early bird gets the votes. So it's a beautiful day here in Iowa and I'm here ready to rally for our firewor​​k Hillary​ I hope I can stand and march with you this afternoon. See you soon!​"