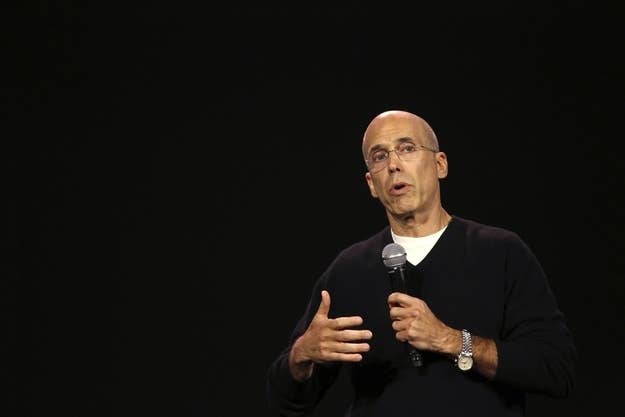 During a trip to Los Angeles last year, Hillary Clinton didn't leave town before meeting with the man who wants to make her president: Jeffrey Katzenberg.
It was spring. Clinton was a few months out from her job at the State Department. Hundreds of thousands of people were clicking like on a Facebook page called "Ready for Hillary." A small group of operatives in Washington were plotting to make the Democratic Party's largest super PAC, Priorities USA Action, the biggest, best Clinton game in town.
And Katzenberg, the short and intense 63-year-old movie executive funding Priorities, was positioning himself, publicly and privately, as Clinton's top money man ahead of the next presidential race.
The private, and previously unreported, springtime meeting affirmed Katzenberg's second coming inside Clinton circles. Seven years ago, the DreamWorks Animation CEO was at the center of a high-profile act of political betrayal, spurning his old friends Bill and Hillary Clinton for a young Illinois senator named Barack Obama in the earliest months of the Democratic primary. Andy Spahn, Katzenberg's longtime political adviser, also attended the 2013 meeting. He described the conversation as "just old friends catching up." But a potential White House bid was discussed, according to two other people with direct knowledge of the meeting.
Katzenberg, one source added, pushed Clinton to have a smarter team in 2016.
The admonition speaks to the peculiar power dynamic between the pair. Months after the L.A. meeting, The Hollywood Reporter detailed a "secret call" from Katzenberg to Clinton. As he put it to the magazine himself, he assured Clinton he'd be "happy to support her." Katzenberg, a source in the story adds, was "favorably impressed" by the former secretary of state during the call.
Katzenberg, a hard-working, hard-charging titan in Hollywood and in Democratic politics, has been as aggressive in his early work for Clinton's as he has in his 40 years in the movie business. In the last year, he has emerged at the center of the swelling network of Clinton donors, fundraisers, and strategists making early moves to back her, should she decide to run for president again. And those familiar with Katzenberg's political operation say he wants to be the central figure in the operation that could launch Clinton into office — largely by way of his role with Priorities USA.
Democrats close to Katzenberg attribute the intensity of his early 2016 efforts to his complicated 20-year history with the Clintons.
During the Clinton administration, Katzenberg and his two business partners, David Geffen and Steven Spielberg, were frequent companions of the first family. The three Hollywood mainstays thought up the idea for their film studio, DreamWorks SKG, after a dinner in the White House with Bill and Hillary in 1994. (Geffen stayed overnight in the Lincoln Bedroom.) Los Angeles joked that SKG — the "dream team," as Katzenberg called it — would one day hire President Clinton when he was out of work in Washington. Later, two months after the Monica Lewinsky scandal broke, it was Katzenberg who loaned the Clintons his Utah ski lodge, a log mansion inside a gated resort near Deer Valley, to celebrate Chelsea's 18th birthday in peace. One year later, Katzenberg had them back for Chelsea's 19th too.
But SKG's relationships had been, first of all, with Bill Clinton, And in February 2007, the three made their break from the Hillary campaign. Katzenberg, Geffen, and Spielberg invited hundreds to a fundraiser at the Beverly Hilton Hotel to anoint Hollywood's new star: Obama. That same night, a lacerating Maureen Dowd column quoting Geffen went live on the New York Times website. The Clintons, Geffen lamented, lie "with such ease, it's troubling." The comments would cement the SKG-Clinton rift, and the fundraiser, which raised Obama $1.3 million, would touch off Katzenberg's political ascent.
Their surprise shift to Obama was a seismic event in Democratic politics, an elite defection that exposed a massive and unexpected weakness in a group the Clintons had considered friends. It was, to the Clintons, a deep, personal betrayal. But for Katzenberg, it certainly paid off: He enjoys an even higher level of influence with Obama than he had during the Clinton years. The president has called Katzenberg an "extraordinary friend" on more than one occasion. Last August, Katzenberg dined privately in the president's Los Angeles hotel room. In addition to the $3 million he gave Priorities USA during the reelection, Katzenberg raised a reported $2 million for the campaign with Spahn.
Katzenberg's current level of contact with Hillary Clinton remains an open question. One person close to the executive said, "There seems to be a real relationship developing."
"He's going to do what he has to do to get back to being a principal player with Hillary," said one longtime Los Angeles-based strategist, adding that Katzenberg would need to "do more" than others if he wants to "be back in that orbit as one of the most closely help people."
Last August, Clinton called at least one person to ask if Katzenberg was capable of delivering on fundraising promises, according to the person she contacted.
Among Clinton's associates in Hollywood, Katzenberg is unique in his status as a writer and raiser — a donor both capable of writing big checks and willing to do the legwork of soliciting contributions. Nearly three years ago, Katzenberg helped start Priorities USA from almost nothing — a first check for $2 million helped turn the four-person startup into the well-known ad machine that raised and spent $65 million for Obama's reelection campaign.
Clinton donors like media magnate Haim Saban and singer Barbara Streisand are "not going to pick up the phone and call 100 people," one Los Angeles fundraiser said. "Jeffrey will."
Priorities USA secured 29 checks from individual donors for $1 million or more during the Obama reelection campaign. Katzenberg himself solicited about a dozen of those, according to one person familiar with the group's fundraising efforts. These days, he's made it a personal mission to help Alison Lundergan Grimes unseat Senate Minority Leader Mitch McConnell in Kentucky. He sent a fundraising letter to Democrats in California on her behalf last fall. After the appeal, he sent personal follow-up messages forcing the point.
Katzenberg gets in the weeds. He treats his political endeavors with the same attention to detail and fanatical work ethic he has become known in Hollywood. After four decades in entertainment — a career that took him from Walt Disney, where he oversaw blockbusters like "Beauty and the Beast" and "Aladdin," to DreamWorks Animation — Katzenberg has fashioned himself as one of the hardest-working rich men in the business.
When he worked at Disney, needed two secretaries to cover his day in shifts. He drank two to three Diet Coke six-packs every 24 hours. He once described his idea of an "exhilarating moment" as "standing on the edge of a precipice of snow, looking down a 70-degree angle."
He was aspirational in the largest ways, and obsessive in the smallest. When he was promoting "Beauty and the Beast," he would say that every frame had been "infused with ambition." When he launched DreamWorks SKG, he told reporters his goal was "a revolution" in film. And when he worked on the film The Prince of Egypt, one of DreamWorks's first big pictures, he studied his subject relentlessly. He read the Koran. He showed drafts of the script to the Chief Rabbi of Jerusalem, to the Vatican, to the Archbishop of Canterbury.
But the legend of Jeffrey Katzenberg begins in New York City in politics. In 1965, kid Jeffrey was just 14 years old when he volunteered on the mayoral campaign of Republican John Lindsay. The head of field operations, Sid Davidoff, nicknamed him "Squirt." They wouldn't let the name go until Katzenberg turned 20. "He just showed up one day," Davidoff remembered. "Not quite sure how. But once he got there, he never left."
Katzenberg was the last one to leave, and the first one to come in, and did just about every job once on the campaign. Richard Aurelio, who managed Lindsay's reelection race, described the young Katzenberg as a "gopher," he said. "He was sort of an omnipresent figure who somehow sneaked into every meeting."
He was also keen on watching Aurelio deal with donors. One day in 1969, an 18-year-old Katzenberg sat in the back of the room at Lindsay campaign headquarters, the Roosevelt Hotel in Midtown, watching Aurelio court a businessman from the Bronx. The donor left without making a contribution. Days later, it wasn't Aurelio but Katzenberg who followed up with the Bronx man, who secured the donation.
Katzenberg never stopped working. He dropped out of college and went from the Lindsay administration to a few odd jobs, to Paramount, to Disney — a job that ended with an infamous split from his mentor and boss Michael Eisner.
In recent years, Katzenberg has said he's mellowed. But his efforts in politics don't appear to have diminished, even as Priorities USA has finally transitioned to a Clinton operation after nearly a year of internal discussions.
Now focused on the next presidential race, Priorities will be co-chaired by former Michigan Gov. Jennifer Granholm, a longtime Hillary Clinton supporter, and by Obama campaign manager Jim Messina, with whom Katzenberg worked frequently in 2012.
The movie chief doesn't play a day-to-day role in the super PAC, but he has been a driving force in major strategic decisions. He both pulls the strings of the group and keeps himself at a distance, dealing mostly frequently with Spahn, Messina, or Paul Begala, the former Clinton adviser who first pitched Katzenberg on Priorities at a Beverly Hills Italian restaurant three years ago alongside the PAC's co-founders, Bill Burton and Sean Sweeney.
Katzenberg does not have free-wheeling control of the group. He was at odds with several members of Priorities USA over whether the PAC should play in certain House and Senate races this year, according to two people familiar with the discussions. Katzenberg, the sources said, wanted the group to be involved in the midterms, but lost that battle. The PAC confirmed last week that they would sit this year's election cycle out.
Where Katzenberg has been most vocal is in his dislike of Ready for Hillary, the "grassroots super PAC" focused on building data-driven voter files.
Ready for Hillary was founded last January, and by spring it was clear the group wasn't going anywhere — the brand name had stuck ("I'm Ready!") and the PAC's social media presence was growing, fast. The Hollywood contingent of Priorities wanted the group shut down, according to three people close to discussions at the time, because of a concern about competing for donors and a feeling that there "was now this other entity that could get credit," as one of those sources put it. John Podesta, the former Clinton loyalist originally billed to co-chair Priorities with Messina until he left for the White House instead, was one person who raised the idea of a merger, which was dismissed.
When Ready for Hillary placed a voluntary $25,000 cap on contributions last summer, as a signal to donors that Priorities USA would emerge as the big-money entity, Hollywood was surprised. They had expected and hoped for a $5,000 limit instead, two sources close to both groups said. The confusion was a simple "miscommunication," one person said. But the flap over contributions only added to what was, by then, mounting tension between the two groups. The strained relations had become so troublesome that, as Politico reported, Clinton herself was forced to address the run-in internally.
At an organizing event last month in Des Moines, Iowa, Ready for Hillary senior adviser Craig Smith, a longtime Clinton hand from Arkansas, said the tension between the two groups has subsided since last year.
"I think everybody's happy. There's still a few grumpy people," Smith said in a brief interview. "I keep telling everybody, 'Look, we're all on the same damn team. Let's just work together.'"
"From the institutional piece of it, everybody's on the same page," Smith said, before adding that there were "still some outliers."
As Priorities USA heats up, Katzenberg is likely to become more prominent — the closest thing Clinton has to a Sheldon Adelson, the casino owner and Republican bankroller. The major difference is that Katzenberg's policy agenda is unclear. Adelson demanded in his candidates an aggressive U.S. foreign policy and a firm defense of Israel. Katzenberg's fundraising has brought him access to the last two Democratic presidents, but his motivations remain opaque.
People close to him say he cares about an array of progressive issues, rather than one or two passions, and has no interest for now in the ambassadorships and political appointments so coveted by other donors and fundraisers.
Three years ago, Katzenberg did gain access through two administration events, including with Vice President Joe Biden, to Xi Jinping, who would later become president of China, while he was working on a deal to open an animation studio in Shanghai. When Katzenberg announced the plans would move forward, he told the Financial Times the deal required Xi's personal approval. DreamWorks denied the White House was involved in facilitating the project.
"This is one of those situations where people have tried to say what he wants from Obama, and now from Clinton," said the California fundraiser.
"It's not power for power's sake," the person said. "He just likes being that guy."
Aurelio, who still keeps in touch with Katzenberg, said he would have been surprised if the teenage operative he knew in the '60s wasn't still involved in politics at some level.
"It doesn't shock me that he would come back to it, considering how enthusiastic he was as a young guy," said Aurelio. "Nothing could knock the politics out of him."