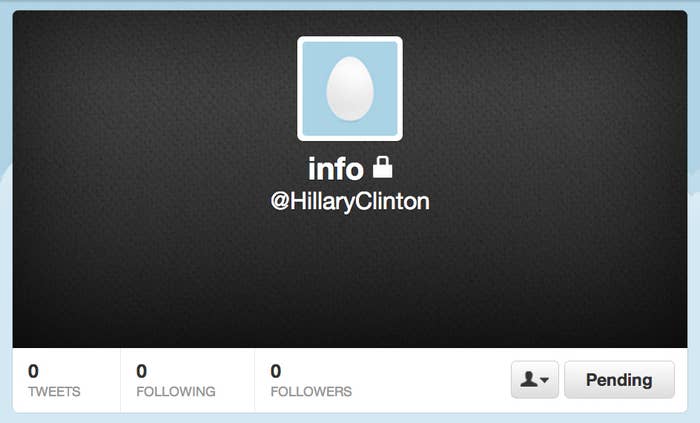 Hillary Clinton may be the most discussed political figure in the country, but she and her closest aides have long been absent from the online platform where much of today's political conversation takes place: Twitter.
If Clinton chooses to run for president in 2016, she will again face the challenge of casting herself as a woman of the future, not the past. But her team has made no effort to shape the conversation on social media about the former secretary of state. And at a moment when the Romney high command's dismissals of the power of the social web have come to be seen as pure folly, Clinton's unusual absence raises the question of how a political machine that reached its pinnacle when cable news was the newest in communications technology will compete to succeed President Obama.
Clinton's presence on Twitter currently amounts to no more than a locked and dormant account with no tweets, no followers, and an avatar that is the default egg. "Texts from Hillary," the viral internet meme inspired by a candid photo of Clinton checking her BlackBerry aboard a plane from Malta to Tripoli, still constitutes the possible candidate's largest internet presence. And the State Department aides who helped give her a reputation as a force for technological change are no longer with her.
Longtime spokesman Philippe Reines, who runs the former secretary of state's personal communications, has his own account, also private and largely inactive. Nick Merrill, a former State Department spokesperson who is still commenting on Clinton's behalf, has tweeted from his account four times in two years. Her longtime personal aide Huma Abedin doesn't post on the site. Another main Clinton family spokesman, Matt McKenna, does not appear to have a Twitter account.
The first step toward a contemporary communications apparatus came Tuesday in the recognition that it could become an image problem. An anonymous Clinton source told Politico this week that the account, @HillaryClinton, is "soon-to-be-activated." (This after former President Bill Clinton started his own account last month.)
Former staffers attribute the social media silence to a deep-rooted sense of privacy inside the Clinton inner circle, while acknowledging that her operation's aversion to the press was partly to blame for her loss in 2008.
"There is a general sense that all these people are very private," said one former Hillary staffer. "Could they just be operating in some villa on a BlackBerry? Probably. That's how people see them — like, where in the world is Philippe?"
Unlike longtime advisors to President Obama like David Axelrod and David Plouffe, who have developed significant presences on Twitter, Clinton aides aren't well known outside the political media. Even the president's current staffers, including communications director Dan Pfeiffer, who often tweets back and forth with reporters to drive his messaging, are on social media, engaging with journalists and the stories of the day.
"They're not driven by social media," said the former staffer of Clinton's operation. "No one knows who Philippe is, but people know Plouffe and Axelrod."
Judd Legum, the research director for Clinton's 2008 campaign who now runs ThinkProgress.org, said Hillary's absence from Twitter does hurt her, but only until the moment she decides to jump into the fray.
"My sense is that they are behind, but if she decides to run, the interest around her candidacy will be so intense, it won't be difficult to her to catch up," he said.
"Social media would be a big asset to Hillary," Legum added. "It will allow her to go around the media, which is frequently more skeptical of her than the public."
Phil Singer, a strategist and former spokesperson for the Clinton campaign, said also that given the former secretary's current popularity, "she won't have any problems going from zero to 18 million followers when she decides to enter the Twitterverse."
Singer dismissed the idea that aides like Reines and Abedin should have their own presence on the platform, particularly now, when Clinton is still transitioning away from her role at State. "If her staff develops a huge following capable of distributing information in support of a brand like [Clinton's]," Singer said, "chances are it's because they made a mistake."
But Republican strategists, with their eyes already on the 2016 race, see an open weak point in the Clinton operation.
Tim Miller, a former Republican National Committee spokesman who recently founded a new GOP super PAC, America Rising, argued that the Clinton Twitter gap could be used as "just one more nail in the narrative that she would be a candidate from or for the past."
"We've seen a number of politicians in the last decade try to come back to politics after being out of the game, only to find it was too fast and had passed them by," said Miller. "Team Hillary is in danger of just that — and it's not as if they haven't been plagued by 'old guard versus new staff' issues before."
"Not being on Twitter in 2013 is akin to still faxing out press releases," he added.
Vincent Harris, a Republican strategist who ran the digital operations for Rick Perry and Newt Gingrich's 2012 campaigns, argued that when it comes to the web, "Hillary just ain't Obama."
"From a tactical perspective it seems the Clinton campaign would be running a more traditional media-centered one than Obama's campaign of innovation," he said.
But several Clinton loyalists pointed, though not for the record, to the former secretary's four years at the State Department, where she was barred from commenting on domestic politics — though many cabinet secretaries do have Twitter accounts. Although Clinton didn't create a personal account to talk about the goings-on at State, her administration did make frequent use of the official State Department Twitter account and occasionally used the feed to host question-and-answer sessions with Clinton.
(Secretary John Kerry, the once-prolific tweeter, abandoned his personal account after succeeding Clinton at State. During the 2012 campaign, Kerry memorably tweeted a picture of a robot with the caption, "was surprised to run into Mitt this afternoon.")
And as Chelsea Clinton, the former first daughter, has stepped into a more public role through her job at NBC News and at the Clinton Global Initiative, she has become increasingly active on her Twitter account. When her mother was hospitalized at the end of last year for a blood clot, it was Chelsea who tweeted three times during the incident, providing updates to her followers on the health scare. (Through the State Department, Reines also released several statements throughout Clinton's hospitalization.)
Clinton, though, may not decide to join her daughter, and now husband, on the site until she makes up her mind about her next move.