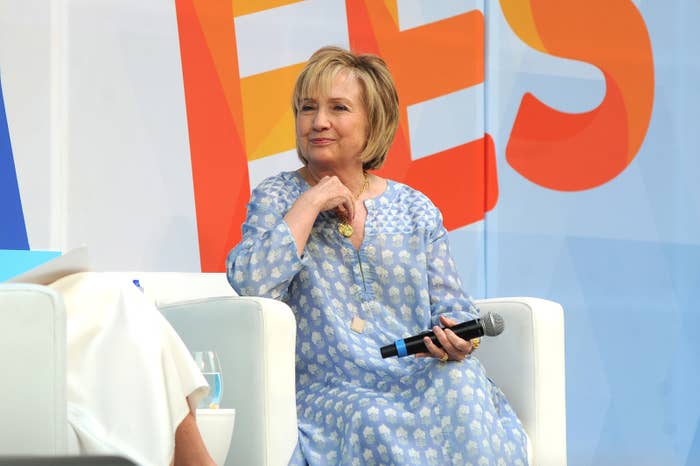 Hillary Clinton will headline a fundraiser for five first-time women candidates next week, signaling an uptick in political activity from the former Democratic presidential nominee ahead of this year's midterm elections.
The New York City fundraiser, slated for Sept. 12, will benefit five women viewed as some of the most compelling congressional candidates in competitive races this fall: Lauren Underwood of Illinois, Gina Ortiz Jones of Texas, Liuba Grechen Shirley of New York, Haley Stevens of Michigan, and Xochitl Torres Small of New Mexico.
Arena PAC will host the event, according to a copy of the invitation. The group provides coaching and advice to candidates running for office for the first time. The fundraiser, advertised with Clinton as its "special guest," will be held at the home of fashion executive Lauren Santo Domingo, a New York donor who most recently hosted an event on behalf of California Sen. Kamala Harris, a potential 2020 presidential candidate.
Clinton's return to the political circuit has mostly played out far from public view. She has raised money for the cash-strapped Democratic National Committee, and the nonprofit organization she founded last year, Onward Together, has donated $5,000 to at least 19 congressional candidates and four candidates for secretary of state.
As Democrats work to win a majority in the House, only a few candidates have sought the endorsement of their former presidential nominee, who plays a more prominent role in Republican attack ads and in President Donald Trump's rally speeches.
One is Haley Stevens, a beneficiary of next week's New York fundraiser and a former Barack Obama official who played a leading role in his administration's auto bailout. Lauren Underwood, a registered nurse running in Illinois' 14th Congressional District, received one of the $5,000 checks from Onward Together earlier this year.
Clinton and her husband, former president Bill Clinton, have yet to appear at a campaign rally on behalf of Democrats this year.