On "Ellen," Hillary Clinton Gets Dance Lesson, Warm Audience On Emails
Ellen DeGeneres gives Clinton her endorsement.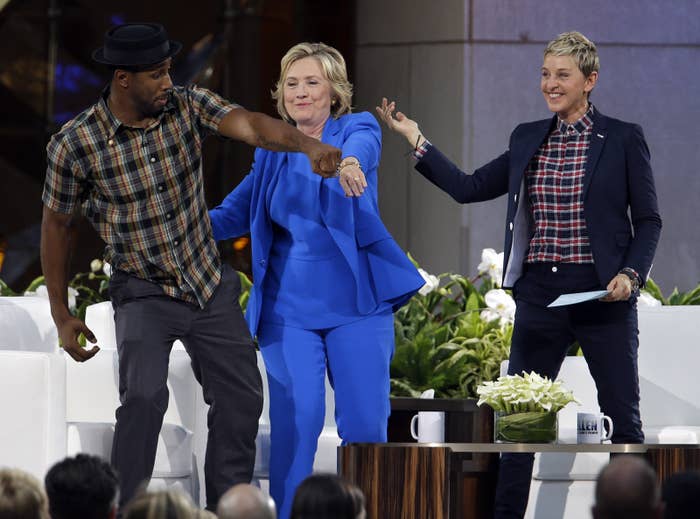 Around 6:25 p.m. on Tuesday — just before an interview on ABC's World News Tonight was set to air about her emails and flagging poll numbers — Hillary was on stage before a friendlier television audience, in commercial break, learning this summer's popular dance, the "Nae Nae."
Clinton taped a segment on the Ellen DeGeneres Show, which kicks off its 13th season this week. The interview, conducted on a makeshift stage constructed in front of Rockefeller Plaza, was the one of the first of what Clinton aides have promised will be many other national interviews, including with non-traditional outlets. The show will air on Thursday. Last season, episodes averaged about 3.4 million viewers, according to Nielsen.

Clinton's communications director, Jennifer Palmieri, told reporters last week that the campaign will be looking for opportunities to engage more with national audiences. On Tuesday, aides also announced a scheduled appearance on The Tonight Show with Jimmy Fallon. "She will be doing more national interviews," said Palmieri. "The emails will come up. We think that's a helpful thing obviously."

Clinton also sat for an interview with ABC News's David Muir on Tuesday to discuss her campaign and the personal email account she used as secretary of state to conduct government business. But for about 20 minutes on Tuesday night, as the sun set over Rockefeller Plaza, before thousands of Ellen fans in the audience, Clinton could do no wrong.
She exchanged quips with Amy Schumer, quizzed a five-year-old "presidential expert," and briefly rocked back and forth in the style of the "Nae Nae," during a quick lesson from DeGeneres's resident DJ, tWitch. (Clinton did not dance, as is the custom on the show, as she walked on stage to U2's "Beautiful Day.")
There was talk of Clinton's granddaughter ("She doesn't call me anything yet… I'm fine with grandma. I'm fine with Madame President.") and of what she'd call her husband in the White House ("I would probably still call him Bill. But other people might call him… how about the first mate?"). And there was a question about her age — and whether that matters: "One of the great experiences of living in this time is," Clinton said, "people get to rewrite their lives. They get to make new decisions. They get to think about the future. And I'm so oriented about the future."
"I feel as revved up and ready as I did 20, 30 years ago," she said.
And almost as soon as Clinton sat down, DeGeneres asked about the email controversy still dogging the campaign. The host quickly dismissed the scandal — suggesting it was a result of an unjust double-standard for women in American politics — and all but offered her endorsement before the crowd of thousands.
"You think hosting the Oscar's is thankless," said DeGeneres. "Being president of the United States… You're just constantly criticized and attacked and scrutinized and — speaking of, let's just get this out of the way, let's talk about the emails."
"Ok," said Clinton.
"Ok," said DeGeneres.
There was a pause. "What," said Clinton, seeming to want a specific question.
"What?" said DeGeneres.
"Well," Clinton started, "I want people to understand this, so I'm glad you asked. I used a personal email account. It was allowed by the State Department. But I should have used two different accounts. I made a mistake and I'm sorry for all the confusion that has ensued. I take responsibility for that. But I'm now I'm trying to be as transparent, not just as I can, but as anybody has been."
She mentioned the 55,000 pages of correspondence she turned over to the State Department. It was a younger audience, and so what followed seemed like a Clinton's SparkNotes version of what has become a complicated, multi-layered, inter-agency saga. (She did not reference an inspector general review that found four of Clinton's emails contained information that should have been classified at the time.)

"We've got the server," said Clinton, "and we've got the testifying before Congress, so I'm just, you know, I'm gonna keep talking about it and answering questions."
Then DeGeneres personally weighed in: "I mean, I actually don't think you need to. It's just that people keep bringing it up."
"They do."
"They have not found a thing…"
"Right," said Clinton.
"…They keep saying they've found something, but then we don't hear anything about it."
"No," Clinton agreed.
"I personally think that women — and I know you're not gonna say this, because you believe that there should not be a difference between women's rights and human rights, and I love that you say that because it shouldn't," said DeGeneres. "But I will say that I personally believe that women are held to a different standard than men. We are held to a different standard for our weight, for our age, for our looks…"
"Yep. Yep."
"...for everything."
"Yep."
"And it's not fair," said DeGeneres, "because you are the smartest, most qualified person for this job. If I'm looking for someone who's qualified... If I wanna hire a plumber, I want someone who has snaked a drain. You know what I'm saying?"
"Yeah, I do. I've snaked a drain," Clinton added.
"I want someone who is qualified and I feel like… if I look at all the other candidates — someone who is for rights across the board, equal rights for women, equal rights for every ethnicity, equal rights for everyone — the only person I can look at is you."
"Thank you," Clinton said. "First of all, look, I think it's just a reality that we're held to a higher, different double-standard. And it gets a little old to be honest."
"But don't let…" Clinton looked out in the audience. "All these wonderful, beautiful young women who are here — don't get discouraged, don't give in, don't give up, don't quit."
DeGeneres heartily agreed.