Hillary Clinton Finds Her Critique Of Obama's Economy: Too Much Red Tape For Small Business
Clinton hasn't sharply criticized the economy under President Obama — unless she's talking about small businesses. Then it's "targeted credits and deductions" and an "excess in regulation and paperwork," and sounding almost like a Republican.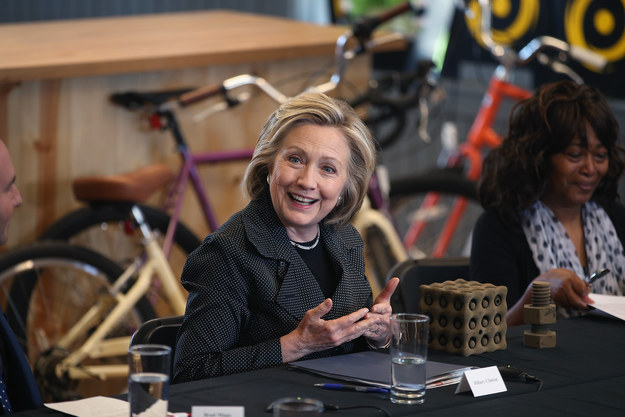 Hillary Clinton's lines on the economy go something like this: President Obama has led the country out of the recession. ("But the deck is still stacked in favor of those at the top.") People are back on their feet. ("But they're not running.") The toughest times have passed. ("But now it's not enough just to tread water.")
Clinton, now a month into her campaign, rarely strays from this carefully hewn pattern. At her events, she acknowledges six years of economic progress under a Democratic president — and then comes the gentle caveat: a forward-looking, aspirational, and not too specific pivot to all the work that lies ahead.
But in some settings, Clinton has revealed a sharper critique of the economy: Seated beside an entrepreneur in Iowa, or a factory owner in New Hampshire, she has sounded notes more often associated with Republicans on small businesses, regulation, and government, even as she runs more broadly as a populist liberal.
The topic of small businesses has, more than any other so far, offered a window into Clinton's view of the economy — and an outline of the ways in which she may pitch herself to middle-class voters. Clinton is, in her own words, the "daughter of a waste-not, want-not kind of guy" — and a future "small business president."
On Tuesday morning, at an roundtable in northeast Iowa with local business owners and the chair of a local bank, Clinton vowed to be that "small business president," outlining the elements of a pro-business policy agenda that would offer tax relief and cut down on "excess in regulation and paperwork."
The plan had four points: eliminate regulations on small businesses to "cut the unnecessary red tape"; offer relief through "targeted credits and deductions"; expand access to new markets using technology, "whether it's across town, across the state, or across the world"; and finally, ease the path for entrepreneurs — and female and minority entrepreneurs in particular — to accessing credit.
"You shouldn't have to be a Fortune 500 company to get a loan," Clinton said.
Since announcing her campaign, Clinton has hosted six roundtable discussions. Half now have focused on small business. A campaign announced this week that Clinton's next event — a roundtable in Hampton, New Hampshire — will also focus on "ideas to expand small businesses" and "cut red tape" in the state.
At her events, Clinton often recalls memories of working as a young girl in her father's drapery print plant building on the North Side of Chicago, where she and her mother and two bothers would "work the squeegee" over their silk screen machines. She has made the point that "it was a lot easier in those days" to start businesses. "You had an idea, you get what you needed, and you go to work."
It's become far too difficult now, Clinton argues.
She has repeatedly cited a World Bank survey showing that the United States has fallen to 46th among other countries in "ease of starting a business." She frequently casts small companies as the economy's "heart and backbone" — and attributes setbacks to an environment that doesn't encourage new businesses.
"I want to be sure that we get small businesses started and growing in America again. We have stalled out," Clinton said in New Hampshire last month, citing the World Bank study. "I was surprised to see that when I began to dig into it."
The "stalled" comment — which spread across conservative news outlets last month — marked an early sign of distance between Obama and Clinton. During a press briefing shortly after the remark, the White House press secretary declined to comment on the assessment when asked. (But at the time, a Clinton aide dismissed the idea of a rift: "The tales about battles between White Houses and candidates of their party to succeed them are legendary in politics. If the start of this campaign is any indication, the legends may die here.")
Clinton, to the surprise of some at a roundtable last month just outside Des Moines, attributed the World Bank ranking in part to "unnecessary regulation."
"We have to be number one again," she said.
On Tuesday — as she asked that the government look to "ease burdens" on community banks "without harming consumers" — she stressed that the proposal in no way applied to larger financial institutions. "Let's be clear about this: It's not the big banks that need relief… It's small banks and small businesses," she said, restating her support for Dodd-Frank, the financial reform bill. "But we should pass common-sense community banking reform right now."
"We should be able to walk and chew gum at the same time," said Clinton.
She turned to one of the participants on the roundtable, Donna Sorensen, who chairs the board of Cedar Rapids Bank and Trust, and asked, "Isn't that do-able?"
"I cannot tell you how many of us in the community banking world are thrilled to hear this," said Sorensen. "We exist to support small businesses."
Those who have worked with Clinton and her husband on small business initiatives in the past aren't surprised to hear about her comments on the issue.
Betsy Myers, a senior official in Bill Clinton's administration, worked first for the U.S. Small Business Administration, or SBA, as head of the women's office.
"She is not going to come at these issues in a partisan way. Because they're moderate. The Clintons are moderate," said Myers. "You will never find a bigger advocate for small businesses than Hillary Clinton. She's been a champion for 40 years."
Myers recalled the Clintons' efforts to promote micro-lending programs, and an SBA-led pre-qualification loan program that helped women, veterans, and others apply for and secure loans for new businesses. As president, Bill Clinton elevated the SBA director, then Erskine Bowles, to a cabinet-level position.
"We were so proud to work at the agency," she said. "We felt connected to the White House — and we were at the table, not off to the side."
"There isn't a politician who will not try to represent themselves as a champion of small business. It's like being against small babies and kittens," said Jeff Milchen, the director a national confederation of advocacy groups for independent businesses, the American Independent Business Alliance.
But small business owners also touch, in a direct and daily way, the very issues that shape a presidential election: health care, taxes, banking, and trade. Advocates point out that the small business community is often misunderstood as an ideological block, "monolithically anti-government, anti-tax, and anti-regulation," said John Arensmeyer, the founder of the Small Business Majority, a liberal-leaning nonprofit. "The reality is that small business owners are pragmatic."
A considerable share of the small business community will also have a stake in the outcome of a contentious ongoing debate over the Trans-Pacific Partnership, a 12-nation trade deal that has pitted progressives against the White House.
Small business experts said that most entrepreneurs would be wary of TPP. Those in the Democratic Party's left-wing believe the deal will hurt U.S. workers and wages, or ignore environmental protections. But the details of the trade deal — negotiated behind closed doors — have yet to be released.
"I wouldn't go so far as to say it's totally incongruous to make an argument in support of some of the things in the TPP," Milchen said of small business owners.
Without knowing the terms of the deal, "it's almost an impossible question," Milchen added. "But there some ways that international agreements could help small businesses? Sure. Does this cover it? We have no idea yet."
Clinton has, on the same grounds, declined to take a clear position on the deal — or on whether Congress should grant President Obama the "fast track" authority to negotiate it. "I want to judge the final agreement," she said on Tuesday.
Clinton, though, has promised that she will make small business owners and entrepreneurs a priority of her campaign. As she told the owner of a family-owned furniture manufacturer in New Hampshire, where she held an event last month, "I can assure you that I don't want to make your life any more onerous."
"I would not support anything that makes your business more difficult to run," she said. "You have a real business and real economic imperatives."