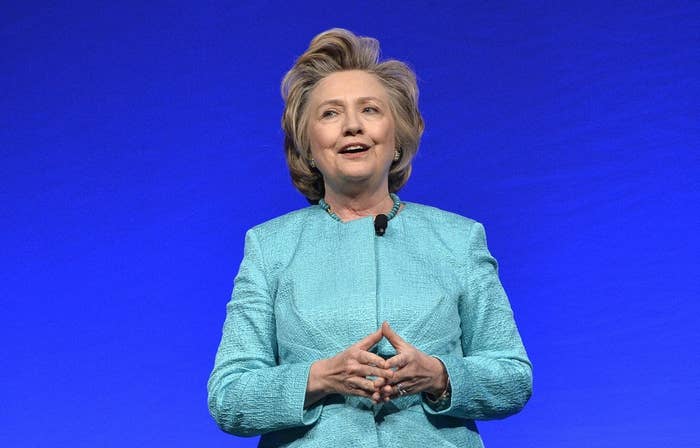 LOUISVILLE, Ky. — Six years ago, when she first ran for president, Hillary Clinton set up a campaign office dedicated to "faith-based outreach." But when its staff encouraged her to schedule public church appearances, she often declined.
"She would push back really hard on it. She just didn't like it," said Burns Strider, whose title on the campaign was senior adviser and director of faith and values outreach. Strider, sometimes more simply referred to as Clinton's "faith adviser," said the lifelong Methodist bristled at the thought of bringing a spectacle — the flash of cameras, the rush of campaign reporters — into a small-town church.
"First, she just wanted to go to church," said Strider, who now runs Correct the Record, a research-focused project that aims to defend Clinton from partisan attacks. "And second, she would be really concerned about the rest of the church. There were people at the church, she would say, who have been going there for 60 years, sitting on the same pew every Sunday, and now we want to flood their church with cameras and reporters?"
Clinton doesn't talk about her faith much. She never, as Strider says, used it "as an overt tool to talk about who she is." But on Saturday morning, in a gaping convention hall here in downtown Louisville, she delivered a personal speech on the topic to nearly 7,000 members of the United Methodist Church.
As Yvette Richards, the president of United Methodist Women, introduced her keynote speaker at the group's annual assembly — "none other than Hillary Diane Rodham Clinton" — the lights went up, and thousands of women, many elderly, rose to their feet and pumped their fists in the air as Clinton emerged.
"I am delighted to be here among my fellow Methodists and find that sense of connection and caring and communication and commitment that has been the hallmark of United Methodist Women certainly for as long as I can remember," said Clinton, who went on to outline her religious upbringing as girl in Park Ridge, Ill., and cast her work in public life — most recently at the State Department and the Clinton Foundation — through the lens of Methodism's call to service.
"I have always cherished the Methodist church, because it gave us the great gift of personal salvation but also the obligation of social gospel," said Clinton.
Strider and others in days proceeding the speech said the appearance by Clinton would be a "homecoming" of sorts — a line Clinton herself repeated on Saturday in the convention center. "It's really like a homecoming to be here with all of you across our country and around the world," she said, "to celebrate the great web of compassion and compassion and connection that ties all Methodists together."
Clinton, with the audience following along, recited the famous lines attributed to John Wesley, the founder of the Methodist Church: "Do all the good you can, by all the means you can, in all the ways you can, in all the places you can, at all the times you can, to all the people you can, as long as ever you can," she said.
The former first lady described the way in which her mother, Dorothy, and father, Hugh, expressed the Methodist faith in "very different ways," said Clinton.
"I well remember my father praying by his bed every night. That made a very big impression on me because my father had been a football player, had been a petty officer during World War II in the Navy, he was a rough gruff kind of man, self-made, independent, small businessman, and there he was, humble on his knees before God every single night," she remembered. Clinton said she struggled to reconcile that "insistence on self-reliance and independence" in her father with the deep concerns about "social justice and compassion" she saw in her mother.
When she was almost 14 years old, she said, she met Don Jones, a new youth pastor at her church in Park Ridge. Jones, a young minister just out of seminary, would go on to bring Clinton to Chicago's Orchestra Hall one night in 1962 to hear Martin Luther King, Jr., deliver a speech on civil rights. "He was the first person that I'd ever met who taught me and my other young compatriots to embrace the idea of faith in action that is so central to our United Methodist creed," Clinton said of Jones.
The former secretary of state praised social justice programs led by United Methodist Women, whose members number 800,000, crediting the "historic commitment to service of Methodist women in particular" — a sentiment she said her grandmother, Hannah Jones Rodham, embodied in particular.
Rodham, mother of Hugh, was "one of those tough Methodist women who was never afraid to get her hands dirty," Clinton said. "I have vivid memories of her final years, when she was going blind, still braiding my hair in the morning, still reciting old hymns, and giving me the direction for what I was to do that day."
Midway through her speech, Clinton shifted from her own story to highlight her work in public service, framed as part of the Methodist tradition. She spoke about her longtime effort to curb human trafficking in the United States and other countries. She told stories about a young girl she met in Thailand, who was trafficked by her family into prostitution before she was 12 years old; about a girl in Cambodia, who had been rescued after the man to whom she was sold had driven a nail into her eye. "Like the disciples of Jesus, we cannot look away," said Clinton. "'You feed them,' he said. 'Feed them, rescue them, heal them, love them.'"
Strider, who made the rounds with reporters in the days leading up to the assembly, described the speech as an opportunity for Clinton to "report in" and talk about the work she's been doing "in terms of the social principles she grew up learning," said Strider. "I think she has considered this a big and important moment. Just an opportunity to pause and spend time with her denomination."
Strider is also leading a project called "Faith Voters for Hillary," along with Rick Hendrix, a Nashville gospel and country music promoter, according to a report by TIME. Faith Voters for Hillary, which has yet to file with the Federal Election Committee, plans to host breakfasts with religious leaders to gather support for what they hope will be Clinton's second bid for White House.
Clinton, who is also scheduled to appear at another event in Arizona later on Saturday, spoke at the United Methodist City Society last year, when the group celebrated its 175th anniversary. But her speech in Louisville on Saturday was the first time Clinton had addressed a faith-based group this large since 1996, when she headlined the United Methodist General Conference.
Clinton ended with a call to action to "keep taking a social gospel out into the world" that referenced the assembly's theme, "Make it Happen," which drew form the story of Jesus using five loaves of bread and two fish to feed 5,000 people.
"Even when our resources are meager, just five loaves and two fish. Even when the odds are long, a multitude to feed," said Clinton. "Even when we are tired and all we want to do is go away by ourselves to a secluded place and rest awhile — even then, especially then — let's make it happen."