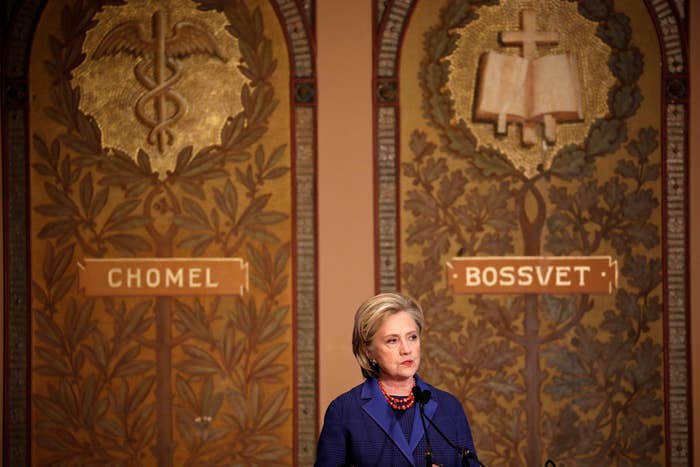 A set of likely presidential candidates will join their party's last nominee, Hillary Clinton, to raise money for the Democratic National Committee next month at its annual Women's Leadership Forum.

California Sen. Kamala Harris, New York Sen. Kirsten Gillibrand, and former Missouri secretary of state Jason Kander will speak at the May event in Washington, the second major fundraising effort by the DNC this year, following last month's ""IWillVote Gala."
Since early last year, when Tom Perez took over as chair of the DNC, the former labor secretary has faced a steady string of questions about the party's fundraising operation, which has lagged consistently behind its Republican counterpart. In 2017, the DNC raised about $67 million — falling short of the Republican National Committee by all of $58 million.

Clinton's presence at the forum, a likely draw for some of the major donors who supported her campaign against President Trump, will come about two months after she held a New York fundraiser for her post-2016 political group, Onward Together, on the same day as Perez appeared in Manhattan to raise money for the party, drawing complaints from some donors.
The event will mark Clinton's first fundraiser for the DNC since the 2016 campaign, as Republicans continue to run campaign ads against her and some Democrats still question whether her active presence in the party is a helpful one. (Last month, asked in an interview when Clinton will "ride off into the sunset," North Dakota Sen. Heidi Heitkamp, now in a tough red-state reelection bid, answered, "I don't know, not soon enough.")
The DNC is presenting this year's Women's Leadership Forum, an annual event first held in 1993, under the theme, "Women Will Vote" — part of the DNC's new initiative to reach 50 million voters ahead of the 2018 election, a DNC official said on Friday.
Clinton is scheduled to open the event at a welcome reception for guests.
Harris, the first-term California senator thought to be one of the strongest possible contenders in a crowded Democratic primary, will serve as the keynote speaker.
Gillibrand and Kander are slated to speak earlier in the day, along with New York Rep. Grace Meng, Alabama Rep. Terri Sewell, and former Michigan governor Jennifer Granholm.