Hillary Clinton Dismisses Book That Investigates Foundation Donations As "Distraction"
"We will be subjected to all kinds of distractions and attacks, and I'm ready for that," Clinton told reporters on Monday of an upcoming book that looks at money and her family's foundation. She did not address the allegations specifically.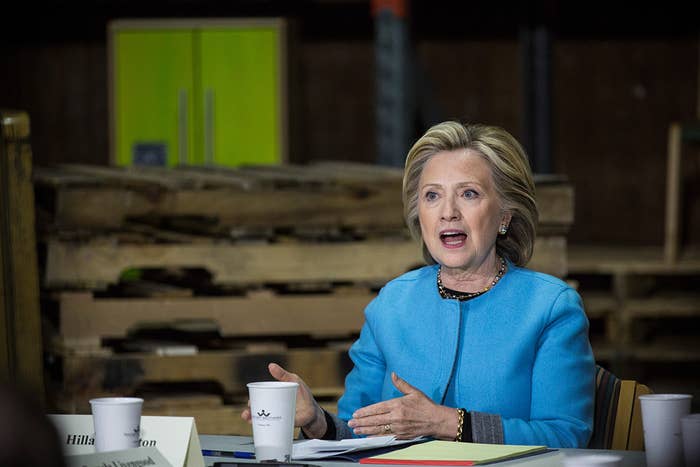 KEENE, New Hampshire — Before Hillary Clinton left the furniture warehouse where she kicked off the second week of her presidential campaign, she signaled to the line of reporters and television cameras that there was something she wanted to address.
"I'll be right there, guys," she told the press.
Clinton took the opportunity to comment, for the first time, on the new book by author Peter Schweizer, titled Clinton Cash: The Untold Story of How and Why Foreign Governments and Businesses Helped Make Bill and Hillary Rich.
The 186-page book, which HarperCollins will publish on May 5, alleges that foreign entities gave to the Clinton Foundation, or paid Bill Clinton for speeches — and in turn received "favors" from the State Department during her tenure.
Here in Keene, Clinton dismissed the book wholesale as part of the "distractions" that come with running for president. But she did not address the allegations.
"We will be subjected to all kinds of distractions and attacks, and I'm ready for that," Clinton told reporters. "I know that that comes with the territory."
Clinton also volunteered that the Republicans in the race, many of whom were in New Hampshire over the weekend for a party forum, frequently invoke her name.
"It is, I think, worth noting that the Republicans seem to be talking only about me," she said. "I don't know what they'd talk about if I wasn't in the race. But I am in the race, and hopefully, we'll get on to the issues. And I look forward to that."
Clinton took about three questions at her event — a roundtable discussion with employees of the family-owned Whitney Brothers, established here in 1904.
She was also asked about the scandal that preceded her campaign: her use of a personal email account to conduct government business at the State Department.
"Those issues are in my view distractions from what this campaign should be about, and what I'm gonna make this campaign about," said Clinton. "I'll let other people decide what they want to talk about.
"I'm gonna talk about what's happening in the lives of the people of New Hampshire and across America."
At least three news outlets — the New York Times, the Washington Post, and Fox News — have "exclusive agreements" with Schweizer to pursue stories based on the book's reporting, according to a story published Sunday by the Times.
But it's not clear how much Clinton Cash will derail the candidate from her message, particularly in the roundtable settings with which she is opening her campaign.
Several attendees here on Monday afternoon either hadn't heard of Schweizer's book — or shrugged it off as irrelevant to voters. One was state Sen. Molly Kelly, a Democrat from Keene who supported Clinton's campaign in 2008.
"I think people are smarter than that," Kelly said after the roundtable. "The issues that voters are interested in are family, life, safety, opportunity."