Hillary Clinton Continues To Shift Tone On Emails
"I am not frustrated," Clinton told reporters on Friday.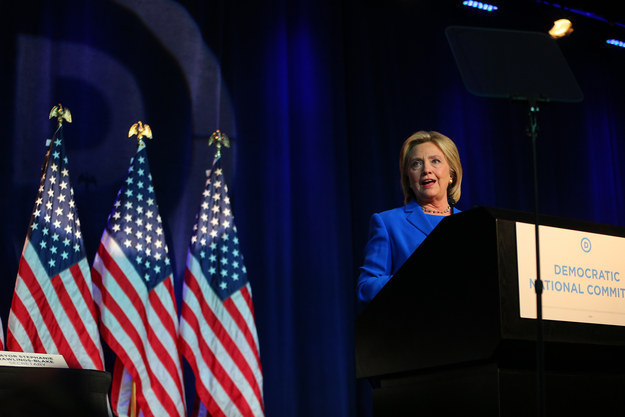 MINNEAPOLIS — Two weeks ago, she shrugged it off with a joke. (Snapchat! "Those messages disappear all by themselves.") A week later, the levity soured to frustration. (Did she wipe the server? "What, like with a cloth or something?")
And in recent days, at the encouragement of her campaign aides, Hillary Clinton has shown a new approach to fielding questions about her email account. Her tone is patient and contrite — and her goal, as she told reporters on Friday, is to better "explain" to people the "confusing" intricacies of the controversy that, after nearly six months of coverage, still hangs over her presidential campaign.
"It's a little confusing, and I certainly understand why, for the press and for the public to try to make sense of this," said Clinton.
It was first revealed in March that during her four years as secretary of state, Clinton used a personal email account, maintained on a private server. Since then, questions about the email account have shifted in focus: This month, amid a government investigation into the security of the set-up, Clinton has provided the FBI with the server.
All the while, she has come back to one point: No information that was classified at the time, she insists, ever passed through her account. But in addressing questions, Clinton has been perceived by some Democrats as too dismissive and defiant. She has joked about the email inquiry, and on other occasions, characterized it as an analog to the Republican-led Benghazi investigation: the latest iteration of what she describes as a long-running partisan effort to derail her and her husband.
In recent weeks, Clinton campaign aides worked to focus the widened coverage of the inquiry — and clarify for the public the byzantine system by which information is classified, often retroactively. Her comments on Friday, made in a press conference at the annual meeting of the Democratic National Committee, reflect an effort to untangle the issue and present a more understanding, if not apologetic, front from the candidate.
"I am not frustrated," Clinton said. "I'm just trying to explain for people who have never had to follow this before that it is complicated and that there is nothing unique about the process that is being conducted about the process with my emails."
"This is what happens any time somebody gets FOIAed," Clinton said, referring to the Freedom of Information Act, "any time there is another reason why information should be made public."
For those unfamiliar with the the government's classification process, Clinton said, the matter is not exactly straightforward. "Something that wasn't classified in 2009, in 2010, but maybe... should," she offered.
"But if you've been around the process, you know that that's not uncommon. Maybe when we get all this behind us, people should say, hey, let's take a deep breath here and try to figure out, is that the best process."
Earlier this week, after an event in Iowa, Clinton told reporters that she takes "responsibility" for the decision to keep a personal email server. "I know people have raised questions about my email use as secretary of state, and I understand why," Clinton said. "I get it. So here's what I want the American people to know: My use of personal email was allowed by the State Department. It clearly wasn't the best choice. I should've used two emails: one personal, one for work."
Clinton had the same message on Friday in Minneapolis.
"Right now it doesn't frustrate me," she said again. "It's just the reality. And I'm trying to do a better job of explaining to people what's going on. So there's not all this concern, and there's some sense made out of the confusion, and to answer people's questions."