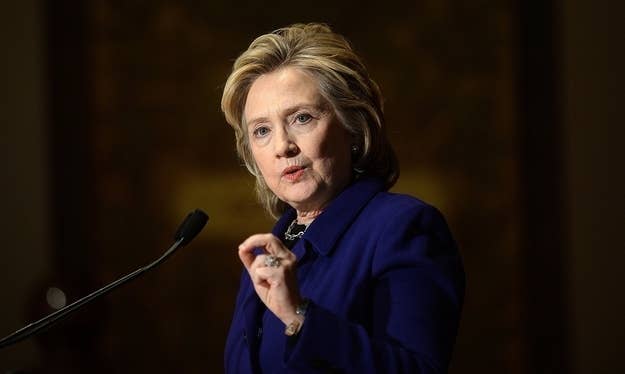 Former Secretary of State Hillary Clinton addressed the ongoing crisis in Ukraine at a fundraiser in California on Tuesday, comparing Russia's decision to issue passports in the Crimean region to the "population transfers" carried out by Nazi Germany before World War II.
Clinton made the remarks at a $1,500-per-plate fundraiser for the Boys and Girls Club of Long Beach at a law firm downtown, Keesal, Young & Logan.
The comments were Clinton's first known public statement about the still-shifting situation in Ukraine, where an estimated 16,000 Russian troops have been mobilized in the Crimean region since Saturday. Clinton, since leaving the State Department, has been cautious about how and when to weigh in on national security developments.
"Mrs. Clinton talked at length on the situation in the Ukraine," said one attendee, Harry Saltzgaver, the executive editor of a group of newspapers in Long Beach.
Both Saltzgaver and a second fundraiser attendee, who requested to speak without attribution, described Clinton's parallel between the actions of Russian President Vladimir Putin and Adolf Hitler, who resettled tens of thousands of ethnic Germans in Eastern and Central Europe to Nazi Germany before the war.
"She compared issuing Russian passports to Ukrainians with ties to Russia with early actions by Nazi Germany before Hitler began invading neighboring countries," Saltzgaver said. "She said, however, that while that makes people nervous, there is no indication that Putin is as irrational as the instigator of World War II."
"She talked about how what Putin is doing now is similar to what Hitler did, essentially providing these ethnic Russians in the Crimea region access back to Russia," said the second attendee. "And that it was destabilizing."
According to the Long Beach Press Telegram, whose reporter attended the event, Clinton told attendees, "Now if this sounds familiar, it's what Hitler did back in the 30s," she said. "All the Germans that were ... the ethnic Germans, the Germans by ancestry who were in places like Czechoslovakia and Romania and other places, Hitler kept saying they're not being treated right. I must go and protect my people and that's what's gotten everybody so nervous."
Saltzgaver said Clinton also offered background about her experience as secretary of state and the current crisis in the region, "both regarding Putin's attitude of wanting to put Mother Russia back together, and the pressure put on the Ukrainian president not to sign agreements with the European Union," Saltzgaver said.
Putin is a man "who believes his mission is to restore Russian greatness," Clinton said, according to the Press Telegram report. "When he looks at Ukraine, he sees a place that he believes is by its very nature part of Mother Russia."
The second attendee said Clinton did not speak to what the United States should do moving forward, but did mention that Secretary John Kerry had traveled to Kiev.
"She mentioned that Kerry is trying to come to an amicable solution, and that Putin is trying to assert his power in a way that is dangerous," the person said.
A third attendee said Clinton described the crisis as "very worrisome."
Kerry traveled to Ukraine on Tuesday, where he affirmed the White House's pledge of a $1 billion aid package, as a show of support for Ukraine's interim government.
Clinton, the second attendee said, also spoke to the audience about her work at the Clinton Foundation, the importance of women in business, and the gender gap.
As secretary of state, Clinton was one of the faces of an attempted diplomatic "reset" with Russia. During the 2008 election, however, she spoke bluntly about Putin. "He was a KGB agent. By definition, he doesn't have a soul," she said that January.
A Clinton spokesman did not immediately respond to a request for comment on Tuesday.
The fundraiser for the Long Beach Boys and Girls Club was Clinton's first event on a two-day swing through Southern California. She is set to deliver UCLA's annual Luskin Lecture on Wednesday afternoon before heading to Canada later that night for a speech before the Vancouver Board of Trade.
Note: This article has been updated to include quotations from a Press Telegram report published online late Tuesday night.