Hillary Clinton Committed To Organizing — Did It Keep Her From Losing In Iowa?
After 2008, Hillary Clinton changed the way she campaigns to fit her staff's volunteer "organizing" machine.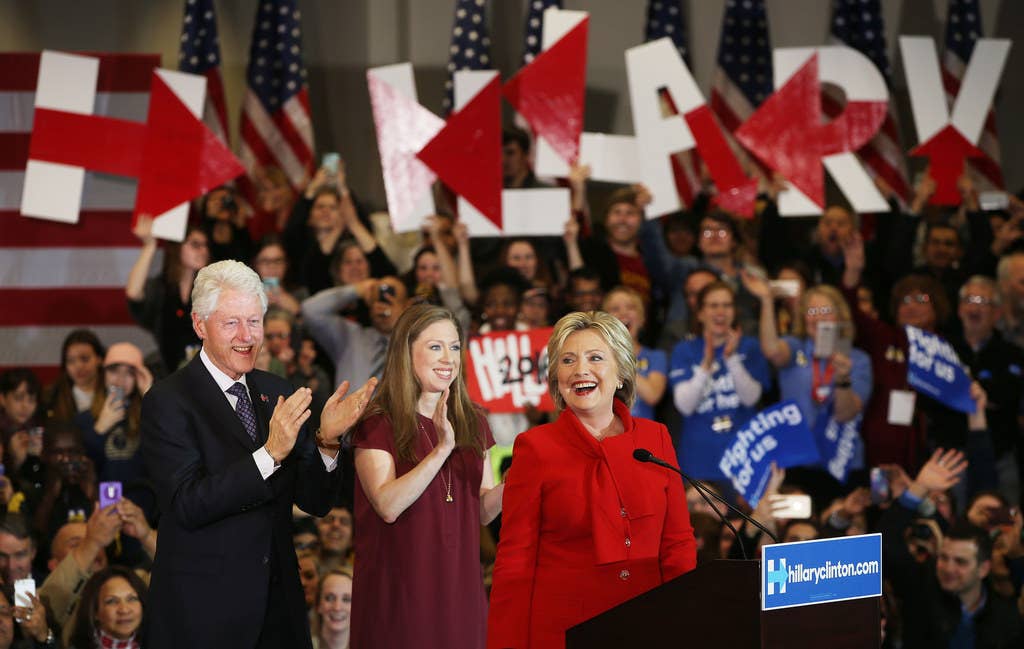 DES MOINES, Iowa — She didn't shake any hands. She didn't work the rope line. And by the time she left the stage late Monday night, with caucus results still showing an effective two-way tie, she hadn't declared victory or celebrated much at all in her six-minute speech to supporters — except to say, somewhat unconvincingly, that she was ending the race and leaving Iowa successfully with "a big sigh of relief."

But in the end, by less than a percentage point, Hillary Clinton did win Iowa.
"Narrow, I know it is," said one of her surrogates, former U.S. senator Tom Harkin, before Clinton's rally at Drake University. "But hey, folks, a win is a win."
And that — the slim statistical advantage that put her over Bernie Sanders in the caucuses that derailed her first presidential bid — was the "bottom line" for the campaign, as spokesman Brian Fallon put it, after aides boarded a charter plane in Des Moines, bound east overnight. Before takeoff, beating back press questions about a disappointingly close finish and a possible staff shakeup, senior Clinton aides cast the caucuses as a hard-fought win — evidence of the candidate's "ability to generate enthusiasm and organize," Fallon said, that would take her onto New Hampshire.
In the day after the caucuses, some Clinton backers questioned whether the Iowa field program, and the staggering human and financial resources behind it, should have delivered a more decisive margin of victory. (More than 171,000 Democrats caucused statewide. The turnout, second-highest in Iowa history, benefited Sanders, Clinton aides said, yet she still won.) And as the primary in New Hampshire approaches, doubts about the candidate's broader message, and its ability to excite, still hang over the campaign.
But the victory in Iowa, eked out on the backs of organizers, did at the very least represent Clinton's own development as a candidate committed to the philosophy that she and her advisers never quite embraced the first time around: organizing.
More than nine months ago, before she got in the race, Clinton sat down with Matt Paul, who would become her state director in Iowa. The night before the meeting, he said in an interview Monday evening, "I had not slept." He'd been up wondering, "How am I going to tell a woman who has been secretary of state," now a candidate for president again, "how to be better."
Much of that, this time, would be about committing to the field strategy. "We talked about the retail impact of the caucuses and had a very frank conversation about what I thought should happen — how her trips should feel, how her interaction with Iowans needed to be at a personal level," Paul said.
"She was eager to do this and in fact insisted on it."
Nothing over the course of the race in Iowa had a greater influence on the daily movements of the candidate. The shape of her schedule, the format of her events, the size of her crowds, the content of her speeches — all of it was tailored to, adjusted for, or in some other way imbued with the spirit of the same, single objective: to help the campaign build an organization of unwavering, passionate volunteers.
The strategy amounts to a not at all small shift from Clinton's past races. In 2008, the first time she ran for president, her advisers in headquarters didn't think the nomination would be won or lost on organizing. At the time, neither did Clinton.
"One of the things I learned last time is, it's organize, organize, organize," she said at the start of the campaign, during her first televised interview. "You've got to get people committed, and then they will follow through and then you bring more people."
It's not just an intellectual commitment, though. The strategy requires something from her, too. The candidate must personally invest time — must do the little things that go a long way to deepen the loyalty of the organizers who recruit the volunteers and the volunteers who recruit more volunteers who turn people out on caucus day. "It's the theory of the case of how you win, and it involves investing in these 22-year-olds, and recognizing that her future is in their hands," said Karen Hicks, the longtime organizer who worked on Clinton's first campaign. "She can't talk to every voter, but they can."
The strategy came easy for her first opponent in Iowa, Barack Obama. The former community organizer not only captured the excitement of Democrats. He became methodical about supporting the field program. He celebrated his field staffers. He approached every event as an organizing opportunity. And in Iowa, he formed his own relationships with volunteers, deepening their commitment to the campaign.
This, the personal touch, was Obama's trademark style in the state. Operatives who worked on the caucuses in 2008 described a candidate who made frequent calls to organizers and volunteers, who even helped recruit his own precinct captains.
Mitch Stewart, who ran Obama's field operation in Iowa, recalls handing the candidate organizing call lists for drives between events. "I would say, here's the ask: This person's been a committed supporter, they've done these three things, but every time we ask them to become a precinct captain, they sort of demur," said Stewart. "So your job here is to get precinct captains." It was tradition in Obama's Iowa campaign to celebrate every recruited precinct captain with an all-staff email. Each time a message landed, the entire office would clap. Often, Stewart said, Obama was the organizer applauded.
"We never had to explain to him why it was important for him to meet with this group of precinct captains," Stewart said. "He just sort of innately understood that. That was a huge advantage we had."
This time, Clinton worked to take the same attentive approach. Last summer, she started holding regular gatherings with volunteers, usually over beers. The idea was to say thank you, to strengthen their dedication with a personal connection. By the fall, Clinton was making bigger asks at the meetups — urging the volunteers to take on more shifts and responsibilities. At nearly every campaign event, it was an organizer, not a surrogate or local official, who introduced Clinton to the crowd. Backstage, organizers also got the chance to personally brief the candidate on even the most minute details of the field staff's progress toward building toward the goals of the volunteer operation.
Paul, the state director, said Clinton was quick to embrace the importance her operatives placed this time on the organizing efforts. "She would get off stage and start asking, 'How many commitment cards did we get here? How many volunteer sign-ups? How many new volunteers do we have this week?'" When an organizer briefing got cut from the schedule on a busy day, for instance, "she would ask us why we cut it," Paul said. "The conversation was what are you hearing, what are you concerned about."
Her campaign manager, Robby Mook, said that Clinton was more of a natural fit for the role than people might think. "Hillary Clinton is an organizer," Mook said. "She's been an organizer all her life. Her first job out of school was the Children's Defense Fund. She knocked on doors, and she listened to people, and then she advocated for them and organized people. This is really her going back to her roots and her passion."
In New Hampshire, Clinton may not be able to depend on her organization alone. The state team there has had far fewer resources than in Iowa, and Monday's caucuses delivered a statistical victory and virtual tie, rather than the kind of decisive win that would go a long way to brushing back Sanders, a candidate whose movement-based message and stripped-down approach has translated into big crowds, donations, and a zealous base of supporters aiding his operation in New Hampshire.
No matter how good the organization, or the politician's understanding of the organization, "the candidate still needs to be authentically motivational," said Marshall Ganz, a Harvard professor who helped train the Obama campaign in the organizing techniques that shaped the protest and labor movements of the '60s and '70s.
"Obama was that in 2008. That gave organizers a lot to work with," said Ganz. "If the candidate isn't sufficiently motivational, you won't have the troops. You can't manufacture the volunteer commitment."